Entertainment
NBA Jeff Green's Expertise As Partner With Wife-To-Be Melts! Treats "Queen" With Love
American professional basketball player, Jeff Green has a successful basketball career playing for the Cleveland Cavaliers while managing a content life with his wife and children on other.
It turns out this basketball star is blessed to be living a new life with rising career and blissful family life. It has been known that previously he went through a life and death situation because of his heart condition that required surgery.  
During the time, he missed a whole 2011-12 season of basketball that affected his stats, but he is glad that he got a second life rather than being worried about the number in his stats.
Love On First Meeting; Wedding Proposal On Romantic Vacation
For the player who began his career with the Seattle Supersonics in 2007, Jeff Green started his dating life with Stephanie Hurtado during the summer of 2014. He first crossed path with Stephanie during the summer of 2014 when he was on a trip to Miami to pay his best friend a visit. While he was there, they went on a night out when they first ran into Stephanie at the same club, whom his friend knew beforehand. 
Well, that is when both hit it off instantly and as the night progressed they grew fond of each other. The numbers were exchanged between them and the two got to know each other over the few months.
The pair had their second meeting after three months and they knew they had something special. During their time together the couple managed to go for a romantic getaway during summer every year. 
After two years of being together, Jeff managed to have a proposal of her dreams for Stephanie. While they were traveling off to Greece in 2016, Jeff presented Stephanie with perfect ring and asked her to marry him during a beautiful sunset cruise.
The NBA small forward later got married with Stephanie.
Content Family Life With His "Queen"
After his engagement with Stephanie, Jeff, who enjoys the salary of $2,116,955, was on cloud 9 as he was expecting his bundle of joy.
Stephanie was pregnant and the couple was waiting eagerly to welcome thier first born into the family. On February 2017, Stephanie gave birth to their baby girl Sofia. The proud parents could not be much happier.
Months later the couple was planning their wedding with a unique decor. The pair exchanged their wedding vows in August 2017. Their wedding was one of a kind just as the couple dreamt for it to be. They had a perfect start to their new chapter.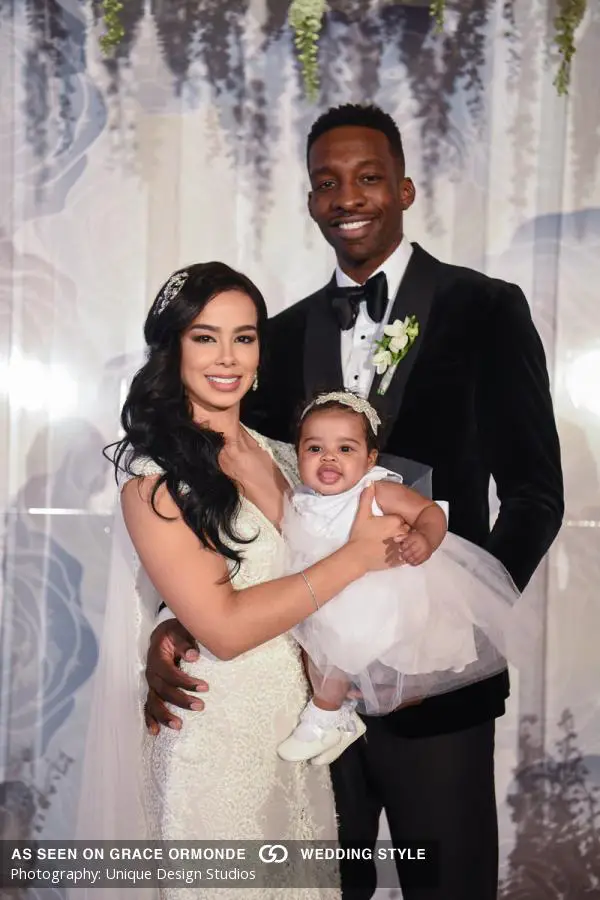 Jeff Green with his partner Stephanie and daughter Sofia on his wedding day in August 2017 (Photo: weddingstylemagazine.com)
Well, months later they were looking forward to welcoming a new member into their family - their second child. Jeff life was filled with joy when Stephanie gave birth to their second baby girl in May 2018. 
The married couple later went on the island of Antigua, at the Jumby Bay Private Island Resort, with only a few people at the resort. 
New Life After Heart Surgery
Jeff Green survived a life and death situation which he believes has given him a new perspective on life. Previously Jeff was diagnosed with a heart condition that required surgery.  
The surgery was done at the Cleveland Clinic. Due to his surgery, he missed out season 2011-12 of NBA games. However, the surgery went well and Jeff recovered both in his health and his career as a basketball player.
As of now, he is living a content family life with his "Queen" and two princesses.