Entertainment
Jeffrey Wright And His Married Life That Just Couldn't Reach Husband And Wife Goals
Believing in the existence of Cinderella story and the happily ever after moment sometimes turns out to be vain. Actor Jeffrey Wright might have dreamt about the similar happy family moment when his dream only crashed down after his married life landed in court.
With a broken marriage and a legal scenario, the actor has surely remained in a jeopardy situation, for now, we shall look into his legal battles followed by his recent conspiracy.
Married And Divorce, Any Children From it?
After marrying actress Carmen Ejogo in August 2000, the actor got blessed with two children a son Elijah and daughter Juno. The couple for some particular year lived a happy family life in Brooklyn, New York but ended their married life in 2009, while the marriage official ended in 2014.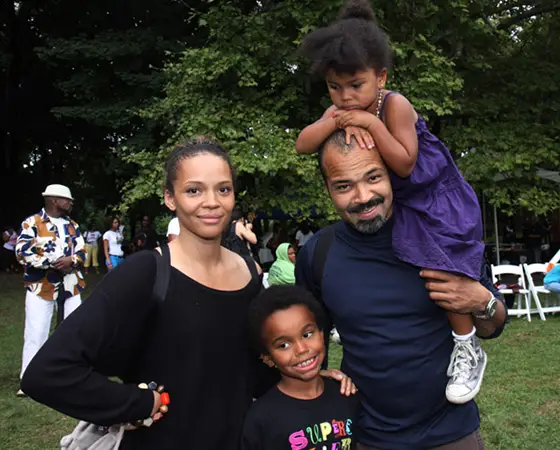 Caption: Jeffrey Wright(right), daughter Juno, son Elijah and former wife Carmen Ejogo at Prospect Park (2009).
Photo Credit:bckonline.com
Though both of them revealed no further details of their separation but while telling about the character portrayed by Carmen Ejogo in Coretta Scott King she spoke to latimes.com about her stressful married life, where she said:
"Yes, I was very fortunate to have been given the ultimate blessing. I took that with me into Selma. It made me feel more certain about revealing the stress of their married life, and I didn't feel pressured about avoiding certain kinds of truth. She was a great manipulator of her image and was exquisite at keeping certain things hidden to protect herself, her husband and his legacy. I felt like I was honoring her by fleshing her out and presenting a more human face."
Jeffrey spoke no word about his married life while his former wife is reported to be single. Both celebrities have refrained from leaking any information regarding their divorce, alumni and child custody. But through an interview with a source, Carmen spoke about her dilemma on picking a family or career. She said:
"I had to make a choice between career and family. You can lose sight of what your life could have been, which is what happened to me. I did lose sight, for a while there, of what my life could be."
Well, may be the primary reason for divorce is due to the over-ambitious nature of the actress or maybe there are other grounds for the separation which crashed the husband and wife goals of Jeffrey and Carmen. Jeffrey has kept his personal life a bit quiet while his wife somewhat has been speaking few kinds of stuff about her married life. While investigating on the current relationship status of Jeffrey, he is reported to be single with no dating rumors or married stories on hand.
Wrapped In Series Of Legal Battles, After Divorce What?
Right after getting engrossed in the divorce matter in the year 2009, the actor again surfaced in the story for his traffic violation. The cops pulled in the Toyota Tacoma around 3:00 AM ET after the actor got detected with an alcohol odor and sobriety test. Neither the actor nor his representatives have spoken about his arrest or bail. From the traffic violation, the actor has neither got involved in any of the hit and run cases nor has participated in any murder case. The actor did come out from the prison after all he has worked in numerous movies after the arrest.
The American ethnicity man entered into the Hollywood era in 1990 through the movie Presumed Innocent. Since then he has worked in several movies and series which landed him with a net worth of $5 million and several awards like Toronto Film Critics Association Awards (2000) for Shaft, San Diego Film Critics Society Awards (2005) for Broken Flowers and Chicago International Film Festival (2007) for Angeles in America. With all the ups and down in his life, Jeffrey is still loved and preferred by his fan followers who have urged him to work more in the movies and series.