Entertainment
Does Jenn McAllister Have Boyfriend? Already A Mom, Dating Status Now
American actress Jenn McAllister is known to be a successful YouTuber since a very young age. Her YouTube videos that consist hilarious contents and even gay issues led pathway for Jenn to be in the limelight.
Beyond the camera, Jenn is living a beautiful life, while being a mom. Curious to know how she got her mother tag and who she is dating currently?
Follow us on the content below!
Cheated On Best friend?
Jenn, who came to stardom with the support of he family, was once allegedly rumored to be dating her best friend's boyfriend, YouTuber Kian Lawley.
Kian Lauwkey openly stated his feelings toward Jenn via a Twitter post back on 11 Aug 2011. In the post, he tagged Jenn and wrote: " Jenn I love you." Moreover, he tweeted saying that he misses Jenn on 25 Mar 2013. In the tweet, he also disclosed that he and Jenn had spent the weekend together.
@jennxpenn I miss u :( it was so much fun hanging out this weekend :)
But then, Kian started dating Jenn's best friend and roommate, fellow YouTuber Andrea Russett. Kian and Andrea openly flaunted their relationship on their YouTube videos and were considered as one of the cute couples in the Youtube world.
However, Andrea revealed in June 2014, that she and Kian had separated.
Just after the breakup, Andrea even moved out from the apartment she shared with Jenn while starting the rumors that Jenn stole her boyfriend. She even fueled the rumors by addressing the allegations and responding to a question stating that she would never forgive a friend who spent a night with her ex-boyfriend.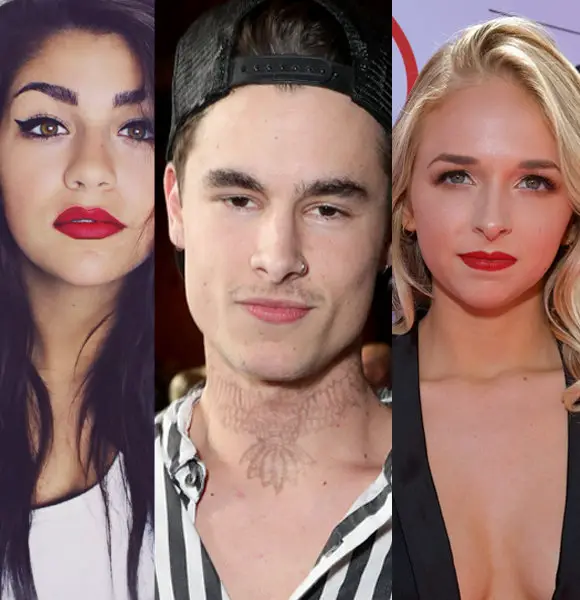 Jenn McAllister, Kian Lawley, and Andrea Russett
Jenn also replied to her followers saying that nothing is true unless she says it herself. Since then, the duo maintained the distance between them for two years until when both of them patched up and danced at VidCon together in June 2016.
Relationship Status Now
As of now, Jenn has given a low profile to her personal life. It appears like she is not dating anyone and even her social media accounts lack the presence of any man that can be speculated as to her boyfriend.
Possibly Jenn is too busy to focus on having a boyfriend. Or maybe it is due to her sexual orientation. One of the media had introduced Jenn as "one of the few rare gay female YouTubers." But Jenn herself has not stated out her sexual inclination and has never disclosed to be a gay.
Whatever may be the reason, the absence of a boyfriend in life has not hampered Jenn to have a beautiful family and call herself a mother. She parents a cute little hound and calls herself a mother of her dog.
On 14 May 2017, she posted a picture of her dog on Twitter and via the caption stated,
"Happy Mother's Day to me too :)"
With a huge fan following of more than 3.2 million subscribers in her Youtube, Jenn earns a hefty amount of fortune. However, her total net worth till date has not been revealed out to the media.