Entertainment
Jennie Finch's Married Life With Husband Gave Her Three Kids! On Her Way To Create An Athlete Family?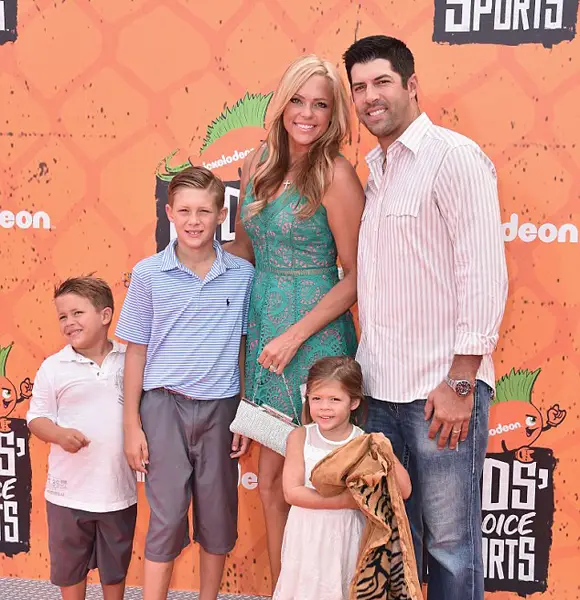 Jennie Finch is one strong woman. It's not just because she is a legendary softball player who is known for her outstanding pitching career. She is also the woman who has gracefully balanced both her professional and personal life.
Mostly, we hear cases of athletes not being able to give family much time because of their career and training, but Jennie Finch is an exception.
Well, Jennie is married and has three children. The most interesting thing about her married life is how managed and blessed it is.
Jennie has become a source of inspiration for hundreds and thousands of her fellow beginner and struggling athletes women in general. Today, let's stroll past the family life of this softball player.
A Blessed Married Life!
Jennie Finch is married to her longtime lover turned husband Casey Daigle on January 15, 2005, with whom she shares three beautiful kids. Casey is a former Major League pitcher, and the couple met in 2002.
Interestingly, Casey made the bold move of sending Jennie a total of four dozen of roses to ask her out. Unfortunately, Jennie's reaction was,
"I said no because that was too creepy."
But, Casey revolved around her until they both got together. However, Jennie's husband is not someone who likes to create special moments in life the usual and ordinary way. Jennie revealed how Casey proposed her,
"He blindfolded me and took me to the mound and said, 'You have been the queen of the diamond for four years. Now I want you to be the queen of my heart."
Jennie expressed; when they got married, her husband couldn't wait to be a father! Eventually, about a year after their marriage, the couple welcomed their first child, a baby boy, in 2006. 
Jennie became so committed to her family over the years that she retired from the soft ball in 2010, citing the reason to be more focused towards family and working on having more kids.
The former pitcher, who still mourns over her 2008 Olympics loss, said in an interview,
"I just feel like it gets harder and harder every year with Ace getting older and time away from my husband and even family events such as birthdays and friends' weddings and things that I've always just missed out on because of softball"
However, she also acknowledged all the opportunities she got from her career.
"This whole career has been way more than I ever even imagined or dreamed, the opportunities that I'd be able to enjoy and appreciate and be a part of, it's been incredible."
Working on an Athlete Family with Kids.
Both husband and wife, belonging to the sports world, it comes as no surprise that they will want their children to indulge in sports activities as well.
Jennie is no exception in this manner, but what matters is how she has been doing so.
"My husband and I both love to be outdoors, So it's about leading by example and just encouraging my kids."
She has three kids, sons, Ace Shane Daigle born on May 4, 2006, Diesel Dean Daigle born on June 19, 2011, followed by a daughter, Paisley Faye Daigle born on January 12, 2013.
In an interview with People in 2014, Jennie revealed how she made her kids love the outdoor activities, and the secret lies in the involvement.
"If I tell them to play outside, they'll say no. But if I go out there with them, it's a whole different attitude. They love it!"
As a result, her eldest son started with travel ball from 2012, and enthusiastically asks his mother's help and why wouldn't he? After all, Jennie is a 2004 Olympics gold medalist.
However, Jennie does not force her kids to do things as she wishes, but rather encourages her children to be who they are and be passionate about what they do.
But still, in a family where sports is in their blood, it is likely that they'll find happiness outside the four walls, in the sun, find aroma in the sweats and apparently, find a career path in sports.
Some Facts on Jennie Finch:
1. She was born on September 3, 1980, in California.
2. She started pitching at the age of eight.
3. Jennie enrolled at the University of Arizona and majored in communications and while there, she completed her 2001 season.
4. She is a two-time honoree of Softball's Honda Awards.
5. She made it to the top 50 list of most beautiful people in 2004.
6. She now is known as the Ambassador for the Youth Softball.
Quite intriguing, right?
Stay with us for the emerging updates on Jennie Finch!