Entertainment
Jennifer Landon's Dating Affair And Making Boyfriend Shadowed By Rising Career? Reflect On Father's Memory With Sibling
Famous "As the World Turns" actress Jennifer Landon has been there and done that when it comes to her career and professional life. She is respected by many and has a huge fanbase to follow her around in her life.
But what those fans would like to know is the truth and facts about her love life. Has she been dating anyone and is she in a relationship with a boyfriend? Or even better, is she married and has a husband in her life? Too busy with her career to date anyone? Let's get hold of the truth.
Is Jennifer Dating Or Seeing Anyone?
Jennifer is beautiful and attractive, and she is bound to attract any man on the planet with her charm. But has this lady got someone in her life who she can call her boyfriend, or is she married to call him her husband?
Well, being a woman of few words when it comes to her personal life, she has not given the fans and media many insights about her love life and thus, the answer to the questions about her dating and romantic life lies with the actress herself.
Although she has revealed her having a crush on people that is all she has shared about her love interest.
Furthermore, she has been married on-screen but has not revealed anything about having tied the knot off the cameras and in real life.
Maybe, she is in a romantic relationship of sorts in her life and does not want to advertise it. Or perhaps, she just is too busy with her career that she wants no personal distractions and strings attached to her.
Let us wait and hope she comes up with something exciting about her romantic aspect of life!
Reflecting On The Memories of Her Father With Sibling:
Almost everyone knows that Jennifer lost her father to pancreatic cancer back in 1991. Losing someone you love dearly is the biggest catastrophe one can go through and back in 2014, 23 years after her father passed away, she and her sibling, her brother Sean Landon talked about the sweet memories of their father.
"I loved strawberry-flavored milk, but we were really not allowed to drink it at home. To my delight, my dad had covered the entire backyard in (Nestlé) strawberry Quik. He brought out spoons and let me run around eating as much strawberry snow as I could.

"That's only one of the many, many awesome memories I have of him. He loved to create adventure for us kids."
This is what Jennifer said about one of her father's sweetest memories when she revealed that her father made pink carnation snowflakes rain when she was 4 or 5 and were on vacation in Colorado.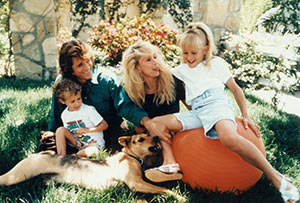 Caption: The Landon Family back in the days consisting of Michael, Jennifer, Sean, and Cindy.
Photo Credit: pancan.org
Moreover, Jennifer's brother Sean shared a similar memory of his dad.
"Dad would take me along on his errands occasionally, and he'd buy me marshmallows and candy, which was a huge treat because my mom was super healthy and made sure we ate only nutritious food. He'd say, 'Now, don't tell your mother!' and of course the first thing I'd do when we got back home was tell her."
Sean also said,
"I was too young to know he was famous, but I knew how fun and playful he was."
When their father Michael Lanton passed away in 1991, he left them behind with their mother, Cindy Landon.
Now after more than 2 and half decades of his passing, his children are all well known in their rights and Michael must be smiling and blessing upon them from heaven.
Furthermore, if you are wondering what this popular and skillful actress is up to in her career at the moment, well you might have some good news. She has just joined the cast of "DAYS of our lives" for an eight-episode story arc. Hype!
This project along with her other successful projects like "As the World Turns" and "The Young and the Restless" has helped her finances take a major boosting but still she has not revealed any official statement about her net worth.
Stay with us for latest updates on Jennifer Landon!