Entertainment
Jeremiah Brent & Husband Nate Berkus Welcome New Baby! Family Expands
Jeremiah Brent and Nate Berkus, the interior designers, who co-star in their own hit TLC series, have added a new member to their family. Jeremiah and his husband, Nate Berkus, has recently taken their fatherhood to the next stage by welcoming their second child.
Take a look at their prosperous family life, as they are now fulfilling their dream of parenting, yet another time!
Jeremiah Brent's Family Life With Husband And Baby
Jeremiah Brent, who has reached the heights of success as an Interior Designer, has been married to his husband Nate Berkus, who is also an American interior designer and a television personality, for three years now.
The couple recently welcomed their second baby, into their family of three, via surrogacy on 26 of March. The pair named their second child—Oskar Brent-Berkus, who was born in Los Angeles weighing 8lbs., 2oz.
The duo, who already has a 3-year-old daughter, Poppy, shared the news of their son, with their fans, through social media. Jeremiah posted a picture on his Instagram account which featured a black and white photo of their daughter's hand pointing at the little foot of her newborn brother.
The pictured was captioned with excitement and read,
"Yesterday, life cracked open in a way I didn't think it could again with the birth of our son Oskar Brent-Berkus. Love multiplied."
Likewise, Jeremiah expressed how happy and thankful he felt welcoming his bundle of joy into the world. In the caption, he added,
"How can love continue to expand like this? Hand in hand our family is basking in the phenomenon of it all. We love you little Oskar. How thankful we are. How beautiful it all is."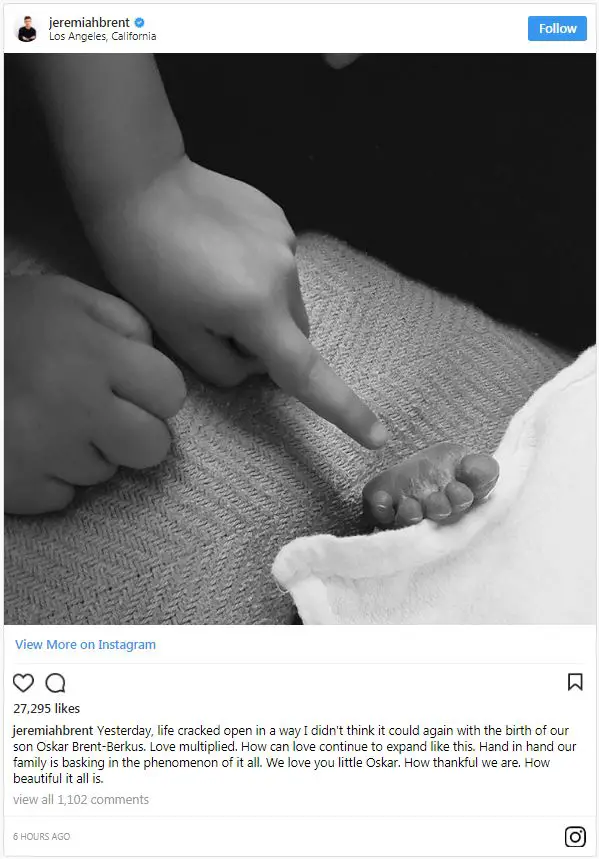 (Photo: Jeremiah Bernt's Instagram Account)
Similarly, Jeremiah's husband Nate who has a net worth of $18 million, also posted the same image on his Instagram. The caption revealed how exuberant they were to welcome a new member to the family. Nate even thanked all the people involved in the process, who have made the family like theirs, to grow and prosper.
He captioned the post as,
"It is with so much love that we welcome Oskar Brent-Berkus to our family. We have waited for you, we already love you, and we as a family stand on the shoulders of so many people who have made it possible for families like ours to continue to grow."
The couple first announced the news that they were having a baby boy through a cute video on Twitter in February. In the video, Poppy exclaimed "We're having a baby brother!" while announcing the news. The clip's caption read,
"Here it is... Us at our best. We are humbled and so grateful to share that Poppy will be expecting a baby brother come spring. Nate Berkus and I are excited to be bringing you along on this journey. Our family is about to be that much more complete. Love is love is love."
The duo, who is cherishing the fatherhood, tied the knot of marriage in May of 2014. Jeremiah began dating Nate in early 2012. The couple's dream to have children came true when they welcomed their first baby, Poppy via surrogate in March of 2015.