Entertainment
Jess Origliasso Splits From Longtime Girlfriend On April 1st! Dating Ends, No Kidding
Australian singer and actress, Jess Origliasso kissed the rays of fame after the formation of The Veronicas along with her twin sister. Their debut album reached four times platinum number two on the Australian Album Chart.
Accompanying with her professional life, the beautiful actress is also known for her on and off same-sex romantic relationships. But as of now, she is finally off the pace from this relation. 
Well, what happened to Jess's relationship? Reach the core of the article and find that out!
Jess Origliasso Single Again! 
The Veronicas singer, Jess Origliasso was in the lesbian relationship with the Ruby Rose since, 2016. In actual, it was the year, 2008 that, 'Jessica and Ruby ' first started dating. Their relationship was also described as 'on-again-off-again' kind of relationship.
Their old but seemed true love story again gained the flight after Ruby was invited to direct and star in a music video alongside Jessica. And this truly re-born their affair, the two Australian stars rekindled their romance, again in 2016.
In the course of their relationship, they shared many beautiful moments together, which can be thoroughly observed through the Instagram account. But the couple called off their relationship after two years of togetherness. 
The split comes after months of speculation surrounding the couple's relationship, with Jess reportedly unfollowing Ruby on social media in December.
The news of their split aired on 1st April when the Pitch Perfect 3 star Ruby took social media to reveal that the pair had decided to call it quits after being together for two years. Not only that, but she had also announced that the couple had split a few months ago, but had decided to deal with it privately.
So, it's obvious that many of their fans to speculate the news to be the part of their April Fool plan, but the news was confirmed after Rose added that, she would never make light of 'something so personal.'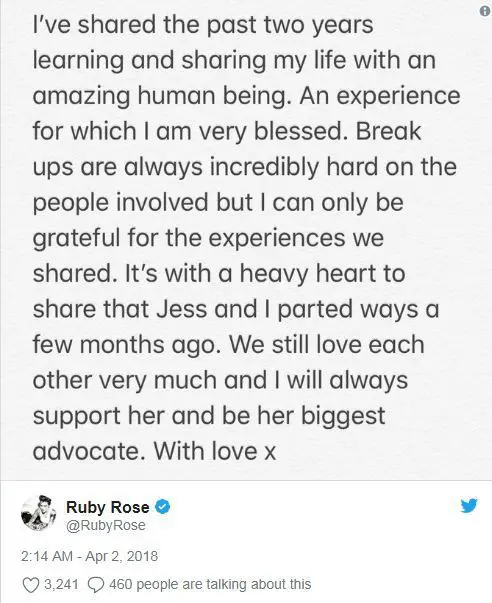 Ruby Rose's confession on Split (Ruby Rose's Twitter)
Jess did not talk anything on this matter, but she last posted a photo of the couple walking in Beverly Hills on the Instagram in early March. The last celebrity event Jess and her girlfriend Ruby attended together was the show, Pitch Perfect's premiere in Australia, back in November 2017.
The star of Orange is the New Black Ruby is also said to have clashed with Jess' twin sister Lisa. In November 2017, Ruby controversially accused Jessica's twin sister Lisa of making insensitive remarks around the time of the marriage equality plebiscite in Australia.
In a since-deleted tweet, Ruby wrote:
"So glad to see Lisa Origliasso screaming in excitement about the Yes vote after telling us she thinks we should feel "lucky" we don't get stoned to death like they do in other countries and to get over it a few months ago… really warms my heart."
Prior to her relationship with Rose, Jess dated American Singer and songwriter, Ryan Cabrera, back in 2005. But they were reported to have headed in separate directions after a year.
After her split with her boyfriend-Ryan, Jess was seen close with musician Azaria Byrne, who was The Follow's lead singer, from the year 2006 to 2009.
Additionally, after meeting at a songwriting session with the singer and also songwriter, Billy Corgan, she also served as the inspiration to most of the Smashing Pumpkins' album, Oceania. Their romance took a flight in 2010 but suddenly ended in 2012. 
Adding to her relationship list, Jess started her romance with the photographYoutuber, Josh Katz in 2014, which went on for the two years till 2016.
Keep Visiting for the emerging updates on the Jess Origliasso!