Entertainment
Jessi Smiles Loved up with New Baby and Boyfriend-Turned-Husband! Life's Good
Quick Information
Date of Birth

1993-08-17

Age

27 Years 6 Month(s)

American

Internet Celebrity, YouTuber
2017 brought a lot of many changes for the social media star Jessica Smiles, and it has nothing to do with her Instagram updates.
With her shocking post on Twitter about her unplanned marriage; her fans' interest to know of her married life have heightened even more.
So today, let's dig in to find out more about Jessica Smile's married life and find out how her life with her boyfriend-turned-husband looks like!
Jessi Smiles's: Life's Good With New Baby And Boyfriend Turned Husband
The Vine star, Jessica Smiles made her fans jaw drop through her surprising announcement back in April 2017. Jessica ended up marrying her fiance Nassim Ssimou and then posted an image of her wedding on Twitter. Jessica and Nassim had been dating after they first met back in 2016.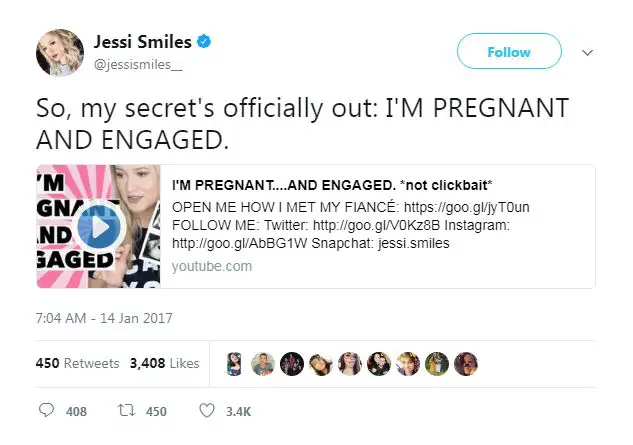 Jessica Smiles's wedding post on Twitter (Twitter)
After a couple of months, Jessica then gave birth to a baby boy named Noah on 18 August 2017. But unfortunately, Jessica Sims ended up having a c-section delivery however she wanted a vaginal delivery.
The Newly mother, Jessica Sims posted the first picture of her little boy, and he is very adorable.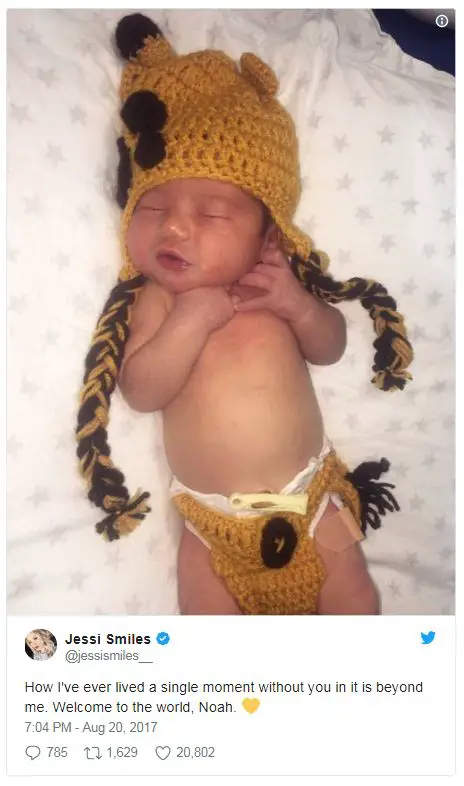 Caption: Jessica Smiles's son Noah (clevver.com)
With the new baby boy Noah, Jessica Smiles's family seems to be complete. Likewise, in 2017's new year eve, Jessica Smiles took it to Instagram and shared images with her loved ones who wore very mesmerizing.
And back on 14th January 2017, Jessica confessed that she was engaged to Nassim Ssimou and was pregnant. She announced her engagement and pregnancy with a video on YouTube, where she said:
This is not clickbait; this is happening. I am pregnant and I am engaged
Caption: Jessica Smiles announcing her engagement and pregnancy. (Published on 14 January 2017)
In the video, Jessica mentioned that she and her boyfriend Nassim Ssimou are delighted together, and everyone in the family is pretty excited about them and having a baby soon!
Jessica acknowledged that getting pregnant at 23 was not the part of her plan. However, it was one of the biggest blessings that could ever happen.
Before she met Nassim, the 24-year-old vine star, Jessica was dating a famous Vine Star Curtis Lepore. The couple started their affair in August 2013 and were not shy broadcasting their relationship.However, Curtis Lepore was arrested in October 2013 for raping the fellow star and girlfriend Jessica Smiles.
The Cuban-American Jessica Smiles shared an enigmatic tweet after her rape allegations and broke up were publicized.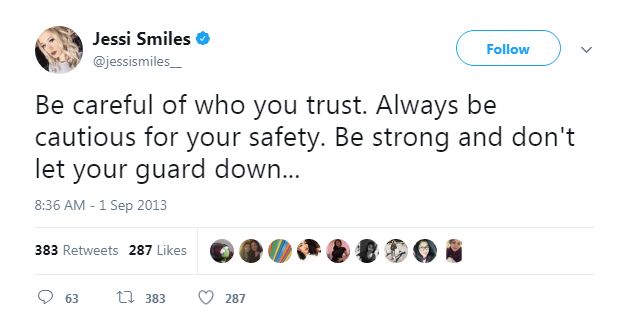 Caption: Jessica Smiles's tweet regarding her rape (Twitter)
Later on 21 February 2014, Curtis Lepore pleaded guilty to Jessica Smiles. However, she was not pleased with it and tweeted:

Caption: Jessica Smiles's respond to Curtis Lepore (Twitter)
Whatever the past may have shown Jessica, she, along with Nassim Ssimou, are good parents and seem to share an elegant married life as of now.
Keep visiting for the emerging updates on Jessi Smiles!