Entertainment
Jessica Andrea Splits At Age 25! Divorce To Come, No Bad Blood
Pop singer and Youtuber Jessica Andrea garnered a lot of fame via her adorable married relationship with American rapper Robert Bryson Hall II, mostly known as Logic. Before her identity as a wife of the rapper, Jessica was known for her YouTube channel that consists of make-up tutorials, and fashion hauls. 
If you are a follower of any of these artists, you are probably acquainted with the rumors that Jessica is the verge of splitting with her estranged husband, Logic and if you are curious to go in for more details regarding their relationship status, follow us in the context below!
End To Jessica Andrea's Married Life
Breaking the hearts of their fans, Jessica and her husband Logic finally disclosed their decision of splitting via a social media post on 19th March 2018. Through a post on Logic's Twitter account, the former couple announced their breakup via a joint statement.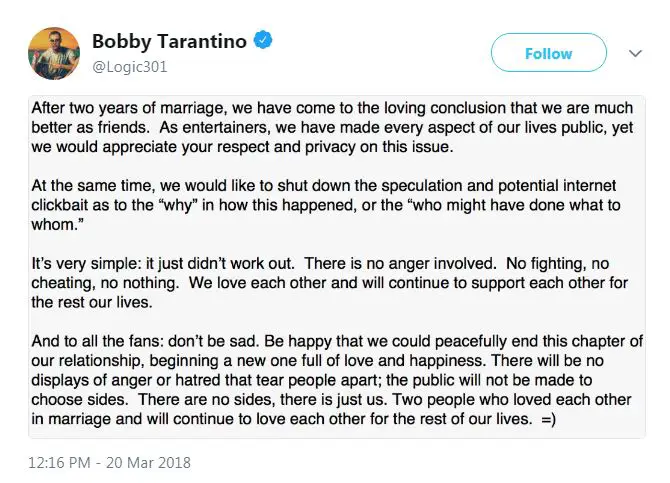 Jessica Andrea along with ex-husband clarifies on break up (Logic's Twitter)
The former couple started by saying that after two years of marriage, they have realized they are much better as friends when together. Further, they have asked to respect their privacy in the time of separation.
After two years of marriage, we have come to the loving conclusion that we are much better as friends. As entertainers, we have made every aspect of our lives public, yet we would appreciate your respect and privacy on this issue. 
The former pair shut down speculation on the reason and the cause of their splitting, by stating "a very simple reason,"
"At the same time, we would like to shut down the speculation and potential internet clickbait as to the 'why' in how this happened, or the 'who might have done what to whom. It's very simple: it just didn't work out.
The split is done in mutual understanding, and no bad blood is involved. Instead, the pair will continue to support and love each other for the rest of their lives.
 There is no anger involved. No fighting, no cheating, no nothing. We love each other and will continue to support each other for the rest of our lives.
Finally, the two addressed their fans and asked them not to be sad as they stated they are closing their chapter peacefully without making their fans to choose sides. 
Don't be sad, Be happy that we could peacefully end this chapter of our relationship, beginning a new one full of love and happiness. There will be no displays of anger or hatred that tear people apart; the public will not be made to choose sides. There are no sides, there is just us."
Well, the rumors of their break up fueled first when Jessica had unfollowed Logic on his Instagram account. As for now, despite the announcement of their split, neither of the partners have filed the petition for divorce. 
Jessica and Logic got married on 22nd October 2015 when Jessica was at the age of 23 and Logic was 25. 
More About Jessica Andrea
Jessica Andrea, who is believed to be of Caucasian ethnicity, was born in 1992 in California. She celebrates her birthday every first of May. However, she has kept the details of her family obscure.
Jessica runs her a YouTube channel named 'ItsJess Andrea' that she created on 28th October 2015, where she uploads videos on makeup tutorials, fashion hauls and trips to the Disney land and can be seen chatting with Logic as well.
Besides being a social media personality, Jessica is also a singer. She has her singles titled as "Medicine," "Fake It," and "Gossip Girl" and has featured as a background singer on some of Logic's songs.
Previously in 2017, Jessica even released her album named Electric EP. With her Youtube career and involvement in the music industry, she has accumulated a decent net worth, which, although remains confined, is estimated to be in early millions.
Think we're missing something? Do let us know in the comment section below!