Entertainment
Jessica Hayes Wiki: Birthday, Age, Dating Affair, Boyfriend And Recent Flame Of the Former Love Island Winner
One-half of the winning duo of ITV reality show "Love Island," Jessica Hayes, is a beautiful lady who has been a sensation in the field of modeling and fashion. It has also made her the name that is on the tip of everyone's tongues.
But still, there are some facts that people are not that aware of. So today, we shed some information on the life of this gorgeous model, who just can not keep off flashing her b**bs. Here's presenting to you her wiki-like bio, which could also help you know about her current love life.
A Short Wiki-Like Bio of Love Island's Jessica Hayes: Her Age & Personal Life:
Jessica Hayes, who is known to be the one-half of the winning duo of the reality show "Love Island," celebrates her birthday on the 22nd of April and was born in 1993. This beauty, who is 24 in age is someone who does have a lot of hearts beating for her, as she is the heart throb of plenty. 
So for those who are willing to know every minute thing about this glamor model, we have got things all covered for you. 
Jessica Hayes first shot to stardom when she appeared on Love Island back in 2015. 
Before the filming initiated, she made it crystal clear as to what kind of a man she was looking for.
Banter is a big turn-on for me. I don't really like someone quiet and shy, as that's the opposite to me. I'm very outgoing and need someone to put me in my place, otherwise I'll walk all over them."
After the show began, she as well enlightened the fact that; she is not the one to wait and not the one to shy off from doing things.
It was just the second night when Jessica hooked up and shared a steamy kiss with fellow contestant, Joshua Ritchie. The two had only known each other for a couple of hours when Jessica and Joshua got down to business.
She then revealed that she had touched Joshua's c**tches. Talking to the other ladies on the show, she said,
"I had a cheeky little feel. I just wanted to check for size. It was nice. Just testing the water. Obviously you've got to make them wait but you've got to test the water because if it's small you've got to worry."
But despite the steamy connection between them, Jessica eventually found Max Morley to pair up with, and the pair ended up winning the show.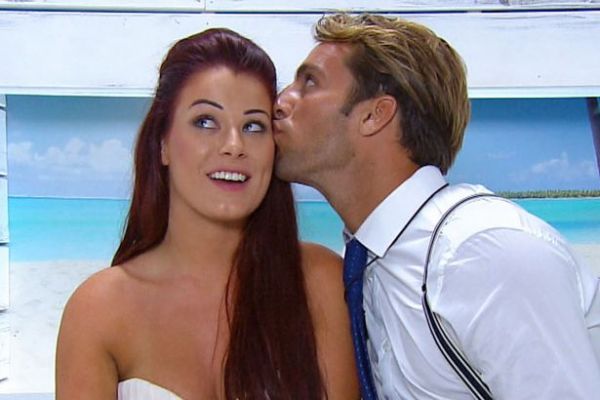 Caption: Jessica Hayes and Max Morley were a real life couple too.
Photo Credit: mirror.co.uk
They also ended up splitting the £50,000 prize money
Caption: Jessica Hayes and Max Morley won Love Island 2015.
Photo Credit: mirror.co.uk
However, the two did not last very long after the show and broke up just six weeks after they were crowned the winners.
They were seen arguing on the streets, and eventually, Jessica tweeted saying; she was single.
She was seen emotionally drained, and she returned to her family home in Gloucestershire to be with her parents and near ones and recuperate from her break up.
The reason behind the split was not made public, but it somehow relatable, that her 'indecent past' might have something to do with it. Yes, she was reported being seen in an x-rated video, where she went under her performer name- Anna Jeffries.
But that is only an assumption, as no significant proof came forth.
Furthermore, she does not seem to have good connections with her former beau- Max Morley
"You think you fancy someone, but with Max, looking at it now, it makes me cringe, I would never, ever go near him again,"
She then added,
"He's not my type. It just think, ugh, vile."
Jessica was also rumored flaming romance with Stephanie Davis' ex-boyfriend, Sam Reece back in 2016, which did not get any affirmation.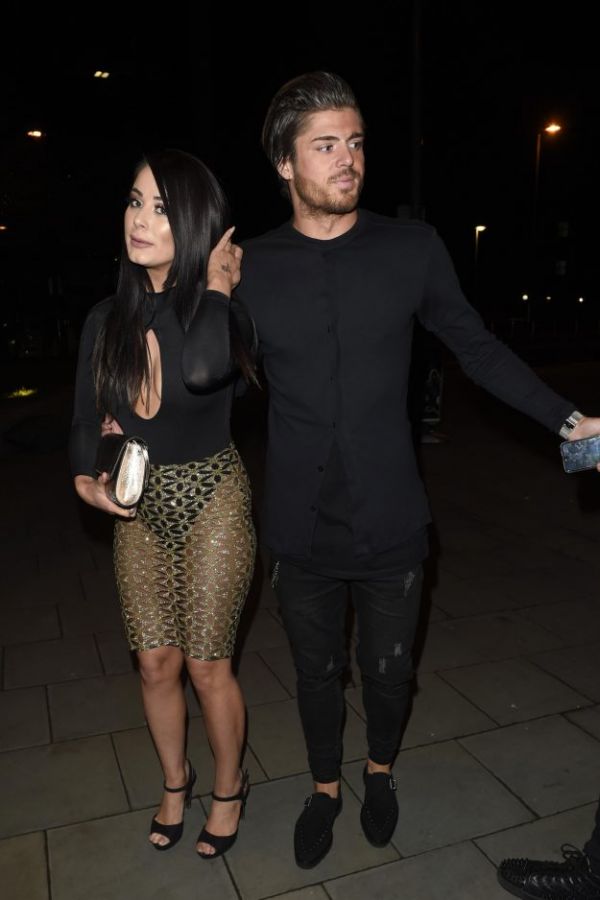 Caption: Jessica spotted with Sam as they left the club in Leeds, 2016.
Picture Credit: Ok.co.uk
Regardless of her past, people are keen to know about her current dating life. So who is she dating now? Who is her boyfriend?
Well, she and celebrity hair stylist, Jay Birmingham, have been related to one another real close. Additionally, Jessica has been posting pictures of them on social sites like Instagram.
They have revealed nothing official, but by the looks of it, she could have a new beau in her life. Let us hope she gives away some key details about her love life.
Stay with us for the emerging updates on Jessica Hayes!