Entertainment
Jessica Olsson Wiki: Facts - From Height To Her Biracial Wedding
If you google the name, Jessica Olsson, many of pages will pop up on the internet and mainly those pages will be related to her husband as she is best known by her husband's name and identity. However, today, let us dedicate this segment to her where we would share the details of her wiki. Without further ado let's dig in!
Who Is Jessica Olsson? Know Her Even More:
Jessica Olsson has been married to Dallas Mavericks star Dirk Nowitzki for a long time now. 
The couple, who first met back in 2010 NBA All-Star charity weekend in Dallas, flourished into a beautiful connection and hence they made their first public appearance back in 2011. But soon they stepped up their romantic essence and then tied the knot on July 20, 2012. Since then the duo has been enjoying their married life. Further, the fact that their marriage is an interracial one has not made a difference in the way they have blended with one another, which is appreciable.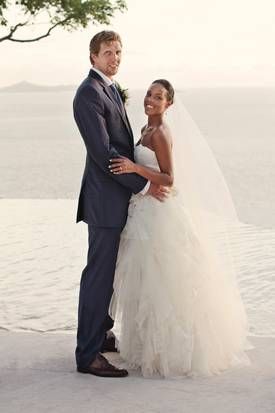 Caption: Jessica Olsson and her husband Dirk Nowitzki beautiful wedding back in 2012.
Photo Credit: blacksportonline.com
Speaking of their interracial marriage, Dirk opened up and shared how it was like to be the groom in a Kenyan marriage. 
In true Kenyan tradition, the basketballer had to do the task of identifying his wife in a group of five veiled Kenyan women. Picking the wrong one would have made Dirk give up a goat.
He explained the experience as,
"I guess it's one of the traditions. If you get it wrong, you got to pay the parents a goat or something. So I was lucky. I smelled her to find the right one. So, I got lucky there. But that was just an experience that I'll never forget."
He also added that the couple has not been directed any racial comments. In his own words,
"Nobody actually approached me with it. Everybody that's met my wife has said she's great with me. So I haven't heard any of that to my face. I'm sure there's some people that think of it to themselves. But, I've never heard it to my face."
He then concluded,
"You're a team. Same with marriage. You're a team, and pulling on the same string. You try to make it work and chemistry has got to be there. That is just the way I was raised."
Indeed he is right as love is beyond the boundaries created by humans and is the most beautiful feeling in the world.
Jessica and Dirk share three kids together daughter Malaika Nowitzki, and two sons Max Nowitzki, and Morris Nowitzki. As a parent, Drik shared the challenges of raising kids as,
"You always worry for your kids. Are they going to fall out the crib? Are they going to make the right decision later? Who they're dating? Are they going to run into a cop one of these days? You always worry as a parent. That's something for sure that's in the back of your mind, but eventually educate them the right way and keep teaching them how to respond."
He then added,
"You react to authority when somebody speaks to you, like teachers, parents or whoever. You have to educate them early enough so they know, this is a person, the higher authority, you need to show them some respect."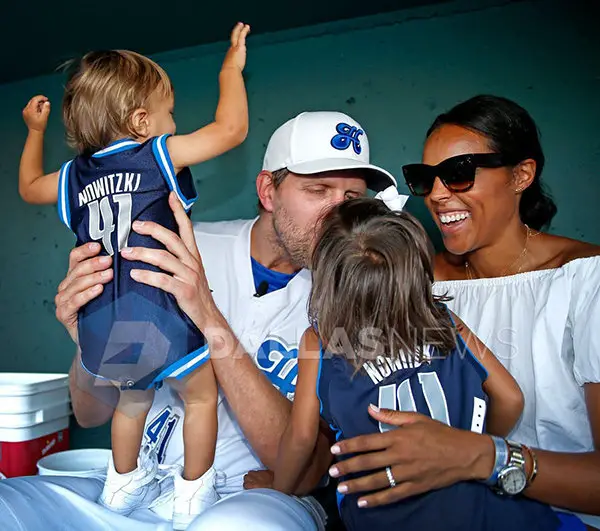 Caption: Dirk Nowitzki with his wife Jessica and their kids Malaika and Max.
Photo Credit: sportsday.dallasnews.com
Clearly, their baby daughter Malaika, their older son Max and their younger son Morris have been making their union even more fun.
Speaking of her other family facts, did you know that Jessica, who stands over 1.58m tall in height, is the sister of her twin brothers Marcus and Martin, and both happens to be professional footballers? Also, her father is a Swedish while her mother is a Kenyan and that makes her a person of Swedish-Kenyan descent.