Entertainment
Jessie Cave Has Children But Not Married! Here's Her Little Family
Since life is unpredictable, who knows what tomorrow brings! Sometimes bad incident proves out to be a good one in the future. Having a similar kind of scenario is the young actress Jessie Cave whose romantic encounter in the past gifted her a beautiful family.
Well, most of us are aware of her professional career but are you aware of her personal life? So today, let's have a look at Cave's little family without a husband.
Jessie Cave's Little Family!
Cave is a mother of two but is not married yet. Nevertheless, she had been in a relationship with a stand-up comedian Alfie Brown since a long time after she got pregnant with Cave's baby after a one night stand.
Prior enjoying a romance with Brown, Cave never had a relationship. However, she soon fell in love with Brown and started to be vocal about their relationship in different interviews. Similarly, she announced the news about her pregnancy without any hesitation. Back on August 24, she tweeted saying that she will be tweeting more and more about her pregnancy.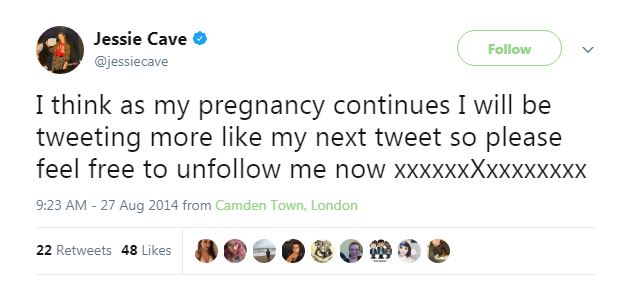 Jessie Cave announces her pregnancy. (Twitter)
A couple of months after revealing the news about pregnancy, the pair welcomed their first child, a son named Donnie in October 2014. The couple Brown and Cave went together throughout the first pregnancy, and by the time their first baby was born, they were fully in love. A year later, in an interview with The Independent in July 2015, Cave said:
I had a one-night stand. Alfie keeps saying that he feels like he's in Knocked Up. We could have ended up hating one another, but we've ended up loving one another.
Likewise, in March 2016, Cave made a Vlog on YouTube where she talked about her second pregnancy and her relationship with Brown. Cave feels that she has traped Brown successfully again being the mother of the second child and states that he can't leave as easily as he could if they had only one child.
Jessie Cave's first Untitled Vlog Numero Uno (Published on 1 Mar 2016 )
And then in July 2016, Cave gave birth to her second child Margot. Well, she was pleased about it and felt delighted to be pregnant with the second baby because she thinks that her relationship was not a fluke with Brown.
Cave just can't help herself taking her feeling to Instagram sharing pictures of her children. In October 2017, Cave uploaded a picture on Instagram sharing a beautiful picture of her son's third birthday cake.
Back in November 2017, Cave posted a photo on Instagram with her children where they were seen doing makeup.
Likewise, in January 2018, Cave again shared a picture with her children who were playing with colors, considering it as a bad idea.
Through her Instagram post, it is for sure that she has a great bonding with her children and loves them very much. The main thing about being a mom for Cave is that she could watch animes like 'The Jungle Book' and 'The Lion King' every single day as it would not seem weird being with children.
All in all, Cave has a sweet little family blessed with two cute children and a loving boyfriend.