Entertainment
Jian Ghomeshi of Mixed Ethnicity Amid Tragedy! Loss of Father and Several Allegations
It is in human nature to desire a perfect life, but their personal problems come as a barricade. However, the ones with a strong will and great determination to evacuate those difficulties can, indeed, achieve the life they aspire to live. Additionally, patience and legitimate approach are crucial while mending those problems.
Jian Ghomeshi, host of the national daily talk program, Q, on CBC, knows what we are talking about, as he reignited the spark in his life after overcoming lots of intricated situations.
Let's take a glimpse at the tragedy and allegations faced by Jian Ghomeshi.
Jian Ghomeshi: Enveloped By Tragedy And Several Allegations!
Jian Ghomeshi, an award-winning broadcaster, was accused by some women for sexually harassing them. However, Justice William B. Horkins acquitted Jian of all charge, and he was not found guilty. Ghomeshi was on trial for four charges of sexual assault and one charge of choking a woman.
Even though the court absolved him, his victims were not satisfied by the judgment of the court.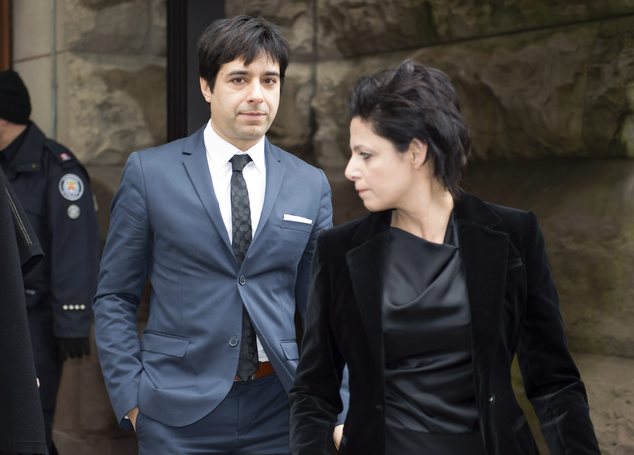 Jian Ghomeshi after the charges were dropped (dailymail.co.uk)
Jian was fired from his job at CBC while retaining a salary of anywhere between $61k to $77k when people complained that he caused physical injuries to women. However, the victimized women that charged him didn't come out openly, except Jian's ex-girlfriend, Lucy DeCoutere, a renowned Canadian television actor.
Lucy claimed that Jian choked her to the point where she could not breathe and slapped her after finally releasing her. Though Lucy had been tight-lipped about the incident, she opened up about it when Jian was dismissed from his job at CBC in 2014. 
Furthermore, a former deputy editor at Guardian US, Ruth Spencer came up with a similar problem with Jian as he had also choked her.
Forthwith those allegations, Jian went through another awful moment when his father, Farhang Ghomeshi, died on 2 October 2014 at Sunnybrook Hospital in Toronto. While grieving the loss, he posted a heartfelt message on Facebook admitting, 
I cannot stop the tears. He was my hero. I have a tattoo of his name – his signature in Farsi, in fact – on my right arm. People have asked me why. He was not a celebrity, or an Olympic athlete, or a business magnate, but he was, quite simply, the greatest man I've ever known.
Despite facing lots of hurdles in life and staying down for a while, Jian Ghomeshi came up with 'The Ideation Project,' which features all original words, music, and recording of the former radio broadcaster.
Jian must be occupied with his venture for now, as he hasn't come up with a plan for tying the husband-wife knot yet.
Jian Ghomeshi's Short Bio
Jian Ghomeshi was born on 9 June 1967 in England to the parents Azar Ghomeshi and Farhang Ghomeshi. His father, Farhang, was a civil engineer by profession.
Jian moved to Toronto from England with his parents when he was nine years old and is of Iranian-Canadian ethnicity. Though Jian grew up in a household that was of the Muslim religion, his family was a secularist.
He studied at York University's theatre program before earning a degree in political science.