Entertainment
Jillian Hervey Offers A Lot in Personal Life Details! Family, Parents - You Name it
When it comes to celebrities, people want to know everything about them; from their personal life to their professional details.
And privacy is a matter of preference. Some tend to maintain a low profile about their private life while others put it out in the open.
The latter scenario is true of Jillian Hervey, as she offers a lot of her details. Daughter of the actress and producer, Vanessa Williams, there is a lot more to Jillian than just her famous mother.
Let's take a look at her personal life details.
Personal details of Jillian Hervey:
Standing at the height of 5' 9", the daughter of the former Miss America and star of Desperate Housewives, Vanessa Williams, and music teacher, Ramon Hervey, Jillian Hervey has an alluring list of siblings and family members.
The Lion babe singer has two sisters: Melaine Hervey and Devin Hervey, and a half-sister, Sasha Fox. Jillian also happens to be the niece of actor and producer, Chris Williams.
But there is so much more to Jillian Hervey than just her star parents and family members.
The aspiring R&B singer is the vocalist of Lion Babe. The other half which completes the band is Lucas Goodman. Lucas is the producer of Lion Babe and very good friend of Jillian.
The talented duo has collaborated with famous artists like Mark Ronson, Pharrell Williams, and Childish Gambino.
The secret to a successful musical group is the chemistry: a good music is produced when all the members of a group have a good chemistry.
Jillian has a lot of connection in the music industry. The singer could have chosen anyone to complete her Lion Babe, but she rather chose Lucas as her producer and the other member of her band.
Lucas was a DJ, and she had met him at a college party where he was DJing. She liked his music instantly and thought of working with him.
Now the dynamic duo is sensational and she credits Lucas for their success and she further expressed:
"I don't think I would be here if I hadn't met him,"
The duo happens to be unique and talented. They were also the opening band for The Roots in 2014.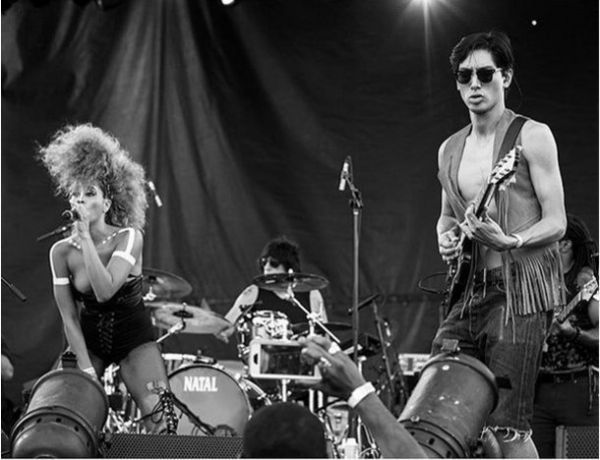 Caption: Jillian and Lucas as "Lion Babe" performing on stage.
Photo Credit: Essence
Music is not the only thing about Jillian that people are interested in. The Ugly Betty actress with a net worth of $28 million, Vanessa Williams, mother of Jillian, is the other thing people are very curious about.
After resigning as Miss America in 1984, Vanessa started her career in singing and reached a new height of triumph with her first album "The Right Stuff".
The album earned her three Grammy nominations and the aspiring singer would later be seen in the world of movies and television.
However, Jillian prefers not to sell her mother's name.
"I never walk into a room and say, 'Hi! I am Vanessa Williams' daughter. It helps me to become more authentic."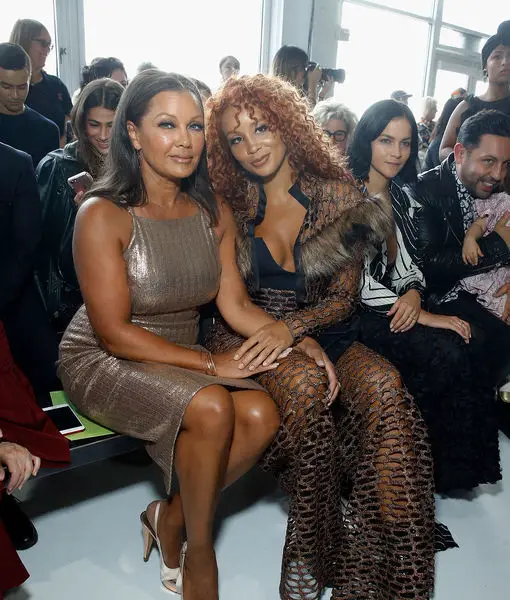 Caption: Vanessa Williams with her daughter Jillian Hervey at an event.
Photo Credits: ExtraTV
When asked about her mother, Vanessa added:
"Some people do not know who my mom is, and that is the main thing. I just want to come out and show people who I am, and if they figure it out, it is a fun fact later. What we do is so different. She is a force of nature in her own right and I just want to honor her by honoring myself doing what I feel is right."
Although she is very expressive when it comes to her family members, the aspiring singer has not revealed much information when it comes to her love life.
But she did give everyone hints about her being in a relationship back in 2012.
I might be that girl who always has a boyfriend, but I always want to give love and be loved.

— Jillian Hervey (@Jillonce) June 13, 2012
The star is often seen with her band partner Lucas, but the two are only linked professionally.
Apart from that, Jillian has no rumors of link-ups with anyone else so far. She has managed to hold her love life to herself, and utterly to herself.