Entertainment
What Is Jillian Parker's Age? Does The 'Big Brother' Personality Have A Boyfriend?
How often have we discussed the fact of reality shows producing some megastars? Quite often, isn't it?  
Well, we are up for talking about it one more time, as today, we shed some light on a big star in making, Jillian Parker. Jillian made her mark during the 19th season of the famous reality show "Big Brother," a show she is no longer part of, as she got evicted from the house after feeling betrayed.
However, this is something we will talk about a bit later in this segment. In the meantime, we first would like to address Jillian's age and then shift the focus to the romantic aspect of her life, finding out if the blonde and bold beauty has a boyfriend in her life. 
Let's dive in!
Jillian Parker's Age Isn't A Mystery, But Does She Have A Boyfriend In Life? 
Jillian Parker, who is a beautiful person with that shiny blonde hair, is 24 in age. She surely made a good name for herself while on the show and must have won the hearts of several men across the country. But is there anyone who has been successful in stealing her heart? 
Well, Jillian has an outspoken personality no doubt, but she has not yet revealed of dating a possible boyfriend. She has further been discreet about her personal life, which is why people believe she might be in a dating relationship; just keeping her man out of the limelight.
However, chances prevail that this blonde bombshell remains single and in search for the perfect partner. Who knows?
Jillian Parker On Big Brother:
She was one of the boldest and outspoken house guests during the 19th season of the famous "Big Brother" before she got evicted from the Big Brother family just after two weeks of stay.
This Timeshare sales rep, who hails originally from Celebration, FL, had some major plans for winning the show as she discussed it in an interview before the show kick-started.
My strategy is to come in, play it nice and innocent, and get in with the girls and the guys at the same time. I plan on making my main alliance with the guys, which no one will expect. Then, I'd give them information from the girls. I plan on flying under the radar and, later on, revealing myself as a big villain towards the end of the game making a few BIG moves. I'm gonna win this. Just wait and see.
But these words, no matter how cogent they were, did not help her, as she lost the eviction battle with Megan, Alex, Paul, and Christmas before getting evicted from the house.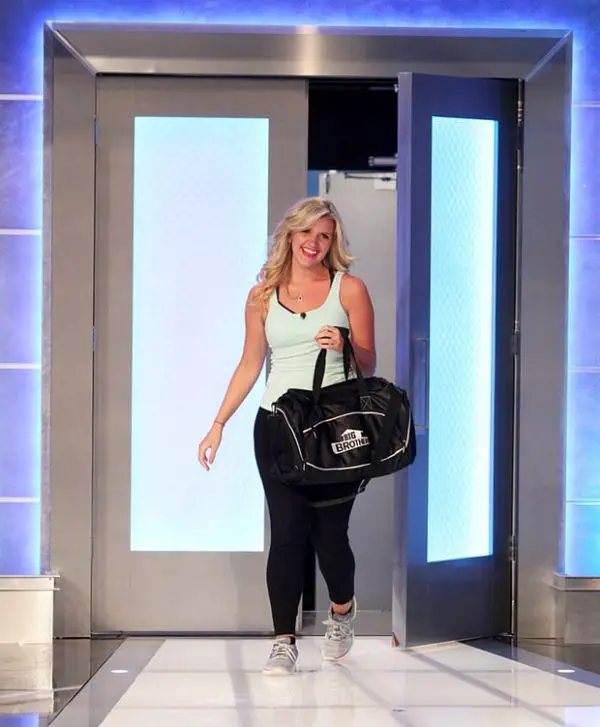 Caption: Jillian Parker spent two weeks at the "Big Brother" house before being evicted from the show.
Photo Credit: usmagazine.com
Speaking about her eviction from the house, she expressed,
 I feel SO betrayed by Alex and Jason and I can't believe they did that. I just have a really strong feeling it was them. I don't even know what my face looked like, but I am so pissed.
Moreover, when she was asked if fellow house guest Christmas faked her injury to gain sympathetic votes, Jillian replied,
Yes, absolutely. That was a big reason why they decided to keep her instead of me.
Furthermore, when questioned if keeping Christmas over her was a waste, she gushed,
No, I think that everybody in the house is selfish and they just want one less person to compete against who can also be a vote. On the "single" sides, they need a vote too and that was her plea.
Quite strong words there from Parker, but the stronger words were yet to come!
Finally, she struck the viewers with a stupefying statement, when she called the romance between Cody Nickson and Jessica Graf, "fake!"
In her own words,
"They are not going to last. It is sooooo fake! Oh my God, so fake. It's one of those things where they just want attention. Not really Cody, just Jessica. She just wants to get famous. He is a marine and so serious. Jessica wants to be in the limelight and they're totally different people. It's just a summer fling and I wouldn't be surprised if they break up before the end of the show."
However, Cody has expressed his will to marry Jessica in front of the whole world.
Parker also lashed at the relationship between Matt Clines and Raven Walton, when she expressed her doubts about their showmance.
 "Matt and Raven — that is a hot mess! Raven was kind of mean to me because I would talk to Matt. She rolls her eyes at me a lot, Also, Matt's not a relationship kind of dude. Based on his lifestyle, it doesn't seem like a good fit. He's way too old for Raven and I don't think he would date her in the real world."
Mark Jansen and Elena Davies' relationship, however, survived the scrutiny when the blonde beauty said their relationship might stand a chance.
"Mark and Elena's showmance is really, really sweet. He really likes her, it's really cute. That's the one I think is real, I love seeing them. It's so cute and genuine and it warms your heart."
Jillian Parker's Weight Loss:
Did you know, Parker has formerly shed some pounds and has undergone a weight loss procedure?
She affirmed it herself through a statement that said,
"This would never have happened to me before, I lost about 50 pounds since January. I was heavier, so I couldn't have done the [physical] challenges. But now here I am, and I'm ready to rock."
That might be the reason she looks even stunning than before, don't you think so?
Express your views in the comment section below!