Entertainment
Jimmy O. Yang Married? Personal Life With Some Interesting Facts
Chinese-American actor Jimmy O. Yang, who happens to be a stand-up comedian as well, is famous for his role as Jian Yang in the HBO's hit comedy series Silicon Valley. With the fame of the TV series and additional work credits, Jimmy has garnered a huge fan following who timely show their concern on the personal life of Jimmy.
If you are also eager to get acquainted with Jimmy's life behind the camera; join us in the following context!
Jimmy O. Yang's Personal Life
Well, Jimmy O. Yang, who belongs to a Chinese ethnicity, seems to be far from living a girlfriend-filled life for now as he hasn't acknowledged anyone as his girlfriend and no news of him dating has surfaced out in the media. But who knows he could be secretly dating too. Though Jimmy has not shared any information about his girlfriend, he is open while quoting out the name of his crush.
Previously in April 2015, Jimmy tweeted on his twitter account asking his fans if he would be gay if he liked girls with short hair. Jimmy wrote that though the super hot model Ruby Rose is a lesbian, she is his new crush.
Am I gay if I like girls with short hair? @RubyRose is my new crush, even tho she's lesbian. Life is confusing
Moreover, through a tweet in June 2015, Jimmy said that he has always told his parents that he was not gay and just busy, probably in the case when his parents are expecting their son to settle down.
"I'm not gay, just busy" that's what I've been telling my parents my whole life
Probably the actor is waiting for a perfect match to get married and have a wife. But you never know he could surprise his fans with a wedding announcement too.
Jimmy seems to be close to his parents and appears to share an affectionate bond with his family members. Previously in July 2017, Jimmy Instagrammed a vintage picture of his father and mother, and via the caption, he credited his mother for his good looks and his father for hustle.
Furthermore, Jimmy uploaded a picture of his family on 27th December 2017 via Instagram and wished his fans a "happy everything" through the caption.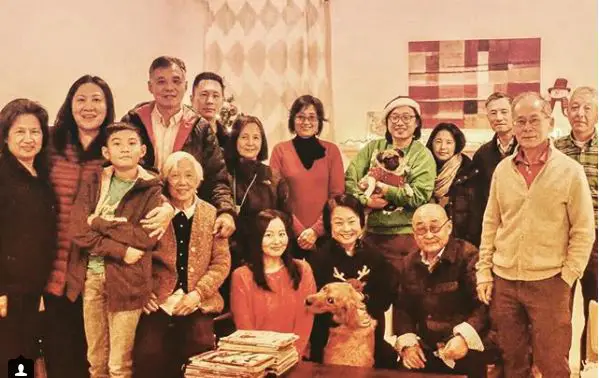 Jimmy O. Yang holds his pug in the family photo (Photo: Jimmy O. Yang's Instagram)
Moving on to his professional life, Jimmy works for his role of a prankster and hacker house-squatter in the comedy series Silicon Valley that he joined in 2014. He previously worked as a consultant and a writer for The Harlem Globetrotters and even wrote a book titled How to American: An Immigrant's Guide to Disappointing Your Parents where he shares a story of a Chinese immigrant while growing up in America.
He has showcased his acting talent in various projects like Agents of S.H.I.E.L.D., 2 Broke Girls, It's Always Sunny in Philadelphia, Criminal Minds, New Girl, and Battle Creek. In 2018, Jimmy will appear in the upcoming movies such as Crazy Rich Asians and Life of the Party. With his dedication towards his craft, he has accumulated a net worth of $ 1 million.