Entertainment
Austenland's JJ Feild Girlfriend/Partner Neve Campbell Welcome Another Son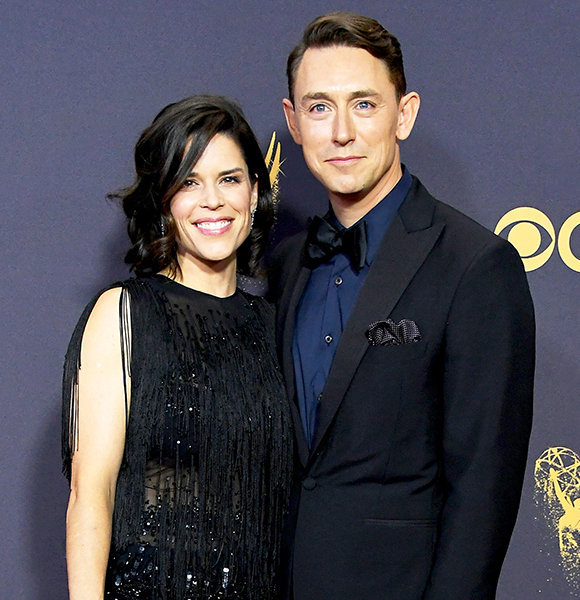 British-American actor John Joseph Feild, popularly known by the name JJ Feild, has caught the attention of many starring in the popular movie, Captain America: The First Avenger.
Along with his acting talents, JJ has also been dating his girlfriend, Neve Campbell for long, which adds the additional flavor to his immense popularity. Not only that, the romantic couple has also turned into proud parents after welcomed their bundle of joys. 
Family Turns Four with Girlfriend
The Austenland actor, JJ Feild is dating the Canadian actress Neve Campbell since May 2011. He announced that he has been expecting the first child with a girlfriend on 16 March 2012. And the couple welcomed their first child, a son named Caspian in August 2012. 
After being the new parents of Caspian, Neve shared her experience of a mother to People:
"He's talking a lot more now… The word of choice is no right now. There's so much that's so beautiful. Waking up to him every morning with that smile and innocence and creative energy is beautiful."
Well, after two years of Caspian birth, the couple was surrounded with rumors about the expectant of another child in 2014. A source told to US Weekly:
"They've always wanted more than one child. They want Caspian to have a sibling."
The couple was not just indulged in the rumors but also some media reportedly confirmed Neve's second pregnancy. Also, many media reportedly told that the Scream actress is expecting her second child. 
After the news mushroomed on the internet, the actress' representative came forward with the reality. She confirmed the 44-year-old star's pregnancy rumor as the fake news.
However, it seems the couple felt a need for another child and a sibling for their toddler Caspian. So, in 2018, they adopted a son named Raynor Feild in January 2018.
Welcomes Second Son -  Family Of Four
But they only announced about their addition on 29 June 2018 after their adoption became official. JJ's wife-to-be says that their little Caspian is over the moon about his young sibling and often ask to care Raynor.
"Our 6 year old son Caspian is over the moon and asks every morning "Can I hold my baby? Can I feed my baby? Can I play with my baby".
Not only Caspian, JJ, and Neve are also over the moon and expressed their gratitude to Raynor's biological parents for such a wonderful gift.
"It's the most incredible thing we've experienced. We're so grateful for this beautiful light coming into our lives and we think of and are grateful to his birth family every day for such an incredible gift."
Neve, who was previously married twice, could not resist sharing the good news. She took to Instagram on June 2018 with her and Feild pushing a stroller as Caspian helps them along. The actress says it captured the moment they were officially a family and expressed that she could not wait to share the happiest news to their followers.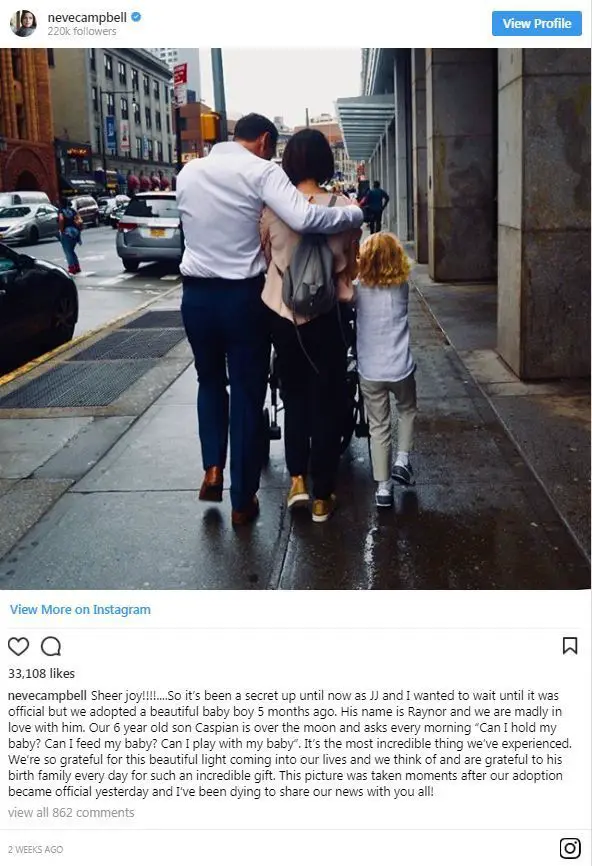 JJ Feild, girlfriend Neve Campbell, son Caspian strolling their new sons (Photo: Neve Campbell's Instagram)
Well, as the Feild's family is complete, it seems JJ and Neve Campbell, who has a net worth of $ 10 million, might rush to the altar very soon.