Entertainment
Diet Expert Joe Cross Envying Married Life! But It's Not His Own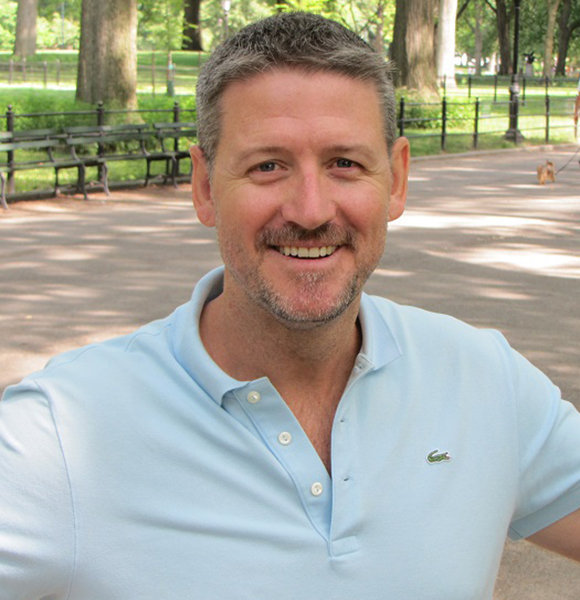 If you are conscious about health or fitness, then, you might probably know, Joe Cross, who is the documentary maker of Fat, Sick & Nearly Dead. 
Apart from the star's professional life, the fandom is well curious about the star's married life and also about his parents.
Well, how much do you know about him besides his professional life? Today, we present to you the personal life of the health expert, Joe Cross!
Joe Cross' Envying Parents Married Life
The Australian entrepreneur, Joe Cross keeps his personal life under the wraps and has not been spotted in any romantic relationship.
But the wellness advocate was once spotted sipping the fresh juices with model Erica Packer, the ex-wife of casino billionaire James Packer, back in 2014. But the romantic relationship with Joe has not been the highlight yet.
And the 56-year-old has not mentioned anything about his girlfriend too.
Most notably, Cross is blessed with the adorable parents that he cherishes. If you are following him on different social networking sites, then you must have seen him adoring his parents.
Back in April 2015, Joe tweeted a photo of his mom and dad enjoying Easter Lunch while planning their 50th wedding anniversary in Oc.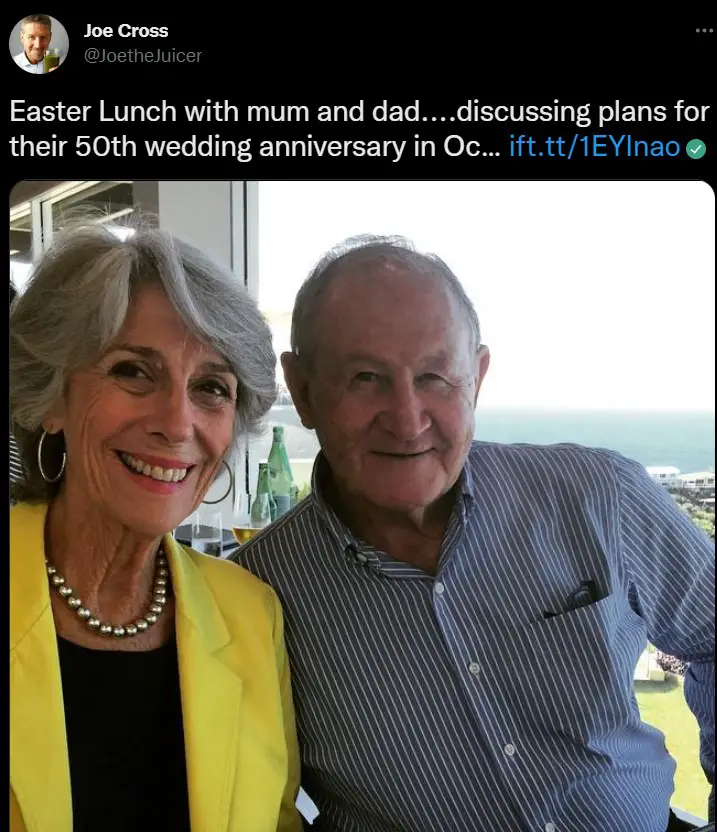 Joe's Amazing Parents (source: Twitter)
Well, he has also uploaded a picture on Instagram with his adorable parents where Joe was seen enjoying quality time with his family. Just two years after the tweet, Joe uploaded the picture of his mum and dad with a caption that reads,
"Happy Anniversary to my mum and dad! I love them both very much and today is 52 years together! What can you say in a few words about that kind of dedication, commitment, and love other than thank you! 
Thank you for setting such a wonderful example to me and the rest of our family. Thank you for demonstrating that if you work hard for it and don't give up when things get too tough that anything is possible!"
Joe's parents have spent their glorious 53 years of married life by now. And undoubtedly, his parents' relationship has become an example for him. Despite that, Joe hasn't been witnessed enjoying a romantic relationship in the past.
Joe Cross' Story of Weight Loss
The man who has suffered from the autoimmune condition, Chronic urticaria, has now become the witness advocate. Back in 2005, he weighed 310 pounds or 140 kilograms and spent his 30's trying traditional and non-traditional medicine to treat his disease.
With his regular habit of smoking and drinking alcohol, the doctor even warned him that he would have an early death. 
So, with the supervision of his doctor, Joe started his juice fasting for 60 days back in 2005. During his juice diet, he traveled across America, talking to people about their attitudes toward food.
He used 80 percent of vegetables, and 20 percent Mean Green Juice which includes- a mixture of apples, ginger, kale, lemon, celery, and cucumber.
Joe stated that for the first three to five days, he felt groggy and unstable, but in five days, he started feeling well both physically and mentally.
So, by day 61, Cross lost 82 pounds, reporting a complete loss of his urticaria symptoms.
Joe filmed his juice fasting, traveled through America, and released a documentary, Fat, Sick & Nearly Dead, in 2011. After the film, he continued to move around the world to promote juicing and also plans to make a second movie about life after juicing.
Well, he released the second part of the film, Fat, Sick and Nearly Dead 2, back in 2014. This movie includes the people from the first movie, which includes expert interviews and shows Cross's effort to maintain his weight.
Likewise, Joe produced another health documentary entitled The Kids Menu, which focuses on stopping childhood obesity in its wake.
Stay with us for more updates!