Entertainment
Joel Ward All Set To Get Married; Asked Girlfriend To Be Wife In Fashion – Literally!
For a girl, a marriage proposal is one of the most memorable moments in her life. As far as marriage proposal goes, the peculiar ones are the most memorable ones. And keeping that in mind, Joel Ward used his creativity perfectly.
Joel Ward, a San Jose Sharks winger, asked his girlfriend to marry him in most unconventional way possible. What exactly did he do? Read along!
Off-center Proposal!
Joel recently asked his girlfriend and now-fiancee Kitt Pedrosa to marry him in one of the coolest ways. During the holidays, the athlete ordered a pair of customized Jordans for his girl. He asked Ecentrik Artistry, a Brooklyn, New York-based shoe customizer, to put on a special message on them. The shoes had a red, white and blue scheme which featured the words "Will you marry me?"
Moreover, Ecentrik posted a picture of the pair of shoes and Pedrosa rocking the kicks on Twitter on December 24, 2017. The post gave an obvious clue that Pedrosa had accepted the proposal and is soon to be Ward's wife. Ecentrik also congratulated the happy couple through the post.
However, Pedrosa had all smiles while wearing the kicks even though it is not sure how much of use is she going to get out of her new sneakers. These sneakers surely are a stack to keep safe rather than to flaunt by wearing them. Don't you think these snickers are the coolest ones?
Likewise, the soon to get married couple, who have been dating for a while now, has not spoken anything about their wedding dates yet. The way Ward proposed his lady love, it seems that the duo will take those marriage vows in an unconventional way. Well, this proposal surely didn't allow his supporters to think him as gay.
Joel Ward's Short Bio:
Joel Ward, born on December 2, 1980, in North York, Ontario, is the third child of Cecilia and late Randal Ward, who were immigrants from Barbados. Joel Ward also has two brothers, Shane and Julian who are very active in fantasy sports pool.
However, Ward, a Canadian professional ice hockey player, currently plays for San Jose Sharks of National Hockey League as a right-winger. Ward previously played for Nashville Predators, Minnesota Wild, and Washington Capitals.
Moreover, Ward started his professional career when he was assigned to the Wild's American Hockey League (AHL) affiliate, the Houston Aeros, signing his first professional contract for the entirety of the 2005–06 season. He then earned a two-year contract with Minnesota Wild.
Likewise, Ward signed a one-year deal with the Nashville Predators as a free agent in 2008. After which he subsequently signed a four-year, $12 million contract with the Washington Capitals.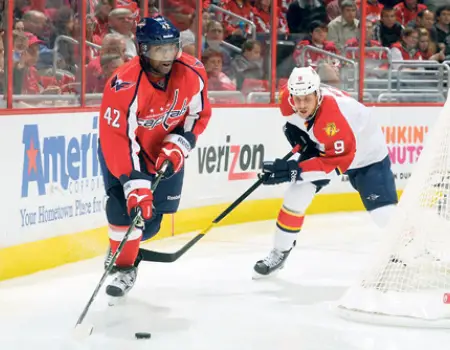 Joel Ward (left) of Washington Capitals against Stephen Weiss of the Florida Panthers (web.archive.org)
However, as an unrestricted free agent, Ward signed a three-year, $9.75 million contract with the San Jose Sharks in July of 2015.
Even though Ward is still in search for his first Stanely cup ring, he seems to be ready to lock up a wedding ring shortly. On that note, stay connected with us to get updates on Joel Ward's escalating love life.