Entertainment
John Cleese Spouse Talks, Fourth Wife Is 'Extraordinary'! Plus Tour Schedule
John Cleese is an English actor,comedian and screenwriter most famous for his performance in...he has been married four times where he has paid an alimony amounting to....to his ex-wives. however, he finds his current wife,.... to be 'extraordinary'.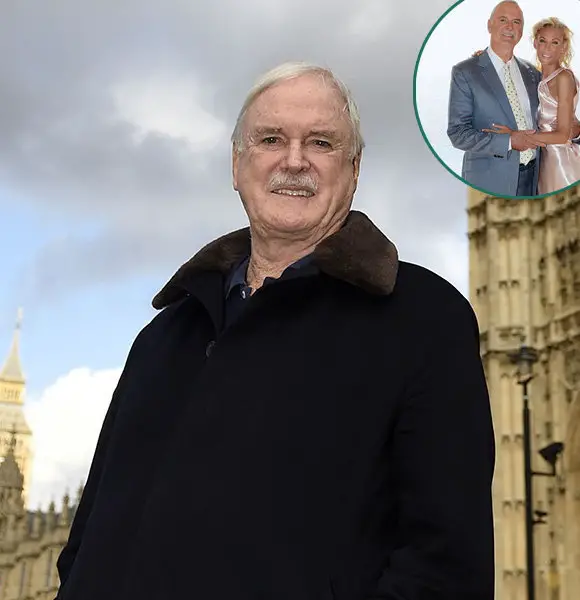 An actor, comedian, screenwriter and producer, John Cleese has found success on every new ventures that he has tried his luck upon. Going strong even at the age of 78, John Cleese displays an unmatchable love towards his profession and possesses  a professional commitment only few can show for.
John has a lot of people to thank for contributions in his long and illustrious career. However, his female partners, four, to be precise has left an unerasable mark in the actor's career. Over the years, the actor has had to compensate more amount in alimony than what he is left off with at present.
Going strong in the later parts of his career, John still finds time for tours to visit his fans and interact with them.and this new found strength comes from what he believes is the love of his life at last, his extraordinary fourth wife.
Former Spouse Talks: Bad Luck In Marriage?
The Monty Python star in his career has found love in more than one occasions. Unlucky with marriage, John had been married three times before meeting his current 'extraordinary' fourth wife.
See Also: Elizabeth Huberdeau Bio: From Kids To Divorce, Who Is John Cena's Ex-Wife?
Involved in what we call a long term marriage with all his wife, John first got married with fellow writer and co-star in both series of Fawlty Towers, Connie Booth, in 1968. The two were involved in an amicable in 1978, but only after leaving their trace of marriage in the form of their comedian daughter Cynthia Cleese in 1971.
John married late American actress Barbara Trentham in 1981. With John's second daughter Camilla, born in 1984, the pair got divorced in 1990.
He paid tribute to the tragic passing away of Barbara in 2013,
'Barbara was a wonderfully kind person and a superbly talented artist. She will be dearly missed.'
John's third marriage started in 1992 when he married American psychotherapist, Alyce Faye Eichelberger.
The couple who got divorced in 2008 left John with a mouth boggling $19.7 million to pay as alimony, leaving her with more fortune than John himself.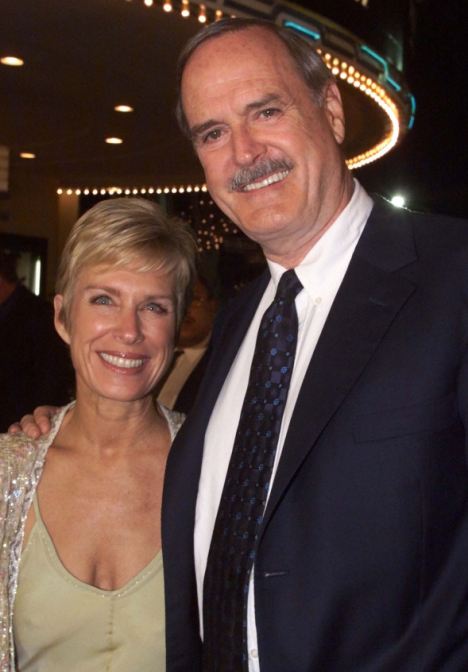 John Cleese with third wife Alyce. (Photo: dailymail.co.uk)
The oscar nominated comedian expressed his discontent to London's Daily Telegraph in an interview in 2009,
"What I find so unfair is that if we both died today, her children would get much more than mine, at least I will know in future if I go out with a lady they will not be after me for my money."
The actor who recently claimed in July 2018 to be moving to Caribbean after being fed up with the 'lying and triviality' of the British Press, was found joking over his past marriages in Conan O'Brien's US talk show in 2016,
"One of my ex-wives died. You know what? It was very sad because it was the wrong one.'
After his comedian daughter Cynthia now involves jokes of her own father in her stand up act, John also joked regarding his displeasure over children on the show,
"I think the secret is not to have children. Children are the cause of most of the misery in the world."
Safe to say, the Time Bandits star hasn't had an easy marriage build-ups.
'Extraordinary' Fourth Wife To Change Marriage Luck, Accompanies Husband to Tour?
John found what he believe is the love of his life in the form of former model and jeweller, Jennifer Wade in August 2012.
The Fawlty Towers star exchanged vows with Jennifer on the romantic Caribbean island of Mustique.
You May Also Like: Age Gap Does Not Matter in Healthy Relationship: Fox News' Chairman and CEO Roger Ailes: Married Life, Wife, and Children
Talking about his marriage to Telegraph on 2012, Cleese mentions his wife to be extraordinary.
"I knew from the first moment I met her that this could be something very serious, She is an extraordinary one-off."
The couple despite their 31 year old age difference, remains to be happily married six years down the line. The duo have been spotted together on several occasions, be it holding hands on the street, or going on a boat ride together.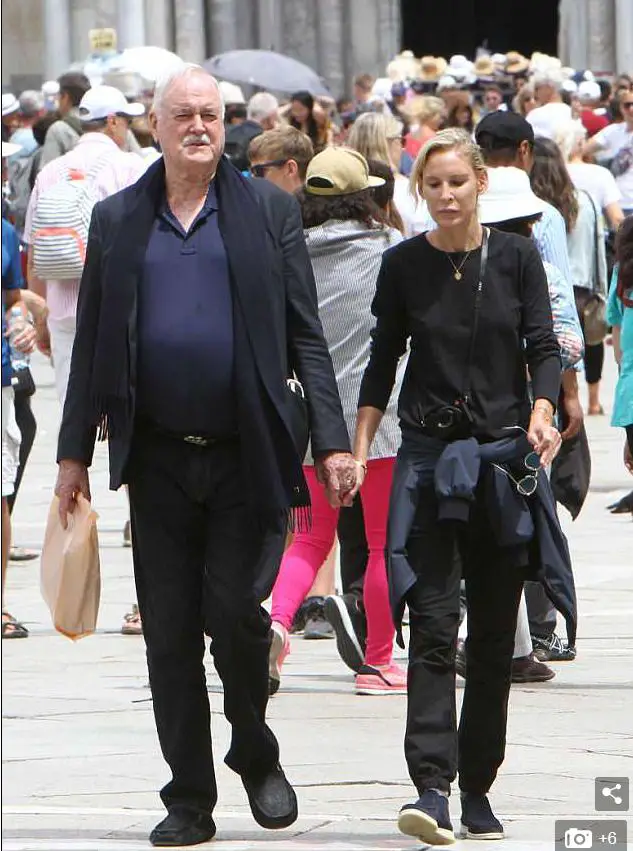 John Cleese holding hands with fourth wife Jennifer while walking on the street. (Photo: dailymail.co.uk)
Speaking in an interview with The Lady in 2015, the actor revealed his feelings about the marriage,
"It's very nice to be in love at my age. It makes almost everything else seem relatively unimportant. I've never had that experience before. I've never had this sort of connection before."
John, ridiculed for his unnatural height in his childhood days with his height exceeding six feet before the age of 12, is currently planning a stand-up tour for coming November at USA and Canada. Even at the age of 78, the star with an estimated net worth of $10 million, is on a mission to entertain his fans on a tour accompanied by his wife.