Entertainment
John M. Cusimano And Rachel Ray Making A Statement; Married Life Getting Stronger With Time
Every love story is unique and has its share of up and downs. The relationship of celebrity is under constant scrutiny, and sometimes celeb becomes the victim of rumors which has potential to ruin the relationship, but it's also the moment of truth which bring the real strength of relationship forward.
Well, John M. Cusimano and his wife and celebrity chef, Rachael Ray were surrounded by relationship threatening rumors, but despite rumors, their relationship survived the odds and can make a statement. So, what kinds of trouble did the couple face regarding their married life. Let's dig in to find out.
John M. Cusimano and Rachael Ray: An Example Of True Love!
The beautiful married couple, John M.Cusimano and his wife Rachael Ray first met each other at a party back in the year 2001. Cusimano's wife, Rachael said that her first encounter with John was 'a big surprise' for her.
 "He came at a point in my life when I had decided, I'm not going to chase [marriage]. I don't think young men or women should feel pressured into marriage. You shouldn't marry anyone, in my opinion, who you have to try hard for."
After realizing they are 'the one' for each other, they exchanged wedding vows in Tuscany on September 24, 2005.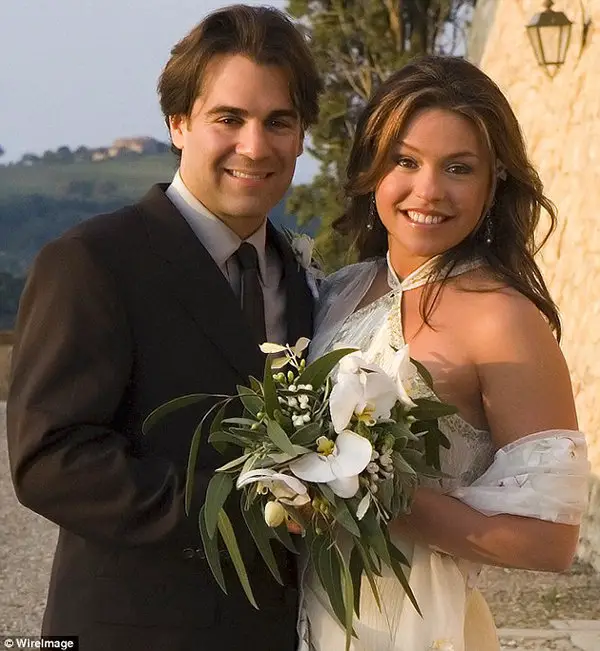 Caption: John Cusimano and his wife Rachael Ray during their wedding back in 2005.
Photo Credit: DailyMail 
However, it seemed as though they weren't ready to start a family as John's wife, Rachael said she doesn't have time.
"I don't have time. I work too much to be an appropriate parent. I feel like a bad mom to my dog [Isaboo, a pit bull] some days because I'm just not here enough. I just feel like I would do a bad job if I took the time to literally give birth to a kid right now and try and juggle everything I'm doing."
Well, although their love is in the air, the pair have indeed been through hard times as well. They have been a victim of false rumors which could ruin their relationship.
To begin with, there were rumors of their pair going through a divorce around 2007. However, Rachael busted the fake news immediately saying she and John are very happy together in an interview with 'Access Hollywood,' 
"My husband and I were drinking margaritas on vacation when we read we were about to get divorced, so we find it funny. We're very, very happy."
Additionally, the tabloid 'The National Enquirer' claimed that John paid a woman for 'strange sexual favors' and that Rachael was interested in her new co-worker. But, the false story was busted when Rachael explained that everything was going smoothly in their married life.
"I guess that in some ways it's kind of flattering (that) people care. I just wish they got it right but, oh well, I still go home to my husband every night, so it's OK. It doesn't matter to me so long as he's still there."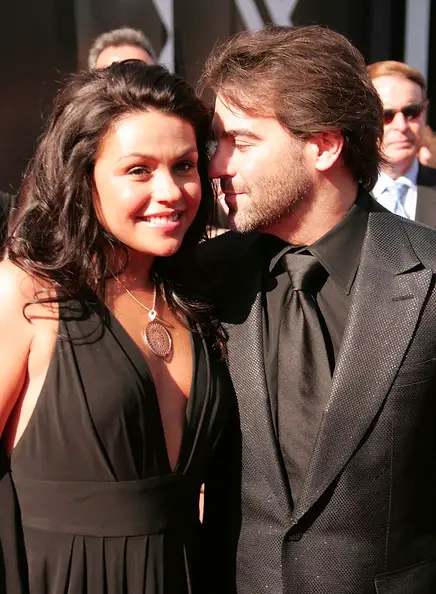 Caption: John Cusimano and wife Rachael Ray at the Emmy Awards in June 2007 in CA. 
Photo Credit: Zimbio.com 
Well, if only that were the end of their split rumors! 
Despite the couple explaining they are in great terms, divorce rumors continued to circulate and on November 2007, Rachael disclosed that such reports were 'starting to upset her,' 
"Everybody gossips … but this stuff is hurting people's feelings who are in our families and friends of ours. They worry about us. There's always someone that's going to be telling stories behind your back, but this is too much."
She also added,
"The tabloids won't stop printing this junk until people stop buying it."
Moving on, John was the talk of the town in early 2013 when headlines appeared claiming that he went to clubs with 'women who were not his wife.' According to DailyMail's reports, an undisclosed source said John was caught many times going to a swinger's club in Manhattan and also was a regular customer of the Checkmate club.
Additionally, the source said John was seen in the NY club for 'at least six times' with 'at least one female escort' and also reported that he was spotted there before as well as after his marriage with Rachael. 
Meanwhile, Cusimano came forward and reacted in the regard, and as per FOX news, Cusimano was preparing to legally sue 'The National Enquirer' tabloid for creating such misleading information about his personal life. 
On the bright side, a representative of Rachael stated that the report was false.
"This is yet another pack of lies printed by the National Enquirer who have been targeting John and Rachael for several years with no merit. As noted in the story, John's lawyers have been in contact with the Enquirer and are exploring legal action against the publication for defamation."
All fake rumors shut down for good when John Cusimano and his wife Rachael Ray renewed their vows. While celebrating their 10th wedding anniversary, Cusimano and Rachael renewed their vows in Castello di Velona, the castle where they got married back on September 19, 2015.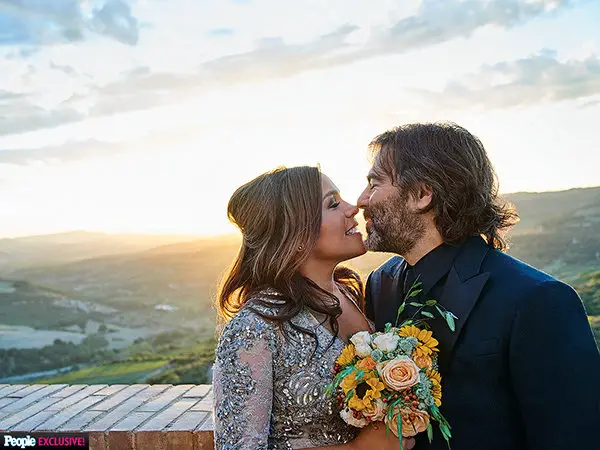 Caption: John Cusimano and wife Rachael Ray during their vow renewal ceremony. 
Photo Credit: People.com 
In an interview, Rachael talked about renewing vows and shared, 
"It basically says, 'Under any circumstance, I would still choose you and I would still be with you. And I love you more than all the whiskey in heaven,'" 
The beautiful ceremony, which celebrated the togetherness of a decade, was attended by almost 100 of their closest friends and family. 
Moving on to his professional life, John Cusimano is renowned American actor and producer, who was born on August 19, 1967. He is popular for appearing in Pete Holmes' 2017 show 'Crashing,'  Rurouni Kenshin: Wandering Samurai (1996), and Entertainment Tonight (1981).
Besides acting and producing, John is a lawyer as well. Further, his another job is a lead singer in the band 'The Cringe.' As of now, the band has released a total of five albums.
Caption: John Cusimano with the band 'The Cringe' giving a live performance of their song, Jailbreak. (Published on April 28, 2017) 
The multi-talent personality,  Cusimano must have accumulated a hefty net worth which remains confined to himself, however, his wife, Rachael has a whopping net worth of $80 million.