Entertainment
Johnny Stevens And Girlfriend Strong? Age, Birthday, Family & More
Johnny Stevens And Girlfriend Strong? Age, Birthday, Family & More Lead vocalist as well as guitarist for 'Highly Suspect' band, Johnny Stevens is rocking the world through his vocal and keeps giving songs for the dating couple through the lyrics. But he never sheds light on his long-term relationship with his girlfriends. Well, every fan of 'Highly Suspect' is enthusiastic to know about famous vocalist Johnny Stevens's love life.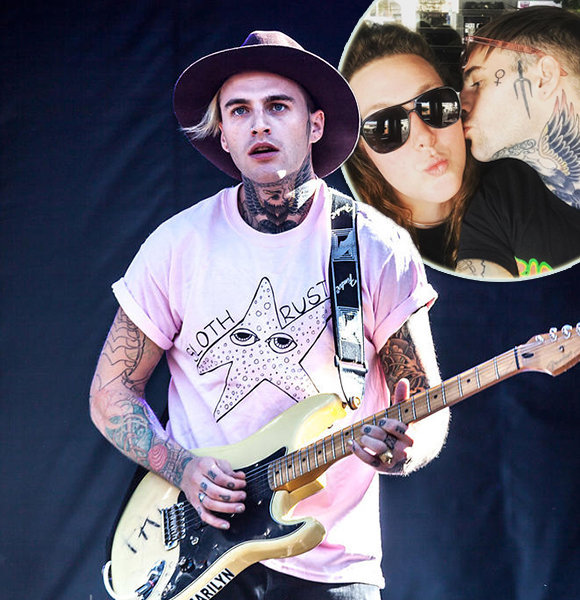 Highly Suspect's frontman, Johnny Stevens has dominated the world through his strong vocal. But now he has expanded his genre of music from fronting up the band to being a DJ.
His fans have been enthusiastically waiting to see the brilliant singer follow up on his new passion. The singer's new foray has left his followers rejoicing after enjoying his deep lyrics that portrayed a deeper meaning of love life.  
Johnny Stevens's Love Life
The lead vocalist of the band, Johnny Stevens depicts his personal life through his musical lyrics. However, he has made attempts to not revealing anything about his relationship status.
Although Johnny has kept his girlfriend's identity concealed he often composes the songs which depict his personal life. Johnny's song Chicago is about his rocky relationship with his longtime girlfriend, in which he asks himself, "Why am I f*****g up so bad? … When am I ever gonna learn?"
Back on 1st  December 2016, when journalist Corbin Reiff interviewed him, he affirmed that every single word of the song Chicago is true and was dedicated to his girlfriend. 
Though the singer seems a bit secretive about his love life, his girlfriend completely contrasts him. His lady-love loves to flaunt their romantic union on the social networking sites.
Johnny's girlfriend took to Instagram on 29th November 2017 with the romantic snap with Johnny where they were seen getting cozy,  writing: 
BaeDay with MY sweaty90sJEFFGLDBLVM ♀️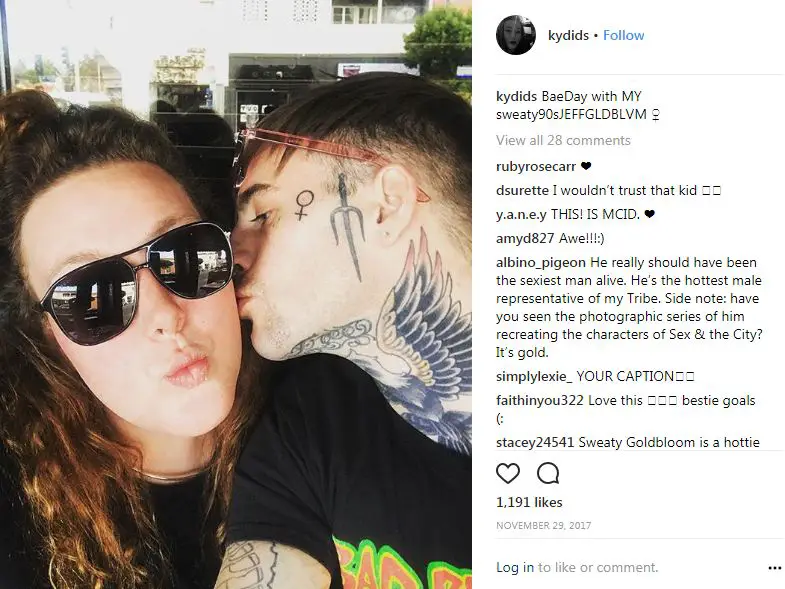 Johnny Stevens with his girlfriend. (Photo: Kydids' Instagram account)
Well, with the romantic pictures that are circulating on the internet, it's obvious that Johnny is dating, but has he reckoned on turning his girlfriend into a wife by exchanging vows with her? As he hasn't made any official comment on it, his fans need to wait until he makes an announcement.
In addition to song Chicago, his another song 'Lydia' is also inspired by the former love of his life.  She happens to be one of the first people he met when he moved to Brooklyn. In spite of being domesticated, they soon realized that they were leading their own life.
Further, they walked away and eventually became the people they were meant to be. Before the release of the song Lydia he had played it to his former girlfriend, and she liked it.
Johnny Stevens' Life At Glance
Johnny Stevens was born in 1986 in Massachusetts and celebrates his birthday on 10th of April every year. After his mother disappeared when he was just a year old, his father raised him up. 
His young hard-rock band Highly Suspect consists of frontman himself and twin brothers Rich and Ryan Meyer. Before garnering the national attention, they played in local clubs in the Cape Cod area around 2009. Johnny even worked as a plumber before gaining stardom.
His band suddenly came into limelight in 2015 when the group was nominated for two Grammys for the 58th Grammy Awards held in 2016. They were nominated for Best Rock Song for "Lydia" and Best Rock Album for "Mister Asylum."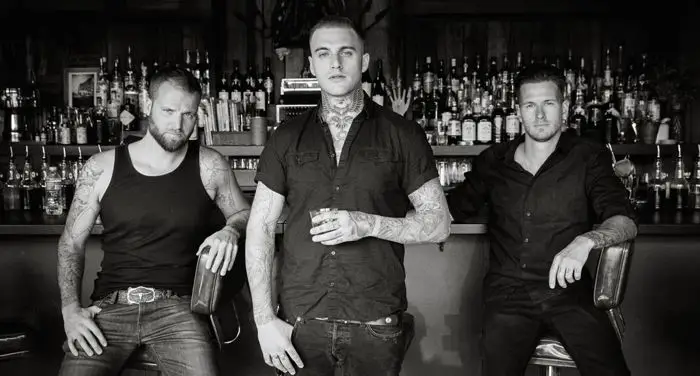 Johnny Stevens and bandmates of Highly Suspect (Photo: bestnewbands.com)
After releasing the first EP of original music, "First Offense" in 2009 they decided to relocate to Brooklyn, New York. After relocating themselves in  Brooklyn, New York, they released their second album, "The Boy Who Died Wolf."
The year 2017 was fun as they hit the road and played their biggest ever UK show at Koko in London. Well, if you are willing to see the Highly Suspect band members live, then they are performing in Brooklyn Bowl Las Vegas on 17th April 2018.
Aside from gaining the fame and name as the respected person of the band, he has expressed that he wants to expand his musical horizons as a DJ. He said:
"I've made a decision to become the best DJ in the world and there is absolutely nothing anyone can do to stop me." 
He also revealed that he is always going to support the band and he will always be a part of Highly Suspects. He added:
"THIS DOES NOT MEAN ANY THING IN REGARD TO THE BAND NOT DOING BAND THINGS. The band is still the band. We are literally writing in the studio as I type this. This is a separate endeavor entirely and I just needed to be ULTRA CLEAR about that so that no one gets scared or thinks Highly Suspect isn't about to put out the best album ever because that's still very much going to happen."
Well, Johnny is keeping his both passion; the passion of DJ and the vocalist alive and still intent on entertaining the world, albeit in a different way.