Entertainment
Jon Bellion,'Dead Man Walking' Singer Has Girlfriend? His Dating Status Now
American songwriter Jon Bellion who is the writer for the famous song The Monster has drawn plenty of attention in the entertainment world via his singing and writing skills. With the growing popularity and fame, Jon has accumulated a lot and fans and followers, and now his fans want to get familiar with him on a personal level.
If you are one of the fans of the artist, well consider today lucky as we are gathering the personal information of Jon and sharing it with you through the following context.
Jon Bellion's Dating Life
The handsome hunk Jon Bellion seems to prefer privacy regarding his personal life. There is no news about his current dating affairs and even rumors for his possible relationship hasn't surfaced out in the media. However, back in 2015, Jon was speculated to be in a relationship with the beautiful American actress and model Melanie Iglesias.
Previously on 26 August 2015, Jon called Melanie his girl in one of the posts on his twitter and said that she was watching Mean Girls with his brother,
Walk in from the studio .... My girl is braiding my brothers hair watching mean girls. what is life! LOL @MelanieIglesias @robvanbomel
The rumor got more flamed on 18 June 2015 after Melanie in her Twitter account revealed that her birthday was made special by Jon. In the tweet, Melanie posted a picture capturing herself and Jon along with a large bunch of roses and a birthday cake. She wrote,
This man made my birthday so freaking special!!!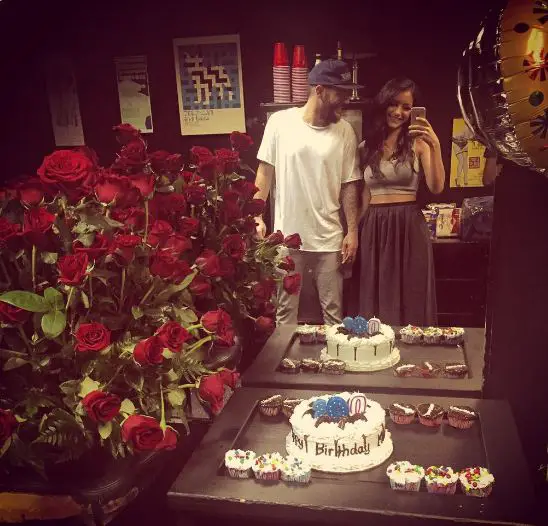 Jon Bellion celebrating Melanie Iglesias's birthday (Photo: Melanie 's Twitter)
Back on 27th March 2015 Melanie through her Instagram account hinted that she was out with Jon and other friends for a barbeque night.
Moreover, Jon opened about his relationship status during an interview with the Interview Magazine on 23rd September 23, 2014. At the time he clarified that he had a steady relationship with a girlfriend but didn't open much about the identity of his lady.
Jon also revealed that "Immigrant," the song he wrote, was inspired by the affair that he had during the time he was in London. Saying that his then-girlfriend was a quite popular British singer, Jon quoted,
It's a true story. I was dating someone who's a British singer and is actually pretty popular. I met her at a chateau in France when I was at an ASCAP (American Society of Composers and Performers) writing retreat and we went back to London. We broke up.
Interestingly, Jon's song and lyrics mostly are inspired by his own experiences and feelings. Back when Jon had a question, and answer sessions on his Twitter account, one of his followers asked him what and who was the inspiration for his song titled "Waves of Loneliness." Replying to the fan, Jon answered that the relationship he had with his ex-girlfriend was the source of his inspiration for the song.
my ex-girlfriend. We ended on great terms so it was just super hard.
As for now, it is not sure if Jon is still in a relationship with Melanie. Neither of the partners has quoted out loud about their affair. Furthermore, the privacy Jon has implemented in his life has aroused rumors of him being gay. It seems like we have to wait till Jon speaks about his relationship status and also clarifies his sexual orientation.