Jonathan Tomines is most popularly known from the A&E's reality series, Toe Bro.
He is a professional chiropodist - an individual who takes care of feet and alignments. Well, he explores his expertise in the reality show. Also, he has a YouTube channel entitled Toe Bro.
Jonathan Tomines Bio
Jonathan was born and raised in the Philippines.
He found the right path in his life all due to the courtesy of his father. Well, his old man - a chiropodist by profession used to make little Jonathan assist him. While helping his father, the reality star found his calling in the same job. Thus, being a chiropodist became a family profession.
While he gained experience via working with his father, Jonathan did go to school for professional education in the caring foot field.
He enrolled in the University of Waterloo in 2005. There, the reality star took up Biomedical Science and completed his BSc degree in 2009. Then, he majored in Advanced Graduate Diploma of Health Science in Chiropody. He passed the course with flying colors in 2012.
Apart from his reality show status, he is also part of Mississauga Foot Clinic Team at Cooksville Footcare Clinic.
Who Is Jonathan's Wife?
Jonathan is married to Lianne Tomines. She is originally from Cuba.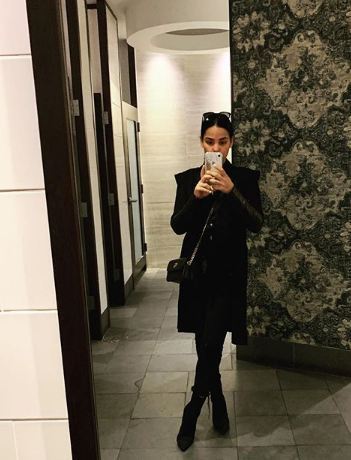 Jonathan Tomines' wife Lianne Tomines takes a selfie on 28th April 2019 (Photo: Lianne Tomines' Instagram)
As the reality star is coy about his personal life, the exact date when the Filipino guy turned his girlfriend into his wife is not out in public. However, his wife first shared their wedding pictures on 23rd March 2016.
No matter the wedding date, the pair is much in love and keeps flaunting their love for each other on Instagram.
Net Worth
Jonathan has always been a sought after chiropodist in his local place in Canada. But, his fame exploded since his YouTube videos started raking up millions of views. And of course, due to A&E's reality show which took him to people's home screen.
Besides being a medical professional-cum-reality star, Jonathan is also an entrepreneur. He sells professional foot care tools via his website, toebro.com.As a result; he has accumulated a net worth of $350,000.
With Same Name:- Jonathan Silver Scott Gay, Wife, Net Worth
It is his branding and expertise in foot care that has people loving him on all platforms. Jonathan's fans all over the world want him to move to their local place and start his services. They often post such remarks on his social media.
No wonder, people search for his Wikipedia all over the internet.
However, keeping up his coy nature, he hasn't revealed much about his parents, siblings, or his birthday for that matter. As he climbs the height of success, maybe the details will come out in the forefront.
Till then, fans can enjoy Jonathan's reality show and learn about how to take care of one's foot.