Entertainment
Who Is Jordan Schlansky Fiance & Wife-To-Be? Wiki, Age, Net Worth
American TV producer, Jordan Schlansky has been frequently featured in several of Conan O'Brien's shows...He is engaged to a woman named...He first met his fiance and soon-to-be wife at the...Jordan's wiki suggests that he earns a salary of... and enjoys a Net worth of...
American TV producer Jordan Schlansky has been frequently featured in several of Conan O'Brien's shows. Jordan, who was initially considered a fictional character, later emerged with the same identity in the real world as well.
Not only is Jordan a real man, he also maintains a healthy relationship with his fiancee. Although he has kept most of the details of his personal life private, Jordan gave some glimpses of his love life when he appeared in one of Conan's videos.
Mentions Name Of His Fiance; Soon-To-Be Wife
Jordan is a close friend of the TV host Conan O'Brien and as it seems Conan even helps him sort out his personal life issues. As per the video released back in 2014, Conan took Jordan to couples' counseling where Jordan revealed that he was engaged to a woman named Emma.
Don't Miss:- Ellison Barber Boyfriend, Husband-To-Be! Married Young Age Siblings - She's Next?
Jordan further mentioned in the video that he met his girlfriend-turned-fiance at the CVS drug store. During the counseling, he and Conan role-played Jordan and his fiance switching back and forth to each character. Moreover, the TV producer also revealed that Emma wanted an air-conditioner while he hated it.
When Jordan disclosed the name of his prospective wife, Conan can be seen shocked to know that his partner was a woman, which hinted that even he assumed Jordan to be a gay man. 
Although Jordan's sexuality is now clear, Conan still likes joking around with his producer and longtime friend. Recently on 14 February 2018, Conan shared a picture with Jordan on a trip to Radda in Chianti, Italy via Twitter wishing him on the Valentine's Day.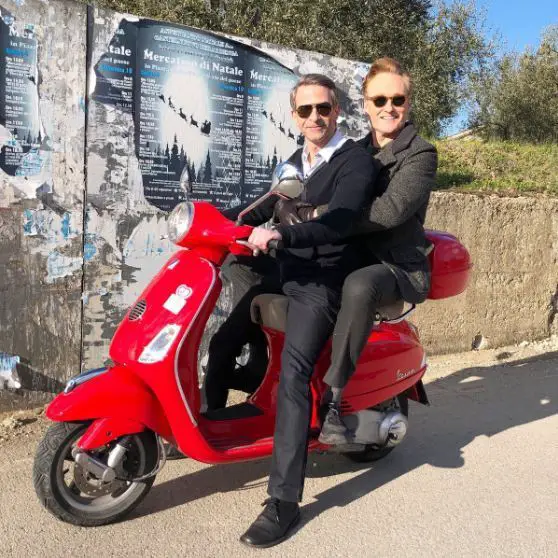 Jordan Schlansky, along with Conan O'Brien in Radda in Chianti, Tuscany (Photo: Conan O'Brien's Instagram)
But from Jordan's side, no any revelation about his future wife has been received as he remains mum even after four years of the video's release where he revealed about his fiance.   
Late Night with Conan O'Brien Increases Net Worth And Salary
Jordan commenced his professional career working as a studio coordinator for NBC's show Late Night with Conan O'Brien in 1996 at the age of 23. 
His wiki suggests that he was later promoted as the production manager in late 90s, followed by taking the role of the unit manager in the 1998 TV movie, Late Night With Conan O'Brien: 5 and continued his job in eight episodes of Late Night with Conan O'Brien starting from 1998 until 2000. 
Other Interesting Article:- What's Gone Wrong With BBC Presenter Mike Bushell? His Wife, Divorce and Family Life
Jordan's net worth substantially increased when he was appointed as the associate producer for the 2003 Late Night with Conan O'Brien: 10th Anniversary Special. The next year, he produced another of Conan's video segment titled Late Night with Conan O'Brien: The Best of Triumph the Insult Comic Dog.
His net worth further enhanced when he got involved in several other Conan's shows including Late Night with Conan O'Brien (2008 to 2009), The Tonight Show with Conan O'Brien (2009 to 2010), and Conan (2010 to 2018).
Jordan, who is a Los Angeles native as per his wiki, has also regularly appeared in various of Conan's video segments. For his services, Jordan earns a salary ranging from $31,961 to $66,098 with his salary averaging $48,152 per year. Additionally, he also receives a handsome bonus of $2,391 and about $1,500 as his share of the show's bonus.