Entertainment
Jordan Smith Took Dating Affair To The Altar! Gestures Joy In Married Life With Wife
An aspiring singer Jordan Smith grabbed immense spotlight after he won the popular show 'The Voice.' He has undoubtedly earned massive attention from the fans and media because of his singing, but last year, the news about his marriage with his long-term girlfriend seized all the attention. So, let's take a look at their married life to know them more closely!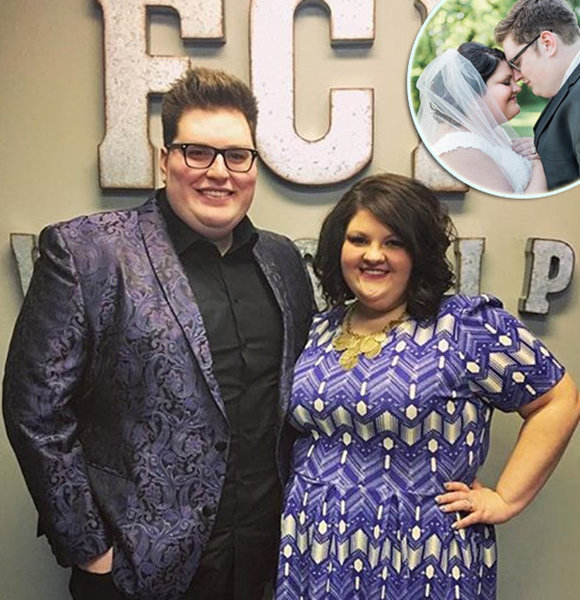 An aspiring singer Jordan Smith grabbed immense spotlight after his victory on the popular show 'The Voice.' till te date, he has undoubtedly earned massive attention from the fans and media because of his singing, but last year, something else about him hit the news time and again!
If you're wondering, Jordan captivated the headlines because of his marriage with his long-term girlfriend. Well, if you missed this story the past year, then keep reading, as we'll be taking you down the memory lane to the wedding of this beautiful couple!
Jordan Smith's Married life
The 'Voice' winner from season 9, Jordan Smith is a married man now. He shared his vows with his longtime girlfriend, Kristen Denny in Middlesborough, Kentucky back on 25 June 2016. The then newlyweds told the people:
"We're beyond excited to announce that we are officially Mr. and Mrs. Smith! The journey so far has been amazing, and we can't wait to continue on this path as a married couple. Our wedding has reminded us that we are just two best friends who realized we're both the same kind of crazy and fell in love."
After exchanging their 'I dos,' the bride and the groom shared a kiss that was captured on camera; the bride even shared that picture on Instagram the same day.
Jordan had been dating Kristeen, a speech pathologist, for more than four years after they first met in a summer camp. Although the exact date wasn't revealed, Smith confessed:
"We just got along so great and it was a perfect fit"
The lovebirds became the talk of the town when Jordan romantically proposed his now-wife, Kristeen in the New Year Eve at Boston Public Garden, shortly after winning the season of ' The Voice,.' He also shared the news along with their selfie showing off the engagement ring via Instagram. 
Well, Jordan and Kristeen weren't only the ones excited about their wedding, as the actor Henry Winkler turned out to be equally thrilled; he even left a message for the couple!

Even before the proposal and marriage, the duo wasn't shy to show off their cute affairs and had been posting on social media, either about their long-distance date night or surprise gifts.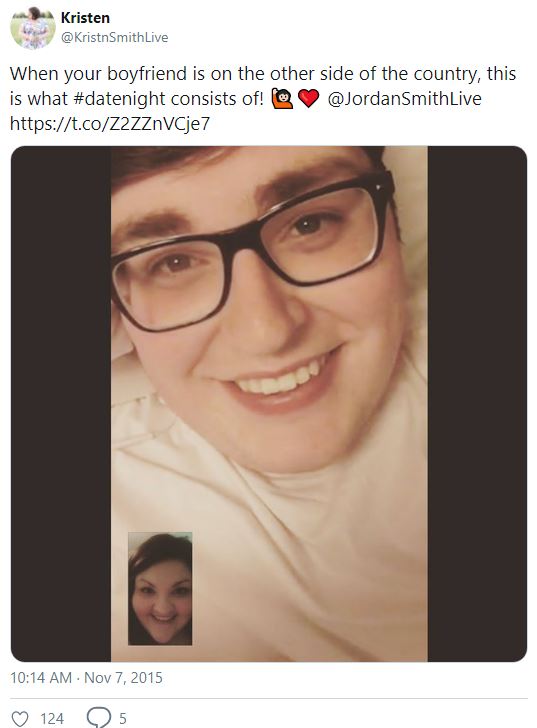 The now-husband and wife still share their romantic life through social media, which is one of many things the fans love about them!
More about Jordan Smith
Jordan Smith celebrates his birthday every year on November 4. He surrounded himself with music from a very young age; he also used to sing in a church choir back in his hometown, Kentucky.
In the year 2014, Jordan decided to audition for the voice after he graduated majoring in the music business but was unable to succeed. He shared the experience as:
"I've been a fan since season one," he goes on. "So when auditions came near my school, I had to try out. We signed up the day before and drove all night to Nashville. I actually got a call back, but when I did the private audition, I never heard anything. I was a bit disappointed, but inside I thought I was meant to be a part of it. It just wasn't the right time."
Soon the time came where the 24-year-old singer, got a chance to show his talent in 2015 when he turned all the judges' chair during his season 9 audition. He grabbed the win and became the bestselling artist in the history of the voice.
Earlier in 2016, Jordan said that he wants to share a message through his debut album for Republic Records/ LightWorkers Records- Something Beautiful.
It's extremely important for me to let everyone know it's OK to be different. I feel like it's taken a long time for me to love different parts of myself. The world is hurting and searching, because we think there are flawed parts of who we are. It's important to accept yourself and have confidence, and then you can love others."
He further added,
"I want this record to inspire people. Some of these songs are about love, some are about strength, and some are about personal experiences. Music is a very powerful tool. I'm thankful and blessed to use it in order to spread hope with Something Beautiful."
Jordan has reached the level, from where he conveys strength to millions of people through his songs and aspires to do that in the future as well!