Entertainment
Josephine Gillan's Wiki-Like Bio Tells From Her Age To Dating Affair! Reveals She's Alive In The Show That Saved Her
The entertainment industry has made career, lives and much more. We have seen people rising with fame, power, and money like Robin Vernon, Leonardo DeCaprio & much more and meanwhile, we have also witnessed one's demise. And today we will spectate a story of an actress who mentioned that acting had saved her.
We will be talking about Marie from HBO's most watched series "Game of Thrones," Josephine Gillan. Let us find out more about her in a wiki-like bio which includes her journey and personal life.
A Long Way From Unkempt Woman To The Entertainment Industry!
Josephine Gillan is recognized with the bold and jaw-dropping nude scenes she presented as Marie in "Game of Thrones." She has shared an inspiring story of her life from her childhood story to a grown up.
The Brit mentioned about how GOT saved her life from the early grave, and she was entirely right about that.
Josephine said,
"Game of Thrones saved my life. I couldn't have gone on for much longer. I was addicted to cocaine and to keep the supply I needed I had to sell my body three or four times a week.I was earning thousands of pounds a time for sleeping with wealthy punters. They'd pay a fortune knowing they were having sex with a porn star. I'd get as much as £4,000 for an all-night session."
After all the effort Josephine invested, she spent it all on her drugs. She mentioned,
"I should have been set up for life but all the money was being blown on drugs. I was a train crash."
Undoubtedly, it became an incredible turnaround from a life of prostitution and addiction for someone like Josephine, who believed that she got routed to work as a porn star.
The now GOT veteran used to film porn using the name Sophie O' Brien; then the huge point came in her life after she saw an ad on an adult website. As the cast was looking for wannabe actresses, who is comfortable with nudity and raunchy sex scenes to star in Game Of Thrones.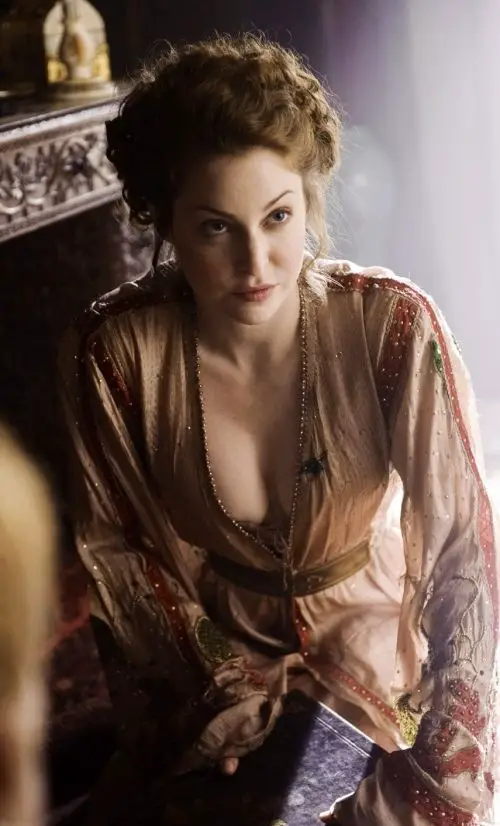 Caption: Josephine Gillan plays as Marie, the prostitute in GOT.
Photo Credit: Pinterest
In spite of having no formal acting training, the then porn star with height 5ft 1inch sent off a photo and then got cast as Marie without even having to audition.
And just a few weeks later, in the summer of 2011, Josephine started her first outrageous scenes in Northern Ireland.
After that, she has maintained her position in the most watched fantasy drama's all season including the upcoming one too as per her Instagram post.
Was Married Once But What About Now?
The 29 years old actress while working as a prostitute and porn star had to satisfy many punters. And the process she met wealthy punter, who asked her to marry her as well.
She said,
"It was straight out of the film Pretty Woman. He wanted to marry me and proposed two days before my 22nd birthday."
As she wanted a normal life, she accepted the proposal, and the two was married for two years. After getting married, she also gave up her work as a prostitute, but continued in the porn industry, as her husband was ok with that.
The duo got divorced after Josephine got slapped by her him five times in the face. Soon after that, she left her ex- husband. For that matter, she said,
"I wasn't going to have anyone hit me and I wasn't going back for more."
But that cost her with her old life. She had to work as a prostitute once again.
However, the name and information of her ex-husband have not been disclosed till this date. According to the records, she is currently single and not dating anyone; rather she is busy in blooming her career in Game of Thrones.
Short Wiki-like Bio Of Josephine Gillan:
Born on July 24, 1988, in Kent, England, UK, Josephine Gillan had a troublesome childhood life. Josephine's zodiac sign is Leo. She had an unstable childhood where her mother, Maxine was in an abusive relationship. She went to study in 24 different primary schools and five secondary schools. Later at the age of 12, she ended up in foster.
As of now, Josephine lives in a flat in North London and is keenly waiting for her upcoming season 7 of Games of Thrones.
Stay with us for the emerging updates on Josephine Gillan and Game of Thrones!