Entertainment
Josephine Skriver Is Engaged To Boyfriend; Ringing Wedding Bells Gleefully
Supermodel Josephine Skriver is officially off the market!... Josephine took to Instagram to reveal the news of her getting engaged to her musician boyfriend... Josephine was conceived through IVF as both of Josephine's parents... Details regarding their impending wedding...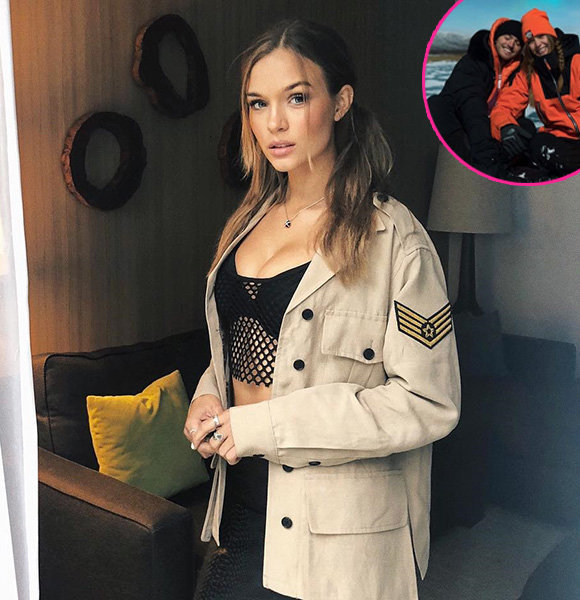 Supermodel Josephine Skriver, age 25, is officially off the market!
From the longtime dating life to a picturesque proposal, Josephine's love life has it all. And when Josephine's biggest surprise (wedding proposal), the model couldn't help but took to Instagram to reveal the news of her getting engaged to her musician boyfriend, Alexander DeLeon.
Have her parents congratulated the newly engaged pair yet? Also, how far along are they from announcing the wedding date?
Read together to learn more including the Denmark native's age and movies & TV shows appearances!
Engaged To Musician Boyfriend At Age 25; "I SAID HELL-FREAKIN'-YES!!!! I'M ENGAGED"
The 25-year-old model from Copenhagen little did more break the hearts of her admirers when revealed that she was engaged.
Josephine shared the big news via her Instagram on 26th November 2018 as she posted a romantic snap of her singer boyfriend Alexander Deleon proposing with the lengthy caption that chronicled the pair's journey. The stated caption started with:-
"I SAID HELL-FREAKIN'-YES!!!! I'M ENGAGED!!!"
Interesting:- Ashley Wirkus Is Pregnant! At Age 30, Post Wedding Bliss With Husband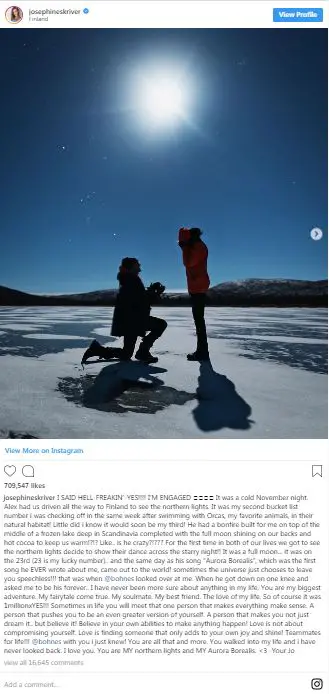 Josephine shares a picture of her boyfriend proposing (Photo:- Josephine Skriver's Instagram)
As revealed by the Instagram post, her boyfriend Alexander Deleon, age 29, had flown her all the way to Finland to see the northern lights. In her caption, the Victoria's Secret Angel model goes at length to describe the setting in which Alexander had proposed. Writing about the actual proposal, she revealed:-
"When he got down on one knee and asked me to be his forever... I have never been more sure about anything in my life." 
The runway pro ended her lengthy post by acknowledging how she had never looked back since her now-fiance Alexander walked into her life.
Minutes after Josephine had uploaded the said post, her fiance Alexander shared a snap of the model showing off the engagement ring.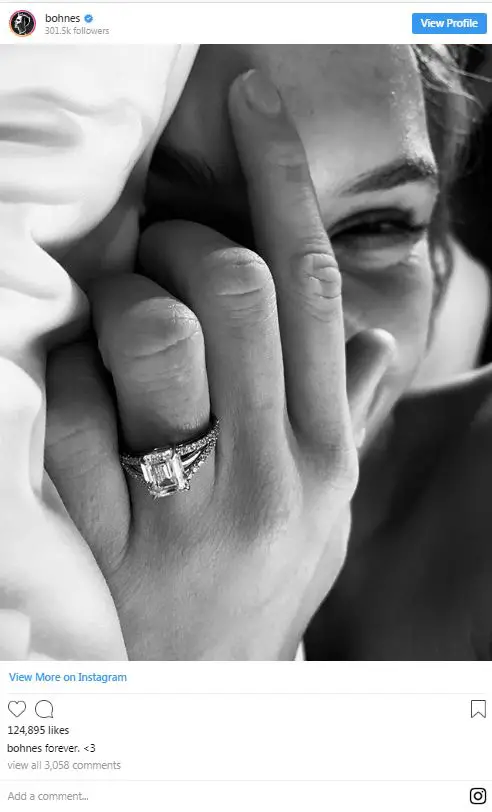 Josephine flaunts her engagement ring (Photo:- Alexander DeLeon's Instagram)
Discover:- Teen Choice Awards 2018 | Winners List of Movies and TV Shows
The newly engaged duo, who have been dating since 2013, has yet to reveal any details regarding their impending wedding. Rest assured; it will be one star-studded affair considering how influential they are.
Josephine and her soon-to-be husband's popularity was on full display when supermodel Gigi Hadid congratulated them. On Instagram, Gigi wrote:-
"So happy for you!"
Another friend and fellow supermodel Lily Aldrige also praised the engaged-to-be married pair. Brandi Cyrus, Dua Lipa, Jasmine Tookes, and Stella Maxwell were also some famous faces to congratulate them.
What about Josephine's parents?
Josephine's Parents Would Be Proud Regardless; Support From Her "Mom, Dad And A Bonus Set of Parents"
Her parents are yet to congratulate them on getting engaged, or at least in a public sphere! But given what we know about them from her interviews, they would be proud of whoever she decides to marry in the end.
Read Also:- Karl Glusman Is Engaged! Girlfriend & Fiance Zoe Kravitz Flaunts Ring
Born on 14 April 1993 in Copenhagen, Denmark, Josephine was conceived through IVF as both of Josephine's parents are gay. In an interview, she revealed:-
"I grew up with a mom, a dad, and a bonus set of parents."
Her parents, who are married to their respective partners, are open about being with one's soulmate. Whether it's Josephine's choice of career path or her choice in life partner, her parents are sure to love her regardless.
For her part, the runway model - who has limited movies & TV show credits; The Victoria Secret Swin Special & E! News: Daily Pop is an exception - has never failed to live up to her parents' expectations.