Entertainment
Josh Peck's Co-Star Drake Bell Slams His Wedding In A Tweet! Not Approving Married Life?
The recently wed groom is not in a good mood for some bad reasons. Josh Peck, who married his longtime girlfriend Paige O'Brien on 17 of this month, is upset with his old friend Drake Bell. Well, Drake seems more ferocious with Josh in this case, brutal enough to call off their long friendship. Without any delay, let's kill the secret behind the termination of their friendship.
The Small Yet Beautiful Wedding of Josh Peck:
Josh Peck, the then favorite of kids, has been in a relationship with a damsel named Paige O'Brien for a long time; that later changed into an engaged relationship in March 2016. It took a more beautiful shape this year in mid-June when the couple made up to the nuptial.
The two tied the knot in Malibu on 17th June this year in the presence of friends and other celebrities. Peck's Grandfathered co-star John Stamos along his longtime girlfriend, Caitlin McHugh, and Drake; along with Josh co-star Jason Nash made their attendance for the small wedding.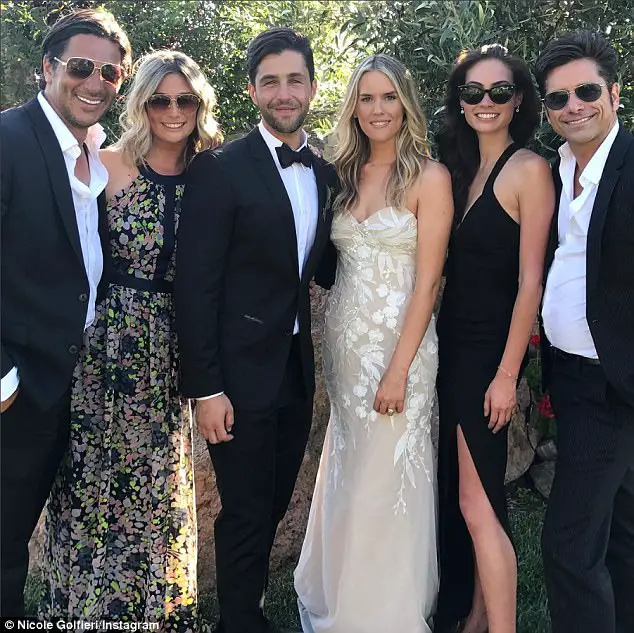 Caption: The new couple Josh and O'Brien at their wedding with their friends and celebrities.
Photo Credit: dailymail.co.uk
While Josh made sure that all of his close relatives attend the big day, an old friend and co-star Drake Bell didn't get an invitation of the marriage. This incident saddened Drake so much that he took Twitter to express his hard feelings.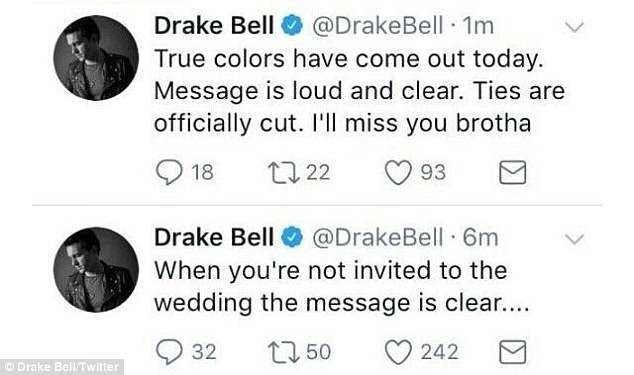 Caption: Drake expressing his feelings through his tweets.
Drake deleted these tweets within few moments, but its impact lasted for a long time in the case of Josh. According to UsWeekly, the upset Josh had an outburst on the wedding day, as the insider reports:
"At Josh's wedding this weekend some guests were asking Josh Peck where Drake was. Josh told everyone that he and Drake hadn't spoken in three years. They would tweet each other back on social media a couple times a year, but never actually spoke."
The situation now takes some vivid shape as we know the actors have not been in touch for a long time and this probably must be the one reason for the disconnection of Drake from the marriage.
All That You Want To Know About Josh Peck:
Josh Peck is 30 now, and he celebrates his birthday on 10th November every year. His mother Barbara Peck rose him completely alone, as he wasn't lucky enough to get love and care from his dad.
Barbara, who is a single mother, never married the father of Josh. Josh is from a Jewish background, which he mentioned in a tweet which came late in 2014.
Josh started his career as a stand-up comedian and later appeared on the popular shows like The Amanda Show in 2000 and Drake & Josh in 2004. No sooner he became the favorite of the kids, and as of that, he got awarded with UK Kid's Choice Award for Favorite Male TV Star in 2008.
The Drake & Josh show proved to be one of the best show of that time and in the same course, he developed a real friendship with his co-star Drake.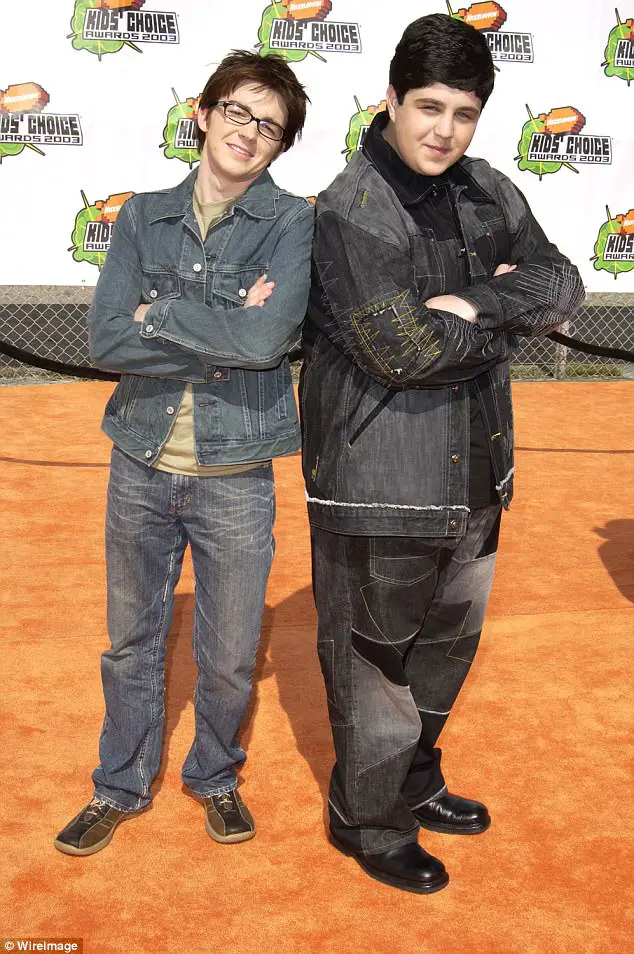 Caption: Josh and Drake attending Nickelodeon's 16th Annual Kids' Choice Awards back in 2003.
Photo Credit: dailymail.co.uk
The little Josh although appeared to have a bulky size then but he is now a fit man with a beautiful wife, O'Brien. The weight loss of the actor can be regarded as a commendable transformation, as he took it from 290 lbs to make it to 180 lbs, but he doesn't want any comments related his weight and completely avoid talking about that.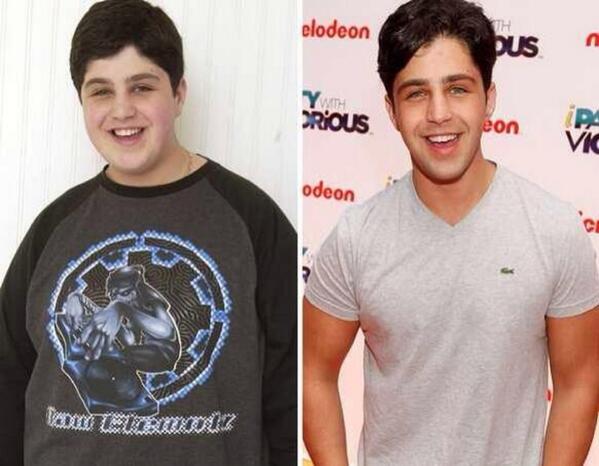 Caption: Before(L) and after (R) weight loss appearances of Josh.
Photo Credit: liverampup.com
Josh spoke on the Allegedly with Theo Von & Matthew Cole Weiss podcast:
"There is a small part of me now – people have been so obsessed with my weight loss and it's like 12 years later – I'm like, 'Man, had I gone through my awkward, teenage years alone and not on television, this would just be a small footnote in my life"
What's Going On In Josh's Life Now?
Josh, who recently got his knot tied, is surely planning something perfect for his dear wife. The couple might be busy with their travel list and other stuff for a good reason of spending time together.
Josh has acted in many TV shows and films and also provided his voice for movies and video games. Apart from these, he is involved in video-sharing services Vine and Snapchat and vlogs on Youtube; made by David Dobrik.
Caption: Josh appearing in one of the Vine videos (Published on Mar 18, 2014).
The actor has a youtube channel in his name and has released three videos for Vine. He posted funny videos related to certain topics where he used to sound strange and make funny faces.