Entertainment
Joshua Sasse Ready To Get Married; Future Wife To Take Surname After Wedding
With the ongoing talk about gender equality and feminism, several women refrain from taking on the surname of their husband and sticking to their maiden names. But actor Joshua Sasse has a different version to share when his fiancé announced to take his surname after the wedding.
For now, we shall get hold of their wedding date followed by his tattoo secrets.
Taking The Surname But When Getting Hitched?
Actress Kylie Minogue recently spoke about taking her fiancé Joshua Sasse surname after the wedding. On an interview published by a source, she expressed her keen desire of taking Sasse surname along with her maiden, She said:
"Sasse is a great name. Kylie Sasse is a great name. It's a great stage name. Kylie Minogue has never exactly tripped off the tongue. I'll be taking Sasse, but there will be Minogue in there somewhere. Taking a different name makes a statement."
On an interview Kylie Minogue reveals her interest in the surname of Joshua Sasse:
Caption: The would-be bride Kelly Minogue speaks about the escalating experience with her man along with her changing surname (2015). 
In the early month of February 2016, Joshua had proposed Kylie with a princess' cut solitaire diamond ring made in 1908. The engagement was announced through a marriage section of UK's Daily Telegraph newspaper.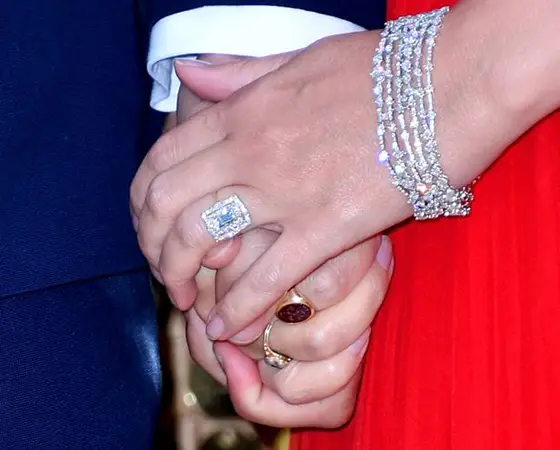 Caption: The princess cut diamond solitaire, 1908 Kylie's engagement ring (2015). 
Photo Credit: mirror.co.uk
Although the exact events got never revealed by any one of them, Kylie expressed her happiness after getting engaged and said:
"For me, it's perfect. I'm not the sort of girl who would wear a solitaire. He got exactly the right ring for me. I love it. I love wearing it and what it represents."
While they are said to be searching for a right wedding date, the duo has refrained from getting married till the Australian government passes the rule of same-sex marriage. Joshua released his decision last year to the Australian Network Seven when asked by Sunrise presenter about his wedding plans in Melbourne. He said:
"There are chances of a Melbourne wedding, but Kylie and I have talked about it, and we are not comfortable getting married until this law has passed."
The Australian actor had met his pop star girlfriend in the early month of August 2015 in Bristol while filming for the series in Galavant. Since then they have remained inseparable. Both the celebrities are head over heels in love with each other which made Kylie want more to expand the family. On an interview, with a source, she expressed her willingness to have a baby and keep her work life on a halt to be a mom. She said:
'I want more of out of life, I do. Who knows if the family is on any one of my horizons? I don't know. But if that were to happen that would be incredible. I don't want to get stuck on the treadmill of doing the same thing. I would like to experience other parts of life which mean I have to adapt my schedule.'
Well, the couple is still together and ready to tie a knot. Recently Joshua published a sweet poem for his would-be wife which caused an uproar in the media about their secret wedding on a Greek Island.
The rumor got cleared when Joshua tweeted his denial to his wedding regarding his secret Greek wedding.
 As the couple has openly confronted every event of their life, they would have officially confirmed about their wedding with a lovely wedding picture as well.
Just few week earlier Joshua gave a surprise to his woman on the occasion of their first anniversary:
But it looks like they are waiting for the Melbourne government to pass a law on gay marriage. Maybe right after that they will find a suitable date and get married, or maybe they will be a parent of a lovely child before getting married? So let's wait for their next step towards their relationship, till then enjoy watching their romantic life!
Is He In Love With Inking Or Is There Any Secrecy To It?
Blessed with a muscular toned body, Joshua to elaborate his handsomeness seems to have added few amounts of tattoos on him. The actor has covered his arm, foot, ankle, shoulder and the entire bottom of his body. The tattoo on his back consists of roses while his ankle and foot include a woman and a slogan written "Own Self." Joshua has not disclosed any secrecy behind inking; maybe there aren't any reason but only his passion for getting inked.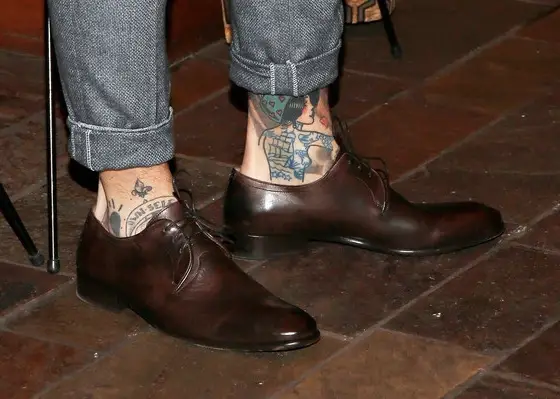 Caption: The tattoo king Joshua Sasse at the New York City(2013).
Photo Credit:zimbio.com
The British actor launched his career since 2010 and hence till date he managed to accumulate the total net worth of $2 million. The actor is still working and is currently involved in the drama project "No Tomorrow" which would add further wealth to his existing current asset.