Entertainment
Judith Light Pours Out Secret To Healthy Married Life With Husband; Also Reveals Reason For Not Having Children
A healthy and prosperous married life is something that every couple dreams of. It not just only let you enjoy a blissful relationship, but also inspires you to dream big and achieve big.
The veteran actress Judith Light is one of the blessed persons who enjoy a healthy marital relationship along with a successful career.
Judith's secret to a healthy relationship
Sixty-eight years old actress Judith Light was married to television actor Robert Desiderio in January 1985. The pair first met during their time on the soap opera One Life To Live (1968). The duo has been happily married for more than thirty years and has been supporting each other to incline their career.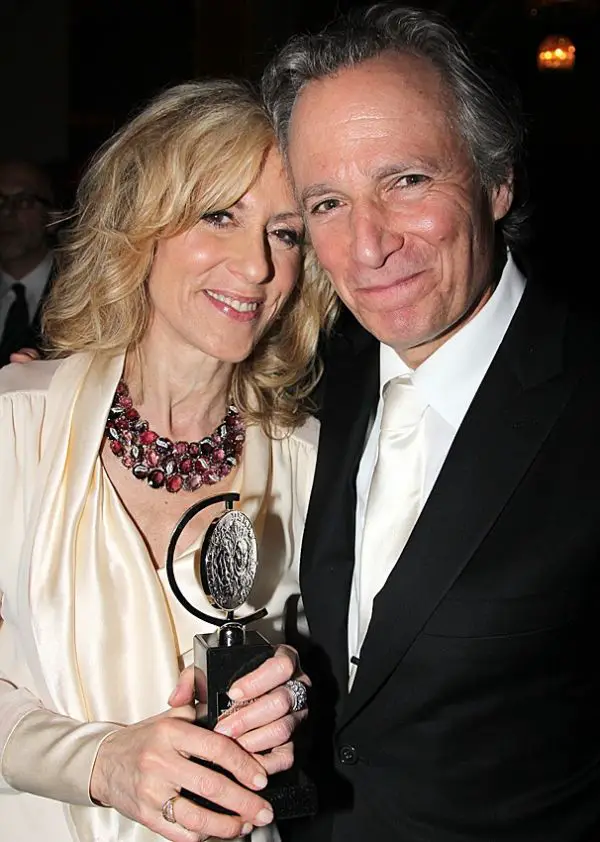 Caption: Judith Light and her husband Robert Desiderio at the 2012 Tony Award.
Photo Credit: Broadway.com
In an interview with Parade magazine in September 2014, the two-time Emmy Award winner actress Judith poured out the secret of her healthy married life.
In the interview, she revealed that she met her husband on the sets and is happily married since then. When she was asked about the secret of her successful married life, she replied-
"Communication and to have great people that you model your relationship after that inspire you. Our two people are our longtime managers. They have the best relationship of anyone I have ever seen. They've been together 34 years. I think if you have somebody that you model yourself after if you see what works and then you apply it to your own relationship, I think that's really one of the keys that you have people outside of you that support you and can help you in terms of your relationship."
Caption: Judith Light's interview with Parade Magazine where she talks about her acting career and married life.
You might be wondering why Judith hasn't conceived even once even after she has a blissful married life.  Are you curious to know why the duo doesn't have children?
Well, Judith has revealed that she doesn't want to blend her personal life and professional life. As per the source,
"She (Judith) never had children wasn't because she didn't want them, it was because if she wanted to have children, she wanted to be a full-time mother and with an acting career she wouldn't have been able to do that."
More about Judith Light
Judith, who has been active in the show business since 1968 has already marked her place with success and popularity. A gay rights activist Judith has a large number of films credits, but she is most popular for her performance on Wit where she portrays the character of Vivian Bearing, a professor who battles ovarian cancer. 
When Judith was preparing herself to portray the character on Who's the Boss?, she had to undergo tremendous weight loss. In an interview with Parade in October 2015, Judith revealed how she lost 50 pounds. She disclosed-
"I lost the last major portion of weight before Who's the Boss? I stopped dieting, and had been on every diet known to man. I felt so angry, frustrated, deprived and restricted. The mindset around dieting can be very destructive."
Several awards winner actress Judith Light has recently appeared on Transparent (2014-present), Dallas (2013-2014), and Doubt (2017). From the prolific career, Judith has been able to accumulate a splendid net worth of $5 million.