Entertainment
Julie Banderas' Heading Towards Success With FOX News: no Signs of Divorce With Her Longtime Husband Andrew
Well, there are many celebrities who have been able to balance both their professional and personal life. Likewise, America's News Headquarters anchor on Saturdays, Julie Banderas, 42, has been heading towards success without blending her profession with her personal life.
Hasn't her busy schedule disturbed her personal life? Is she sharing a good bond with her husband? Let's find out.
Married Life, Husband, and Children?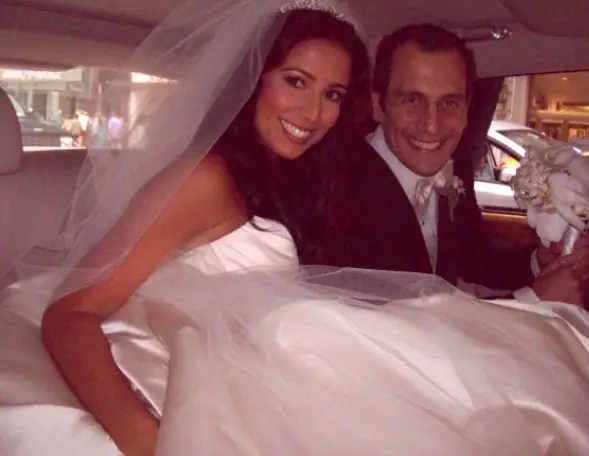 Caption: Julie Banderas and Andrew J. Sansone after their wedding.
Source: notjustrich.com
Beautiful lady with charming appearance, Julie Banderas was married to Andrew J. Sansone in 2009. She enjoyed her wedding at the Fifth Avenue Presbyterian Church in New York on August 29, 2009. Fox news channel's hottie Julie is using her name Julie Banderas professionally even after her marriage.
Andrew J. Sansone is a member of the board of directors of Habitat for Humanity. He is also a founding president of both Big Apple Channel and Old Rock Media. He proposed Julie for marriage when they were clam digging on Long Island Sound with a message in a bottle. She announced her engagement during an episode of America's Election Headquarters.
Caption: Julie Banderas Announces Her Engagement Live!
Julie and Andrew have three children together; daughter, Addison Melissa (April 21, 2010), daughter, Avery Julie (April 21, 2010), and son, Andrew Harrison (May 9, 2016). The couple has been bound in a marital relationship for around seven years and has no signs of divorce.
Julie is happily married and loves her family a lot. Despite being a workaholic with a busy schedule, she manages her time for her family. Julie loves spending her time with her kids.
She has been climbing the summit of success as an American television news correspondent. However, she hasn't allowed her personal life to mix with her profession. She is now happily living with her family in New York City. It seems that Banderas is giving her cent percent to her profession and her net worth is estimated to be $12 million.
Julie Banderas and Co Interrupts Fox News Briefing to Shame Donald Trump:
During the White House briefing of Fox News, Julie Banderas and co hosts insult Donald Trump for going too far with berrating fellow journalist Mika Brezinski. And while Republican National Committee Chair Ronna Romney McDaniel tried to defend the President's actions stating it as 'natural response to constant criticism' Julie Banderas dropped some bold words regarding the statement saying,
"Listen, you don't need to stoop to the level, obviously. I don't care who you are. You don't stoop to the level of that. I mean that's like me scolding my 4-year-old for using a bad word and then me repeating it. That's just not how you run a country or you parent a 4-year-old. I mean I have to be honest, you know, if you see this negative commentary on a show, change the channel. Ignore it. I mean that's what I tell my kids: When somebody's mean to you, don't fight back. Just walk away."
She further took the example of Ex-President Barack Obama and compared to two stating,
"People used to call President Obama stupid. People used to call him a Muslim. People used to call him underqualified, a sellout to America, a hater of Israel. I mean they called him every name in the book, but you didn't see him lash out."
President Trump's actions were caught with allegations of being sexist and misogynstic.  Nicolle Wallace, a former communications director for President George W. Bush even commented about the tweets stating,
"As someone who once proudly called myself a Republican, the party will be permanently associated with misogyny if leaders don't stand up and demand a retraction." and further asked Women in Trump's Administration to speak against their president's unjust words.  
Many other notable personalities called out Donald Trump for his words including CNN's Don Lemon.
Julie's Short Bio:
The anchor of "America's News Headquarters", Julie Banderas was born on September 25, 1973, in Hartford, Connecticut as the daughter of Howard D. Bidwell and Fabiola R. She is a graduate of Emerson College.
Julie began her journalism career with WLVI-TV. In March 2005, she joined Fox News Channel as a general assignment reporter. Besides "America's News Headquarters", she currently anchors Fox Report Weekend.