Entertainment
Julie Snyder Split From Her Husband Within 6 Months After Getting Married, Planning a Divorce?
Julie Snyder split with her husband in less than 6 months after getting married. Well, there we have a somewhat serious case of wedding bad luck. They might have dated for a while before getting married and look at what happened soon after they got married. Well, let's see if they just separated or are planning on getting a divorce?
Her Wedding: Getting Married and Husband?
The 49 years old Canadian talk show host and producer married a Canadian business tycoon Pierre Karl Péladeau on August 15, 2015. The couple got married in what the media calls a lavish wedding which was held at the Musée de l'Amérique francophone at Quebec City which was attended by many celebrities and politicians.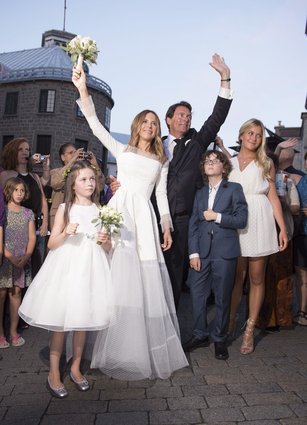 Caption: Julie Snyder with former husband Pierre Karl Péladeau along with their children Thomas and Romy.
Usually, the bride steals the limelight of the marriage, but in this case, the groom and their son stole all of it with a dramatic entry; which was on a tandem bicycle.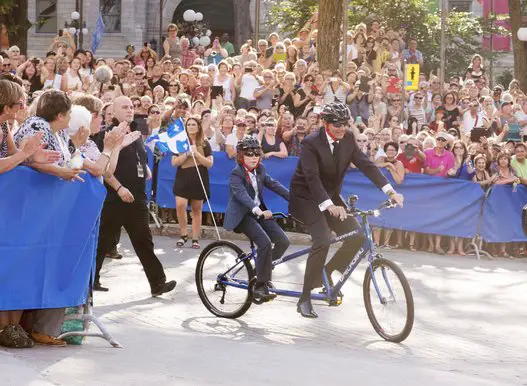 Caption: Pierre Karl Péladeau at the wedding riding tandem bicycle with his son Thomas.
Source: huffpost.com (2)
However, Julie was worried if Pierre will have an accident as he suffered multiple fractures in May of 2014 but the man pulled it off with style.
This was not the first time they separated as the couple went under a split previously in January 2014 and later reconciled. Followed by their recent split, in a joint statement, the couple said,
"We are aware that our family life is public, we respect and understand that the media and the public may have questions dealing with what we're living. However, we cannot comment because we've undertaken a mediation process, a private way of preventing and settling disputes in order to find solutions in the best interest of our family."
The couples are blessed with two children; a boy named Thomas who is now 10 years old and a girl named Romy who is now 7 years old, who were born while they shared a common husband and wife relationship before the couple got married.
It was later revealed that Julie was the target of a private detective to surveillance on her and a judge from the Quebec Superior Court ruled that Julie must be told the person or organization who ordered a man to surveillance on her.
Divorce File?
There is currently no news about the couple to file for a divorce as they have not made any statement about it. It is not revealed if one of them will take the custody of the children or will they raise their children as regular parents.