Entertainment
Justin Simien As A Gay Man Concerns On Identity; Has A Dating Affair To Support Him?
Being a homosexual and accepting their personal selves is a courageous and brave move in today's time. It can be said that those who are willing to stand up for themselves and are proud of what they believe in are the exemplary in the society. Moreover, the society needs many LTBGQ people, individuals especially the young teenagers are afraid of being open about their preferences and sexuality.
The same inspiration can be drawn from "Dear White People" creator and producer Justin Simien as he too is a gay man but is not shy about his identity and voices about taking pride in how they are indeed. Hence let us take a stroll past his life and have a look at his sought for dating affair.
Justin Simien Is Not Laid Back When It Comes To His Sexuality: A Proud Gay Man:
Being a gay man and being proud of it is something which one must learn from this talented director named Justin Simien. But it's interesting to know that his mother has inculcated the habit in him.
Yes, he is a gay and takes pride in his sexuality and doesn't fear of being unaccepted by the society where there are only two genders. 
His most recognized creation, "Dear White People," which was originally a movie before being presented as a TV show, which he says is based on his younger self. And when asked what he would advise the young men and women to help them accept their inner selves and be open about their sexuality, he said,
I would say that what you are in society is important: It is important that I'm a black, gay director. But more important is who you are. If you're caught up with what you are and what society thinks you are, it's never going to not feel like hell. You've got to put more investment in celebrating and understanding and having care for who you are, what your needs are, what you truly love.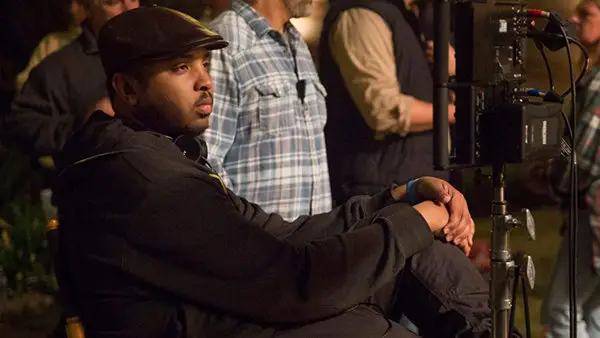 Caption: Justin Simien is someone who is not shy about calling him a gay man, pictured here on the sets of "Dea White People."
Photo Credit: theundefeated.com
He then added,
Those things are really important to figure out, because [otherwise] we can't be meaningful leaders in society, and we can't make meaningful impact in society.
Adding more to the inspirational words, he continued,
As a person who's just as guilty as anybody of getting into a stupid fight on Twitter, these ideological disagreements — they just don't matter as much when you start to key into what it is that makes you happy. You on a Sunday, without a rally to go to, what're you about? It may not feel political, and it may not feel like it's moving the needle, but that is the way to combat that feeling of [being overwhelmed] at how ****** up things can be around us. We're never going to be in a completely free society in any of our lifetimes, so we've got to go somewhere when things get tough.
These words are golden, and those who are reading it is sure to get inspired to reconcile with their faith and their belief, which perhaps makes the man an inspirational figure. Further, the teenagers who are afraid to open up about their sexuality in front of their family members and society can learn something from him.
Justin Simien's Dating Life: Has  A Partner?
Now that we know the actual truth behind Justin Simien's sexual preferences, the dreams of those women who were willing to date him and become his girlfriend or get married to him and become his wife are shattered. But is he seeing a man in his life?
Well, people are intrigued to know about his romantic unions and for those who are willing to learn about the secretive aspect of his life; we have got news for you, he has a boyfriend!
Also, he has mentioned the presence of his partner in an interview back in June 2016 and even shared that he feels blessed to have a loving boyfriend.
"I thought I was depressed because I wasn't a writer/director," 

"I moved into a space where I'm a writer/director, my movie is a hit at Sundance, I have a wonderful loving boyfriend, and wow, I have financial stability. Why can't I get out of bed still? It made it even worse, because there's nothing else I want. This is what I'm born to do. I'm living my purpose, I'm paying my rent, what's missing?"
He has not mentioned the name of his partner anywhere in public but has made it clear that the man is dating a special person in his life. So, until he reveals the name of the man of his life, let us enjoy the fact that he has created memorable projects like Ring (2006), Dear White People (2014), Dear White People (2017).
With his hard work and dedication towards his craft, he must have accumulated a hefty net worth. However, it's exact figure has not been revealed yet.