Entertainment
K. D. Aubert Too Busy To Get Married And Have A Husband? A Bio To See What She Has Been Doing Now
Having a success-driven career is almost every person's dream, people usually sweat blood to achieve success. Therefore, when you are already gifted with what you desire, people tend to prioritize other aspects of living, a little less.
American actress, fashion model, and singer, Karen Denise Aubert, commonly known as K.D. Aubert, is also a career driven lady. Not only is she career driven, but she has experienced success in all the fields she put her hands on.
She is professionally successful, however, fails to present the fans with the love of her life. Is it because of her tight schedules that she hasn't managed time for finding Mr. Right? What is she doing these days and what are her plans? Let's get an insight on the matter.
K.D Aubert Is Yet To Find Mr. Right!
For somebody, who was ranked #14 in the hottest celebrity rankings back in 2007, it is doubtful for people to believe that she is single. But that's the fact, K.D Aubert 38, is single, as she prefers to be called.
She was rumored to be dating few men in the past, which didn't get any confirmation from her. She was linked up with producer Jeff Bowler followed by Nas- the rapper and Lloyd Polite, Jr.
K.D remained silent for all the rumors, maintaining her privacy, except for the one with Lloyd. Clearing the air about the rumor; she replied to a tweet as,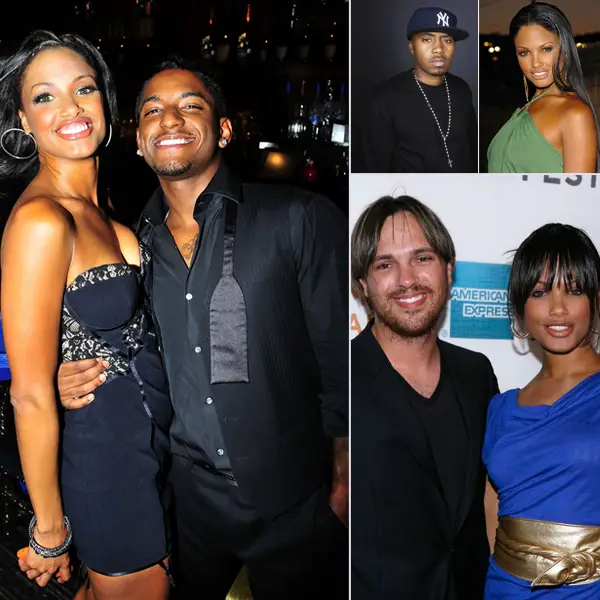 Caption: KD Aubert with Lloyd(left), Nas-the rapper (top-right) and producer Jeff Bowler(bottom-right)
Since K.D didn't comment on her first two relationships, speculations about the rumor can be held right.
Despite the relationships, she failed to get married to either one of them. Her fans are eagerly waiting to hear from her about her relationship in the present since; it is a complete mystery as of now, who will be the lucky guy to be called KD's husband and father of her Kids.
K.D Aubert's Short Bio:
Karen Denise Aubert, 38, born in Shreveport, Louisiana, USA is of Creole descent as she shares an American-African ethnicity. She grew up in Los Angeles and graduated from San Diego state university.
K.D. started her career as a model, with L.A Models in 2001. K.D, being a runway model overseas, made her way to print modeling with Elite Models.
Moving on, she modeled for Escada, Noxzema, AT&T, Wilson's Leather, Victoria's Secret, and Fredrick's of Hollywood. It was 2007 when Aubert was named to be the top 10 most beautiful Victoria's Secret models of all time, where she was ranked 4th, ahead of Tyra Banks and 'Heidi Klum.
Aubert landed her first significant role on her first audition in the cult classic, Friday After Next, while she was hosting the MTV game show Kidnapped, with Dave Holmes.
For her role in the movie Turning Point, Aubert was nominated in the Africa Academy Movie Award (AAMA), which she won. Also, she has won several other awards at AAMA. She was also reported to have an interest in the musical field, as she was spotted pursuing music in Jamaica.
Talking to Flare, she also stated,
"Music is something that I am passionate about. I just never had the proper professionals around me that took it to the next level. I can be funny, dramatic, and is still able to pull off all these roles, plus write music. Many persons are wondering why I am in Jamaica doing music. As a black woman in Hollywood, we are really not supposed to be there. You would have to be a Hanna Montana, so I am making the best of the opportunity."
She shares a cool personality which she possibly inherits from her parents,
Talking about the present status of her work; she is now, working for the second season of the TLC'S TV show- 'Too close to home.'
Hopefully, 2017 will be the year for her to find a partner to share some love with, apart from her work.