Entertainment
Former Power Rangers Karan Ashley Enjoys A Married Life With Husband; You Might Want To Know About.
Power Rangers has been one of the fascinating and fun to watch TV shows for a long time now.
One of the stars responsible for the show being as successful as it is is Karan Ashley, who portrayed the Yellow Ranger Aisha Campbell in season 2 and season 3 of "Mighty Morphin Power Rangers."
As a ranger, Karan has showcased the heroic powers and skills she possesses, but, is she equally heroic in her married life with her husband?
Well, let's take a stroll in her life for the answer!
The Fulfilling Married Life of Karan Ashley: Her Husband:
Everyone knows that Karan Ashley is a married woman and has been going all guns blazing with her relationship with her husband on social media sites, Instagram and Twitter.
Karan is married to her husband Kimani Ballard since March of 2014, and it seems like her powers are not the only thing she demonstrates in public, as Karan is not shy opening about her married life with her husband as well.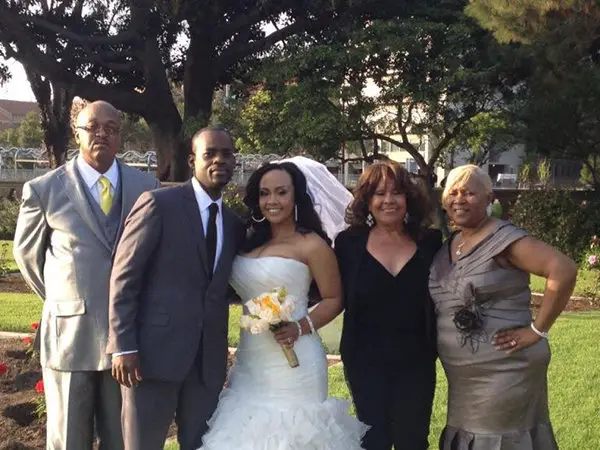 Caption: Karan Ashley's wedding day photo with her husband Kimani Ballard and their families.
Photo Credit: comicbooksgalary.com
The husband-wife duo admittedly seems to have been involved in a dating affair before taking their boyfriend-girlfriend relationship into a marital dimension, as the chemistry between speaks of them.
The two are further primed doing most of the things together, and they are always moving ahead in their relationship with utmost smoothness.
ME and my husband are excited about this one. Our first time in Canada. Can't wait to meet all of you in Ottawa!!!! http://t.co/6w8mSxmVcu

— Karan Ashley (@karanashley) April 28, 2015
It turns out; the two even once had a show together called "Grow Up Already."
A happy couple indeed!
More You'd Like To Know About Karan Ashley:
Karan Ashley, who was born on September 28, 1975, in Odessa, Texas, has had a career; the span of which has reached the milestone of over 20 years. Raised in Dallas, Texas, Ashley began her entertainment career in the girl group "KRUSH," a group where Karan was involved as a child singer.
After serving the group for five years, she then chose to try her hand in acting. That enabled her to kick-start her acting career, as she landed a big break which came when Karan went to an open-call audition.
Asley beat out over an astonishing 10 thousand hopefuls and bagged the role of Aisha, the Yellow Power Rangers on the number one kids show in America, "Mighty Morphing Power Rangers." She was able to portray her role in over 80 episodes and also star in the hit movie "Power Rangers - The Movie" released by 20th Century Fox.
Her astonishing career is what gave her all the recognition, and the projects which she did justice to are the reason why she is probably enjoying a stable net worth in her life. However, the actual figure of her net worth remains confined!