Entertainment
Karine Vanasse Too Busy To Get Married Because Of Career? Had Husband And Dating Affair But What About Now?
"Revenge" and "Polytechnique" actress Karine Vanasse is a beautiful and successful personality. She has made a name for herself since her acting career started and now she has been able to paste a firm place in the hearts of plenty around the globe.
But her fans often wonder if Karine has a man in her life in a romantic manner who she can call her boyfriend. Or even better, a husband, with whom she is leading a married life. Well, Karine has had her past concerning her love life but what does her love life look like at present? Is she single and busy with her career? Let us find out!
Better Insight About Karine's Past and Present Love Life:
Karine's beauty and her talents have made her famous all over the globe. She is not someone who has ever lacked fan following and success. But that is all her professional achievements. What does her love life look like now?
Well, thus far the actress is still to open her zipped mouth when it comes to her love life. Neither has she expressed her desire to get married and have a husband nor has she presented a boyfriend to the public.
That implies two things, either she is not willing to have any string attached to her and is occupied in her professional obligations or, she stands ready to keep her personal life to herself and wants people to recognize by her professional affairs.
It is not that she has never had men in her life and lacked a dating relationship. Karine was previously married to Maxime Rémillard, a Canadian business professional.
Karine and Maxime got married back in 2006. However, after eight long years of marriage, the two got divorced back in 2014 and ended their relationship there.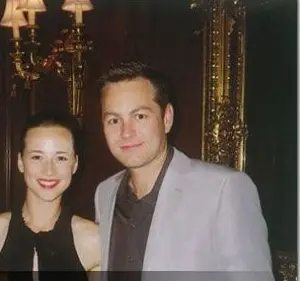 Caption: Karine Vanasse and Maxime Rémillard were once a married couple.
Photo Credit: whosdatedwho.com
Not much about the relationship flow and the demise of the relationship was publicized, so the major details of the divorce remains confined to the couple.
Following the divorce between Karine and Maxime, Karine then dated rapper Samuel Tremblay, better known as Samian in 2015.
The two were rumored to be dating one another for a long time, and the fact that Karine usually posted photos of her clicked by Samian confirmed the rumors.
The two reportedly met on the set of the very first season of the series Blue Moon and started dating one another, soon after their first encounter.
But following some undisclosed reasons, the two broke up in 2016. Karine's representative confirmed the news of the breakup, but not much was revealed about the demise of the relationship.
However, we now know that she has had experiences of being in relationships in the past and maybe, she just has her sights set on her future career as of late which are why she is not willing to settle down again.
Here is a video interview with her where she talks about her projects.
Caption: Interview With Karine Vanasse About Cardinal at the CTV Upfront 2016. (Published on Jan 24, 2017)
So let us see if she reveals her marriage and dating plans in the days to come!
A Short Bio of Karine Vanasse:
Born on November 24, 1983, in Drummondville, Canada, Karine Vanasse is a Genie Award-winning actress. She first gained fame for her role in the 2009 film Polytechnique where she played Valérie. 
Karine also portrays the role of Margaux LeMarchal on Revenge. Before she came to recognition, she won the lip sync contest held in Quebec when she was a young girl, which shows her talents' existence since the very beginning.
Winning the contest led her to appear on teen show Club des 100 Watts, and that kickstarted her journey in the industry. Furthermore, she has also co-starred with Christina Ricci on Pan Am where she plays a French flight attendant.
She has been a thriving name in the industry, and all the hard work and dedication she has put through in her career has led her to earn a good sum of money as well, which is evident in her net worth, which is $2 million.
Stay with us for more news on Karine Vanasse!