Entertainment
Karlie Kloss Reveals 'Never Heard' Dating Details With Tycoon Boyfriend
The former Victoria's Secret Angel, Karlie Kloss has now turned her luck into tech entrepreneur, and talk show host. She twisted her claw from the modeling industry to the entrepreneurship with her boyfriend who is in the tech world.
Well, the top model has been dating her longtime boyfriend, Joshua Kushner who is in the tech world. He is the co-founder of Oscar Health and work is all he does since his early days.
Karlie, who fell in love with her boyfriend at first sight, is often tight-lipped when it comes to talking about her six years of relationship. But now, she has come forth with all her dating details
Low-Profile Dating; Boyfriend Ties With White House
The 26-year-old model, Karlie Kloss is sharing the romantic life with the Thrive Capital founder-boyfriend, Joshua Kushner since 2012. The couple loves to maintain their relationship, a low-profile one.
Both the couple has not spoken publicly about their dating life, but they are often photographed together, and they indeed share the adorable pictures from their romantic life on social media. 
Though the couple gave their best efforts to keep their relationship out of the headlines, they unwillingly have been on the headline. The Chicago, Illinois native's boyfriend, Joshua ties the good relationship with the White House as his older brother Jared is both, President Donald Trump's senior advisor and son-in-law.
The 6 feet 1-inch brunette took to Instagram and shared their adorable picture from their fourth year anniversary on June 2016, writing:
"four years ago today I met my best friend ⭐️? I love you more everyday."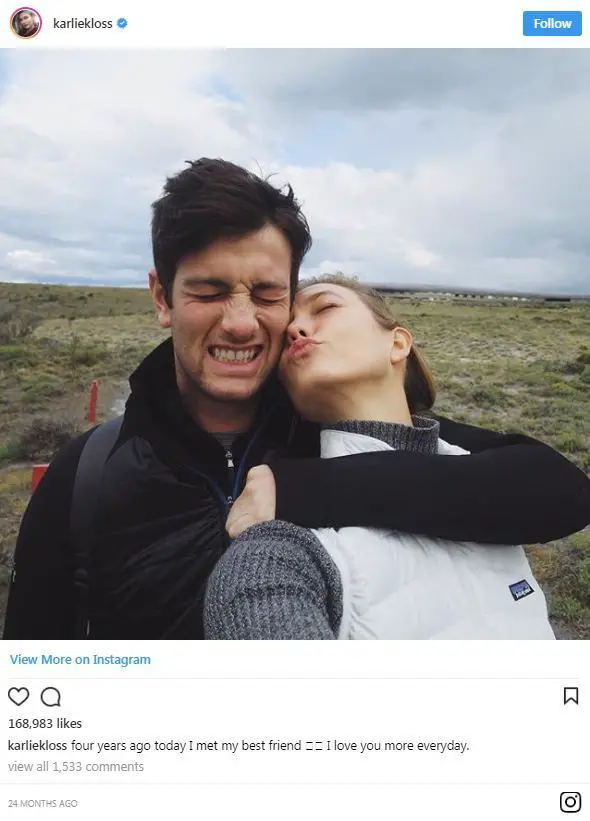 Karlie Kloss and Joshua Kushner's fourth year anniversary on  June 2016 (Photo: Karlie Kloss' Instagram)
Well, their secrecy seemed to be bliss for the couple as they rejoiced their past six years in peace. The model disclosed the tenure of their relationship through her Instagram post which she shared on his birthday in June 2017. On the post, she talked about their chemistry writing:
"My atoms love your atoms, It's chemistry.
- @atticuspoetry ❤️???❤️ Happy birthday to my best friend and partner in crime. The past 5 years of our adventures together have been some of the best memories of my life. I love you @joshuakushner"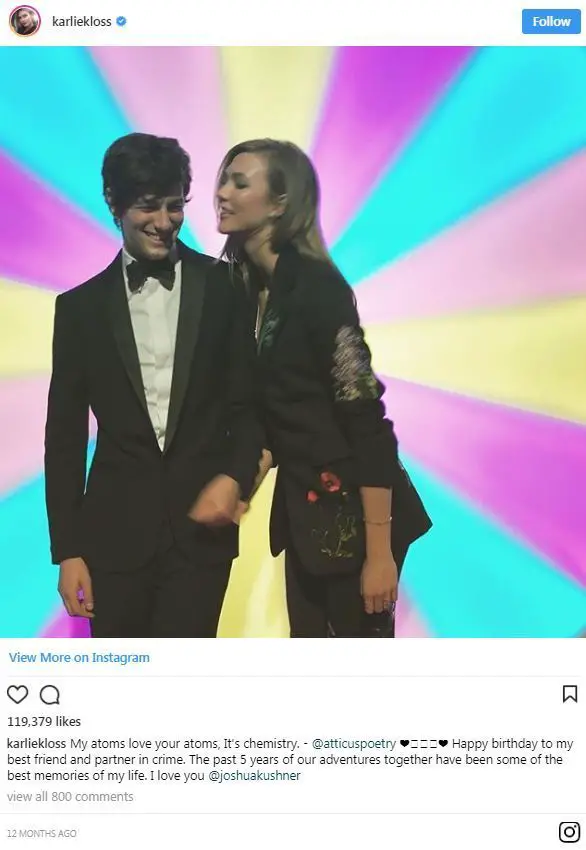 Karlie Kloss' wishes Joshua on his birthday and reveals their five-year relationship (Photo: Karlie Kloss' Instagram)
Well as of now, the couple has finally come out publicly and talked about their relationship. 
In Porter Magazine's cover story profile 2018, the model talked candidly about her dating life with Kushner and her reason to keep their romance confidential. She stated:
"Carolina Herrera always says, 'A woman who's an open book is boring.'
Also, she claims that there's no mystery in their relationship anymore and she has nothing to hide now. She told:
There's no mystery anymore. I know in my life what really matters to me. I'm not trying to hide that from the world; I just really like having a more private private life. I've got nothing to hide, though!"
The couple, who has different views on politics, shares the same point of view when it comes to thier relationship and often spends their holidays together. Recently, the couple shared the heat of a desert and shared the glimpse on the social media.
The supermodel, who shares a good bond with three siblings, shared a picture alongside her boyfriend Joshua, who is also her future-husband on Instagram 26 April 2018 in the Wadi Rum Desert in Jordan. They have been spending much time together relishing from their busy schedule.
Notably, Joshua's parents are also supportive of his relationship with the model, and they would like him to settle down with her. But the Kushners are Jewish and his sister-in-law Ivanka also converted to Judaism before getting married. So, it seems Karlie, who has a net worth of $ 16 million, also should walk onto convert to Judaism to win the approval of the Kushner family for their marriage.