Entertainment
Kat Stacks Became Pregnant But Did She Have A husband Or A Boyfriend? Let's Look Up To That As She Reveals Her Hardships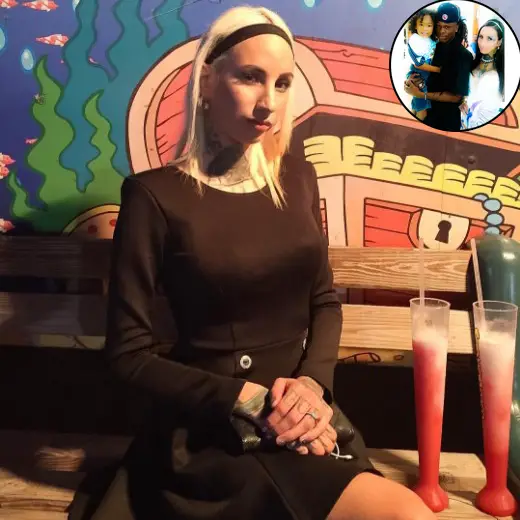 Kat Stacks before entering into the entertainment field had once shared her childhood traumatic situation and revealed the fact of being a prostitute. But now after earning a fame of loud mouth rapper, Kat Stacks at one time blew her fan followers with the news of her pregnancy.
Though the news is an ordinary one her supporters have raised an eyebrow in the news due to her historical details and vigorously seeking a hint for the biological father.
At present, we will be looking out for the birth father of the child and also disclose the hardship which she had faced during her entire journey before being a famous rapper.
Who Is The Father Of The Child?
In the year 2010, Kat Stacks was already a mother of a son who was two years old. She had become a mother of the child before she was arrested, i.e., before 20 years old. The source vice.com on April 4, 2013, mentioned the rapper spoke about having a son with one of her pimps while working as a rapper. During her rapping phase, she confronted of sleeping with the low profile rappers and publicizing her phone number.
On an interview published by xxlmag.com on July 23, 2013. She said,
I didn't know anywhere else to go, and WorldStar was just an open door for me not to be on the street working and getting beat up by a pimp. The father of my child is a pimp. I explained that to them.

The Miami New Times on January 9, 2014, revealed Prince to be Kate's boyfriend when she was 14 years old. At the young age of 19, she was two months pregnant carrying his child and on November 26, 2012, she gave birth to her son T.J.
Stacks has not revealed any further detail about the biological father of the child. But through a tweet, she shared the family picture of her son and the father of the child along with her with the caption of taking a family vacation on Trinidad-Venezuela on June 13, 2015.
However, no information regarding the man has been opened by Kat but while going through her Instagram and the Twitter account we came across many pictures of her son T.J and her enjoying their quality time together.
Similarly, numerous pictures of Kat along with Shanod Johnson, the owner, and promoter of HNIC entertainment got obtained.On November 23, 2016, Kat shared a picture with the entertainment owner. But not a single view of a similar man whom she once stated to be her husband got to identified in any of her social sites.
On November 3, 2016, Kate recently celebrated her 27th birthday and shared a video of her birthday spree on her Twitter account.
At the age of 27, she has no husband but has a sound career as a rapper and there lies a confusion regarding her relationship. She got tangled in a relationship with the owner of HNIC or she might be dating another rapper from the same industry, but no information regarding her husband got to reveal till date whether she had a marriage in the past years.
"Sunshine After A Gloomy Day," How Factual Is It?
Before coming in, highlight as the loud mouth rapper she had a nightmare of her life. Right after ten months of her birth, she lost her father. Since then her mother took care of her and at the age of 14, she met her boyfriend Prince who sold her body for $200.
From the tender age of 14, Kat worked as a prostitute and moved to Atlantic and Brooklyn. As said on  Miami New Times January 9, 2014, Kat revealed about being beaten and thrashed by Prince. She opened up saying,
"He was a predator."
At the age of 19, she was caught by the cops after her visa expired and got deported to her family home in Aventura, Venezuela after they discovered about her pregnancy. After fully recovering from her pregnancy she met  Lee "Q" O'Denat, the man who established WorldStarHipHop. But again in November, she was kept in custody for posting a video and exposing Soulja Boy with cocaine.
Caption: Kat Stacks exposing the rapper, Soulja Boy with cocaine on YouTube (September 10, 2011). 
While giving the detention order, Kat claimed the video got posted just for the entertainment purpose. She said,
"I explained to the judge that Kat Stacks is freedom of speech, which it was just entertainment and they shouldn't violate my constitutional rights."
Kat was detained for three years but the social activist working for the NGO came across Kat and heard her prostitution story. The activist raised 5000 petitions to release Kat and hence on January 2, 2013, she got released from the prison.
More About Her And Net Worth
Youtube star Kat Stacks was born on November 2, 1989, in Venezuela. Before getting famous, she was a prostitute, but after being in fame, she has earned the total estimated net worth of $0.2 million. Besides being a rapper, she also wrote a book "Becoming Kat Stacks" which flocked in 4,10,000  followers in her Twitter account.
Hailing from an ordinary family background and suffering from the traumatic life Kat has managed to stick so far and is successfully working as a rapper for World Star Hip Hop entertainment. Well, Kat, you deserve every bit of glory you are receiving now, and we are looking forward to more videos in the upcoming years.