Entertainment
Is Kate Adie Married? Family Details & Personal Life Status Finally Revealed!
Kate Adie, the former chief news correspondent for BBC News, is considered as one of the most courageous women in the world. With a bold personality, she has covered news in war-torn locations including Iran and Libya and is set to earn 2018's BAFTA Fellowship.
But when it comes to her personal life, she's not much vocal about it. Yet, her silence hasn't lessened the curiosity of her viewers as her fans are interested in knowing the personal life of this television and radio personality. 
So let's discuss the private life of the 72-year old journalist along with her family details!
Relationship Status
Kate, who currently presents the BBC Radio 4's talk show From Our Own Correspondent, never got married throughout her entire life.
Further, the 1993 OBE-winner has not been romantically linked to any partner in the past. Kate, who was raised as an adopted child, has not mothered any children and no news has surfaced in the media of her sheltering any children. 
Kate's love life is not much complex as there have been no rumors of her dating in the past. However, there is still a side to her personal life that can be considered as traumatic by many, but Kate described it to be quite lovely.
Adoption, Foster Parents, And Reunion
Kate Adie, born on 19 September 1945, was soon given up for adoption after birth by her mother. Apparently, Kate's mother, Babe Dunnet was a married woman, who had a brief affair with a man named John Kelly while her husband was serving as a British Army medic during World War II. 
Kate, the fruit of the illicit affair, was adopted by a Sunderland couple, Wilfred and Maud Adie. Kate's foster parents raised her as their only daughter and didn't hide the fact about her adoption. Kate described her childhood as "hugely secure and happy" and revealed that she had people who loved, cared and supported her.
After the death of her foster parents, Kate started the search to find her blood relatives and got reunited with her birth mother later in 1993. The same year, Kate was also awarded OBE, the Queen's honor, for her contributions to journalism.
There is a photograph at Buckingham Palace of Kate receiving the honor with sister Dianora Bond and biological mother, Babe Dunnet.
In her autobiography The Kindness of Strangers: The Autobiography published in 2003, Kate mentioned about her family life after reunion with her biological mother. She quoted:
 For I was now part of a much bigger family, having met my own mother and a wonderful, welcoming tribe of kind and fascinating relatives.
But unfortunately, Kate's birth mother died at the age of 94.
Likewise, Kate, whose biological father hailed from Waterford, Ireland; talked about her Irish heritage, while being presented with the Certificate of Irish Heritage in 2013.   
I'm immensely proud of my Irish heritage and this recognition from the people of Waterford is of great importance to me. I know that my roots are in Waterford but I also know that I have so much more to uncover - I look forward to learning more about the city and county and the family.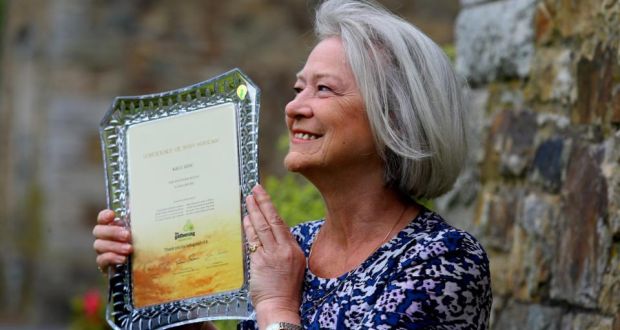 Kate flaunts her Irish Heritage Certificate (Photo: Irishtimes.com)
In an interview on the Pat Kenny Show, Kate, who receives salary averaging £43000 a year, had mentioned that she was trying to find John. Talking about her father, Kate told the Irish Examiner in an interview on April 11, 2015,
What I know of John Kelly was relayed to me by my mother. I've had a curiosity about my father, John Kelly; for example, while I know he was from Waterford, I don't know if he was from the city or the county.  [My mother] told me that John was a fun, devil-may-care type in the nicest possible sense, full of life, and brimming with Irish charm. He was a great storyteller, sung songs to her, took her dancing, even brought her greyhound racing. My mother said he was a very sweet, romantic man, was a little older than her, probably in his early 30s, was dark haired, of medium height, and had slightly wavy hair. I have met dead end after dead end when it comes to finding out more about my father. I know he spoke to my mother about travelling to America, but such talk would have been quite common in the period in question. But John didn't abandon my mother; she never felt abandoned by him. He knew he couldn't stay, just as I knew, given the societal norms of the time, that my mother, as a married woman with another child, couldn't keep me. But if there is anyone in Waterford, or anywhere else in Ireland for that matter, who may be able to shed some light in relation to my father, that would mean a great deal to me.
In the recent days, Kate has not revealed whether she has ultimately found her father. 
2018's BAFTA Fellowship
Kate Adie is receiving the Bafta Fellowship at British Academy Television Awards in May of 2018. Speaking to bbc.com in April 2018, Kate shared her excitement saying, 
"It's lovely to be awarded the Bafta Fellowship. I feel very honoured."
Chair of Bafta, Jane Lush also remarked about Kate:
"Kate Adie is a truly ground-breaking news journalist, being one of a very small number of women working to report the news from hostile environments around the world. We are delighted to be celebrating her stellar career at this year's ceremony; she is a true trailblazer and very deserving of the Fellowship Award."
Adie has won several awards including the Richard Dimbleby Award at the British Academy Television Awards in 1990 and three Royal Television Society awards.
Keep Visiting to stay updated on the life of Kate Adie!