Entertainment
What Is Kate Chastain's Age? The One Got Arrested For Allegedly Abusing Ex-Girlfriend Rocio Hernandez
For those who follow the reality TV series Below Deck, you might not require being introduced to Kate Chastain. But, for those who learned about Kate from the news that surfaced for Kate abusing Rocio Hernandez, who also happens to be Kate's ex-girlfriend, might want to know more about her.
And if you are one of them, we bring to you everything there is to know about the abusive incident along with Kate's other personal details.
Keep reading!
Allegedly Abusing Ex-Girlfriend, That Got Kate Chastain Arrested:
It was June 13 of 2016 when Kate (age 34) got arrested after her ex-girlfriend, Rocio Hernandez alleged Kate of abuse and filed a complaint against her.
Caption: Kate Hernandez got arrested at her home.
Video Credit: Radaronline.com
Following the complaint, Melbourne Beach police department charged Kate with battery by strangulation and domestic violence. As per the reports, Hernandez accused Kate of attacking her on June 11, during an altercation in their shared home. The report stated,
"Ms. Chastain arrived home from a bar and was intoxicated, Ms. Chastain then started to verbally abuse Ms. Hernandez to get her to fight. Ms. Chastain went into a fit of rage and physically attacked Ms. Hernandez and tried to steal her phone."
The report further added,
"She was bitten on the forearm, inner bicep, and leg, She was also held down and choked, 'strangled.' Ms. Hernandez also advised that she felt her airway close during the incident. Ms. Chastain told Ms. Hernandez to remove all of her stud and get out of our home…Ms. Chastain said that she would also change the locks to the residence."
Additionally, the report explained, 
"Hernandez refused to engage, so kate sat on top of her and lit a cigarette and continued to verbally abuse her. Ms. Chastain then put her knee on her head and pulled her hair. She also covered her mouth and pinched her nose so that she couldn't breath [sic]."
The report concluded,
"Ms. Hernandez advised that this isn't the first time that events like this took place, She was afraid to come forward due to Ms. Chastain saying that she knows everyone in the town and nothing will be done."
Despite such accusation from Rocio, two of Kate's neighbors claimed of not seeing or hearing anything on the date being questioned. Further, Chastain mentioned of a neighbor who videotaped the incident, but, wasn't available back at home during the arrest.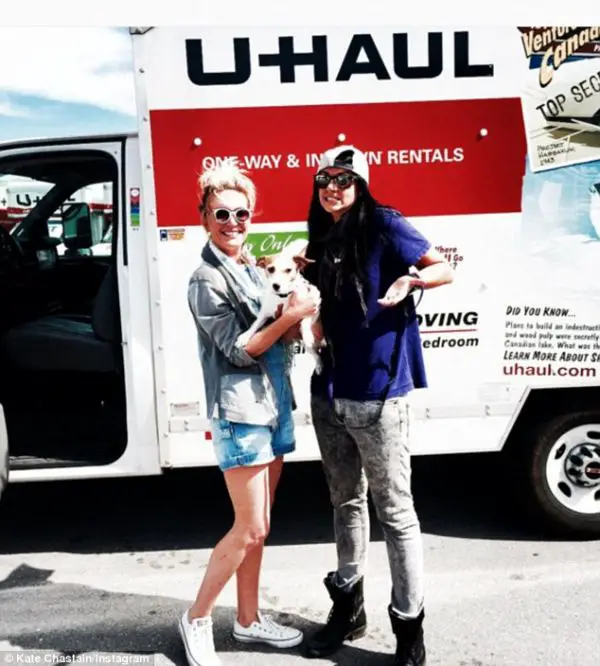 Caption: Kate with her former girlfriend, Rocio Hernandez!
Photo Credit: Frostnow.com
Proceeding further in the case, Kate went for a trial, following which a Brevard County, Fla. clerk confirmed the case being downgraded to a misdemeanor on May 2017.
Further, as of 2017, "Below Deck" star, Kate was back on the show, and while getting to know her new crew members, Kate opened up about her personal life as well. As the show flash-backed the scenes from season four when Kate and Rocio were together, Kate expressed,
"My last relationship was brief, I don't trust my judgment, If I'm attracted to someone, it's probably bad news."
Additionally, Kate, who was in a lesbian relationship with her then-girlfriend, Rocio is now into men! After witnessing Kate and a Swedish guy, whom Kate calls 'Hot Jesus' in one of the episodes of Below Deck. A follower asked Kate,
"So, is Kate into men now? #belowdeck"
To which she replied,
Well, we will have to pause and see, where will Kate head in her love life in the coming days. Although Kate remains vocal of her personal life, she remains reserved when it comes to revealing about her earnings, and the exact figures of her net worth.
Stay with us to stay updated with the happenings in Kate Chastain's life!