Entertainment
Sports Writer From ESPN Kate Fagan Is Now With A Partner Who Previously Had A Husband! Shares Her Side of Lesbian Story
The choice of one's sexual preference has been questioned time and again, but that was in the past. Perhaps there were comparatively more prejudices over one's choice than today.
A professional basketball player turned ESPN writer; Kate Fagan shared opened up on- what was it like to come out of the closet and acknowledge her sexual preferences, at that time. Keep reading as we reveal all her struggles!
Kate Fagan Shares Her Lesbian Story:
Kate Fagan started to visit church frequently after she arrived in Colorado. Additionally, Kate had friends whose family had faith in Christianity.
She had never explored religion but she wanted to, and thus she studied bible and also took lessons on the virtuousness of God, where she got a chance to socialize with people.
The topic of the meeting of Fellowship of Christian Athletes was 'sex,' and it was understood that the relationship between male and female used to be considered all right until abstinence came to practice.
But, a question by a born-again teammate stopped Kate's heart which was,
"Who here struggles with homosexuality?"
It was the moment when Kate had a decision to make, the two choices were, to please her religious friends or acknowledge her sexual orientation.
Kate came out of the closet when she was a junior in her college following which, her best friend dropped her. Only three people, besides a woman whom Kate dated at that time, knew she was gay until 2010.
Kate highlighted the stereotypical thinking and said that when you don't have a boyfriend, you are considered to be a gay.
"In women's sports, if you come out as gay, you're reinforcing a stereotype — you're assumed to be gay unless you have a boyfriend,"
Moreover, Kate stated that change is necessary to alter people's outlook towards a player's sexual preference.
"We're in a period of change in sports, especially in men's sports, where (Jason) Collins came out in the NBA and is still playing. In male sports, it's a deviation if someone comes out as gay. There are different factors at play in women's sports."
Kate concluded saying,
"The WNBA is starting to embrace 'otherness,' although it's a work in progress,"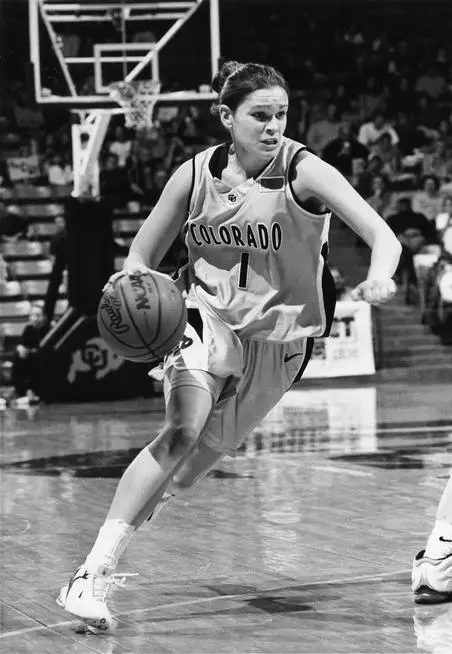 Caption: Kate Fagan while playing for University of Colorado women's basketball team in 2002.
Photo Credit: denverpost.com
Kate shared her lesbian story in a memoir titled, 'The Reappearing Act' released in 2014.
One night over a drink, her then partner Sue Hovey asked her to write a book to share her story, and during that time she was willing to turn the tide in LGBT movement through articles while working as a columnist for ESPN.
Then Kate and her partner short listed the scenes, which created a good story arc.
Furthermore, Kate also shared that Sue helped her shape and edit the book and they both worked as a team. Plus, Sue's career as an editor helped her in developing the book.
Sue started as a writer, but spent the bulk of her career as an editor, so we actually work quite well together on that front. She helped me shape and edit my memoir—we're like a tag team. Just having a safe space where someone you trust can be honest with you about your words. It's invaluable.
Kate, however, has moved on to her new partner, a yoga instructor Kathryn Budig now. Together, the couple has started a podcast in ESPN titled Free Cookies from May 2017.
Kate wished Kathryn on the occasion of Valentine's Day this year and even called her the loveliest human.
Kathryn Budig was once a married woman and had a husband. Moving on from the marriage, and ending up dating a woman, Kate Fagan became the talk of the town.
Kathryn addressed the same through her Facebook post, and further, Kate and Kathryn also talked about their sexuality and how they identify each other through their podcast, "Free Cookies."
A Short Bio On Kate Fagan:
Kate Fagan was born on November 15, 1981, in Warwick, Rhode Island in U.S. Kate went to Niskayuna High school in Schenectady, New York and was an all-time leading scorer in basketball.
Further, she played basket ball at the University of Colorado and graduated with a degree in communication in 2004.
In 2006, she professionally started her career as a sports writer for Ellensburg, and in 2007 she worked a writer for Post-Stars.
From 2008 till 2011 she worked for Philadelphia Inquirer as a writer. From 2012, she has been working as a writer for ESPN and has also made various appearances on the ESPN programs.
As of now, Kate hosts an ESPN podcast called Free Cookies with her partner, Kathryn Budig as well.
Think we missed something? Do let us know in the comment section below!