Entertainment
Kate Luyben Wiki: A Bio That Says More on Her Family But Not Husband - Why?
Kate Luyben is an actress who is known for her incredible beauty and her amazing work on several successful projects like "40-Year-Old Virgin," "Intolerable Cruelty," and many more.
Kate is loved for everything she has done in her professional world, but there is plenty more to her life which many are quite ignorant about.
So, for those who are willing to know more about his long-legged actress, we have got you all covered, as today we shed some light on her life's details in a wiki-like bio of her, which could include everything but her husband!
Who Is Kate Luyben? Know Everything About Her Barring Her Husband:
Kate Luyben is a successful actress born on June 30, 1972, in Canada, who started off decent but later gained further recognition with her work in projects like "True Blood" and "The 40-Year-Old-Virgin" (remember the girl with the videotapes?). Kate has also had some brief stints in "Two and a Half Men," "Arrested Development," "Criminal Minds," and "Intolerable Cruelty."
Moreover, she has come a long way from where she was then in her career; however, she has kept the figures of her net worth veiled.
Now, having known about her professional life, let's switch our focus to her personal life, which indeed is the matter of interest for everyone who has ever heard her name.
Speaking of her personal front, Kate has been enjoying a happy family life. She does have a young angel in her life, who happens to be her son Hank. However, she does not have a husband because she has not yet gotten married to her boyfriend, Jim Jefferies. Jim, who is a comedian by profession is the father of Hank, the boy born on November 17, 2012.
Both Kate and Jefferies have been pretty confidential about the details related to their relationship. But, whenever they have the opportunity to talk about their union, they do not tend to hide many things.
Kate tweeted this February, mentioning that she wants Hank to inherit his father's ability to speak his mind,
Also, recently Jim opened up about his boy being one of his biggest critics; when his son decided to rather go for a Minion movie than see the billboard on LA's Sunset Boulevard. In his own words,
"I said, 'Hank, there's a special billboard on Sunset and we're going to drive past it'.

"And he said, what is it? I said, you're going to know it when you see it. And here it is! And my son said, oh the new Minions movie?

'I went "no, no, no not that billboard", and he said 'I know daddy, it's a picture of you...but there's a new Minions movie.'
Well, their relationship seems to be on the prime
Kate, however, has been very secretive about how she puts up to the things in her family life. However, Jefferies once in an interview opened up about how they met, how they got along and how they had their child.
Caption: Jim Jefferies & girlfriend Kate Luyben talks about their Relationship.
Published on Jan 18, 2013
They seem to love each other's company.
Additionally, did you know, Kate was once in a relationship with Nathan Fillion in the past?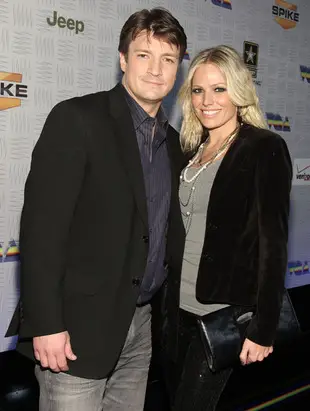 Caption: Kate Luyben and Nathan Fillion were once in a relationship with one another.
Photo Credit: wetpaint.com
Not many details were publicized about the relationship's inception or the demise.