In the 21st century, same-sex relationships have come to the forefront. While the choice to love the same gender is still getting worldwide acceptance, people have chosen to embrace love beyond societal norms. 
In such a case, celebrities are no exception, and comedian-actress Emmy winner Kate McKinnon (first openly gay cast member of SNL in 30 years) is among the few people who are quite open about their sexuality. But who is her dating partner? Find details on the relationship down below.
Kate's Gay Identity, Dating Status?
The road of fiding herself was tough for Kate - height 5 feet 3½ inches (1.61 m) - at first. She realized her love for the same sex between the tender age of 14-15. According to her, it was confusing and hard; she also claimed that she was the only gay person in her high school.
Juicy Topic:- Alexandra Daddario Boyfriend, Husband, Family
However, she did have the love and support of her family, which helped make the realization easier.
In a few years, she grew up to become the wonderful woman she is today.
As per her dating life, Kate didn't reveal much about her relationships initially. Only in 2015, she was linked with Marla Mindelle, but the relationship went array soon. It was not until the year 2017 that fans would get a glimpse at her new partner.
It was during the 2017 Emmy Awards when the lesbian duo made their first public appearance. Accompanying her to the show was actress Jackie Abbott, and the lovebirds looked splendid together.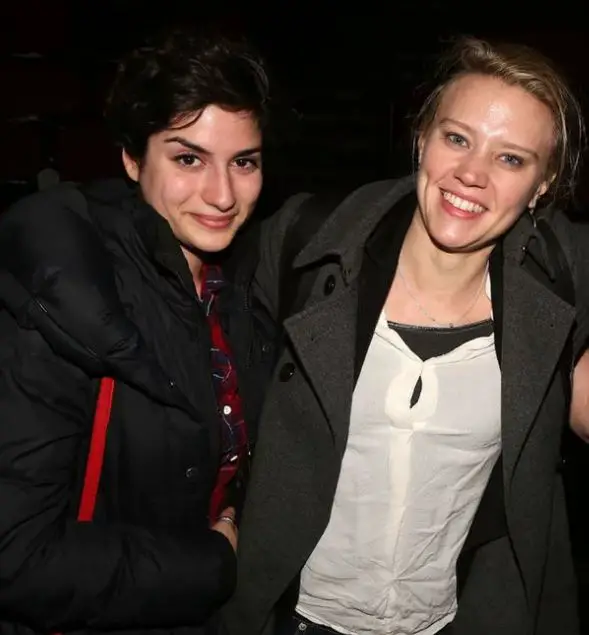 Kate McKinnon with girlfriend Jackie Abbott (Photo: instyle.com)
While the pair kept it low key during the award ceremony, it was already out that the duo was, in fact, dating. The lovebirds quickly made headlines, and the news of their dating spread like wildfire.
While the duo is quite in love, a strong social media presence like photos or outings lacks in their love life.
Family & Education
The Emmy winner is the daughter of architect father Michael Thomas Berthold and mother Laura Campbell. Full name Kathryn McKinnon Berthold, she was born on 6 January 1984 in Sea Cliff, New York. The comedian has a younger sister model Emily Lynne Berthold.
In her early years, Kate attended the North Shore High School. Graduating in the class of 2002, she went onto pursue a bachelor's degree from Columbia University.
Interested in performing arts and musical instruments since childhood, she majored in Theater Arts. No wonder, Kate can play different instruments like cello, piano, and guitar.
Kate's Net Worth
For a woman who began her acting career in 2007, Kate has come a long way from her starting days. While she is renowned as one of the star comedians in SNL today, such was not always the case.
In the beginning, she was rejected by a comedy festival booker. During her two and a half minute performance, she failed to do stand up comedy properly.
However, the actress and comedian have made giant leaps in her life. Among her most succesful works include Concierge: The Series, We Have to Stop Now, Vag Magazine, I Wanna Have Your Baby, My Best Day, Hannah Has a Ho Phase.
With a successful career as an actress, she has garnered a fortune worth $8 million, which is still rising in the year 2019.