Kate Middleton was born as...Her parents...she picked the ring... wedding dress designed by...welcomed their first child... being pregnant with...her outings, she met... reportedly has a total net worth... being married to...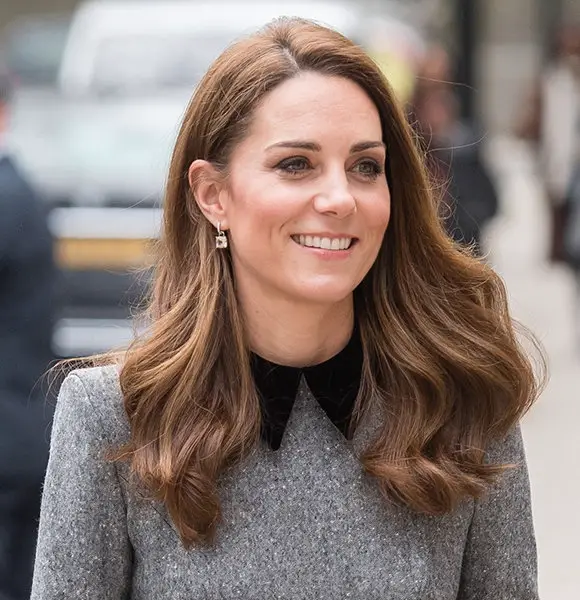 Born on 9 January 1982 to middle-upper-class parents: Michael and Carole Middleton, Kate Middleton (full name: Catherine Elizabeth Middleton) would have never imagined herself as the Duchess of Cambridge.
Raised alongside her younger siblings; sister Philippa and brother James, her family enjoyed the millionaire status after the success of her parents' mail-order company in 1987.
Coming from a glamorous lifestyle, she soon became a name known to the entire world. Now the Duchess of Cambridge, Kate has been happily married to her husband, Prince William, for more than seven years.
Engagement And Wedding
In October 2010, Kate got engaged to Prince William. The sapphire ring she wears is a hand down of the royal family from the Prince's mother. Initially, the ring was bought by William's father Prince Charles to please his wife, Princess Diana. She had picked the ring from a collection, allegedly rebelling against the royal family.
In 1997, Princess Diana passed away, and her jewelry was given to Harry and William. Supposedly, the ring was the property of Harry until the fateful day when William proposed to Kate.
Also Prince And Princess:- Princess Eugenie Married Jack Brooksbank In Astounding Wedding Dress!
William and Kate's wedding took place on 29 April 2011. At the event, she wore a beautiful wedding dress designed by Sarah Burton. She even wore a tiara to go with her dress. With a grand ceremony in place, the total cost of their wedding was estimated to be $34 million. 
Children Details
Two years into the marriage, the couple welcomed their first child, Prince George Alexander on 22 July 2013. Beaming with joy and excitement, the royal family were pleased about the firstborn.
Soon enough came their second child. On 2 May 2015, Kate gave birth to daughter Princess Charlotte Elizabeth Diana.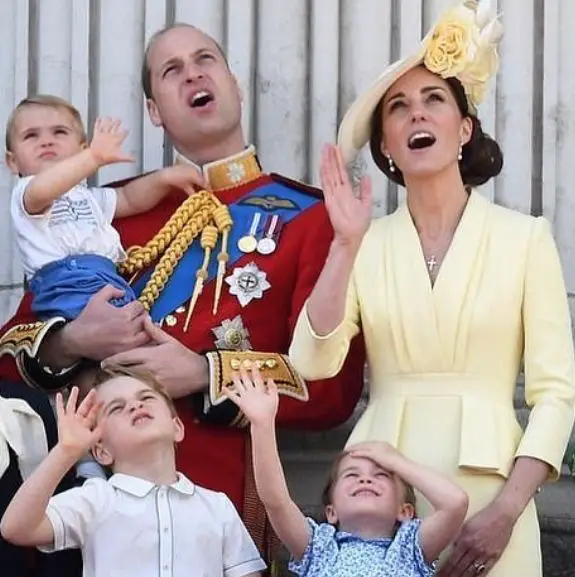 Kate Middleton with husband Prince William and their three children in June 2019 (Photo: Kate Middleton's Instagram)
In September 2017, Kate and William announced they were expecting a third child together. Initially, there were rumors of Kate having twins, but on 23 April 2018, almost seven years into their marriage, a son named Prince Louis Charles was born. 
Pregnancy Rumors
After being pregnant with three kids, news concerning a fourth child with hubby William came to the surface.
In 2019, many people speculated she was pregnant again. During one of her outings, Kate met a five-month-old and his father, Alan. Seeing her with the child, the crowd around began to shout number four. But, as Alan asked the Duchess about the fourth baby, Kate - age 37 - shut down the rumors for good.
Pregnancy Related:- Free Pregnancy Test
Although it seems Kate and William are satisfied with the number three at the moment, its uncertain what might happen in the future.
Net Worth Info
Keeping her multi-millionaire lineage aside, Kate reportedly has a total net worth ranging from $7 million to $10 million.
But that is not only the case. As the wife of Prince William, she now enjoys a total net worth anywhere between $30 million and $40 million.