Entertainment
Is Katja Herbers Married? Or Just A Booming Career Restricting From Even Having A Boyfriend or A Dating Affair?
While some celebrities are comfortable sharing their romantic relationship and flaunting their boyfriend in front of their fans, some celebrities prefer to keep it under the wraps. It's an individual choice, but fans will be fans, and they would like to know every possible detail about their favorite celebrity.
Dutch actress Katja Herbers has a blooming career and has won many hearts with her performances, and her fans are making a wish to know every possible detail about her, including her dating affair with her boyfriend and marital status. Well, if you are the one wishing for the same, then you've hit the right place.
Is Katja Herbers Dating Her Boyfriend Or Is She Married?
Katja Herbers is among the celebrity who prefers her performances to create headlines rather than the news of her romantic unions. Katja has maintained a tight guard over her personal life, and her fans are left to conjecture about her dating affair, as nothing could be said until she wishes to share it with the fans.
It's possible that she is single and focusing on her career, but the possibility of her dating with her boyfriend secretly, far away from the limelight, cannot be evaded as well.
Whichever the case may be, we hope that she shares about her love life soon!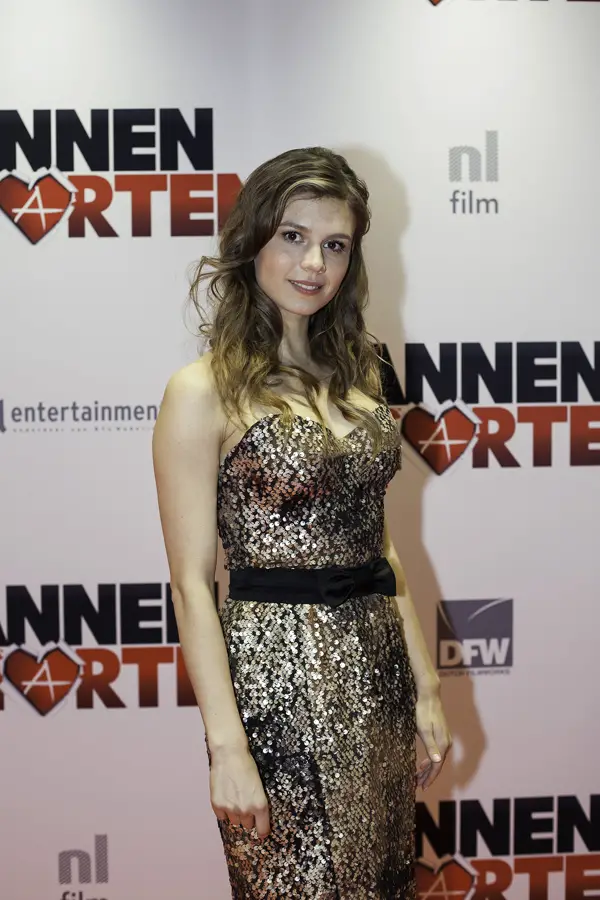 Caption: Katja Herbers attending the red carpet of Mannenharten in Delmar, Amsterdam in 2013.
Photo Credit: Pinterest
Katja Herbers Wiki Like Bio:
Katja Herbers was born on October 19, 1980, in Amsterdam, Noord-Holland, Netherlands. She attended St. Ignatius High School, Amsterdam and further studied psychology at the University of Amsterdam.
While studying psychology at the University, she joined theater school called, De Trap and later was accepted as a student in the Theaterschool in Amsterdam, where she learned the craft from 2001 till 2005.
Talking about her parents, her mother, Vera Beths is a violinist and her father, Werner Herbers is an oboist and a conductor. As a child, she spent most of her time with her mother and even accompanied her mother on tour.
Though she has not shed any lights on her possible love life, she is vocal about her love for her parents.
Katja wished her mother on her birthday and urged her followers to listen to her recordings as well.
Moreover, Katja flaunted her mother's love for a musical instrument via Twitter on April 2, 2016.
Later, both her parents remarried. Her mother went to marry a cellist, Anner Bylsma and her father married a costume designer, Leonie Polak.
Katja's new mother, Leonie Polak introduced her to the world of theater and today, the beautiful and talented actress, who is five feet, six and a half inches in height, is a well-known name in the theater.
Katja's stage credits include Im wunderschönen Monat Mai (2013), An Ideal Husband (2013), The Mother (2012), Winterreise (2011) and Fraulein Else (2010).
Moreover, Katja's memorable performances on television include Manhattan (2014), Divorce (2012/13), Lieve lust (2005/06), Das Leben ein Traum (2007), De uitverkorene (2006).
Moreover, she has also showcased her acting prowess in the movies like Mannenharten II (2015), Mannenharten (2013), Brammetje Baas (2012), My Granpa, the Bankrobber (2011), and Loft (2010).
Katja has a good command over three languages Dutch, German and English, as she was raised by a Dutch mother, a German father and a Canadian nanny.
She hails from a musical family of classical musician and is inclined towards music too. She even sings and acts, Schubert and Schumann in a theater with a small orchestra.
For a lady so talented, it's entirely possible that her priorities are inclined to the professional front of her life; which is why she might not have spared time for affairs and relationships.
Stay with us for the blooming updates on Katja Herbers!