Entertainment
Kaya Jones Married With Husband? Or Ex-Boyfriend Trauma Disgusts Dating Idea?
Canadian-American pop singer, Kaya Jones who is well recognized as one of the lead singers for the girl's musical group Pussycat Dolls recently came to light because of the news regarding her ex-boyfriend who might be an interruption in her personal life.
And because of her ex-boyfriend's trauma, has it been an obstruct in her dating life? Follow the article to divulge the truth:
Kaya Jones's Life After Trauma:
Before a decade, Kaya had to encounter a stumbling a relationship with Backstreet Boys star Nick Carter. They started dating when she was a band member of pussycat doll in 2004. But their romance did not last long as they got separated after several months of dating.
And since then, there was no news regarding the couple's relationship. However, they came to light with the recent news of her ex-boyfriend's trauma.
On November 2017, former Dream singer Melissa Schuman released an allegation that she was sexually abused by Kaya's ex-boyfriend Nick. However, Nick denied the allegation saying he was shocked and saddened by the accusations.
Likewise, Kaya also took it to her Twitter to accuse her ex-boyfriend Nick of ignoring the awful abuse that she allegedly endured while in the Pussycat Dolls. She stated that Nick knew about the abuse she experienced and did nothing.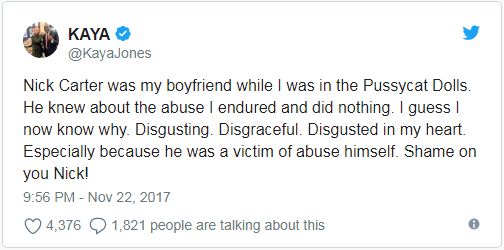 Kaya claims Pussycat Dolls abused by the music industry executive s, but the group members deny (Photo: Kaya's Twitter)
Moreover, Kaya made other several tweets to slam her ex-boyfriend. And since then, she has not been spotted with anyone probably because she might be waiting for the perfect husband. Likewise, she might be disgusted with dating ideas as he had to encounter an abusive relationship in the past.
But we would love to see the beautiful star getting engaged in a relationship and sparkling the magic again.
More About Kaya Jones 
Kaya Jones was born on 28 August 1984 in Toronto, Canada. However, she was raised in Las Vegas, Nevada. At her early age, she used to spend time learning acting, singing, and playing the violin.
In 2003, Kaya joined Pussycat Dolls, which was one of music's most successful girl groups. However, after a year she left the group in September shortly.
After she left the group, she began a solo career in music releasing her first single, Hollywood Doll in 2009. She released two other solo albums, Confessions of a Hollywood Doll and Kaya, and has performed at various musical events across the country.
With her successful career in music, Kaya probably must have made an immense amount of earning and enjoy a significant amount of net worth. However, she has not revealed anything regarding her net worth.