Entertainment
Kaycee Rice 10 Facts: Age, Birthday, Family and Much More On The Dance Fanatic
Kaycee Rice 10 Facts: Age, Birthday, Family and Much More On The Dance Fanatic. It's hard to keep a secret when you are a famous figure. The popular young face, Kaycee Rice, who has risen to fame with her dance skills, is one of such personalities.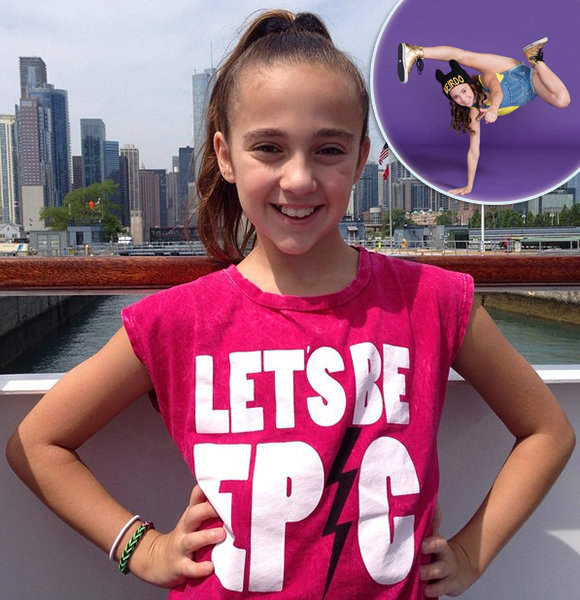 It's hard to keep a secret when you are a famous figure. The popular young face, Kaycee Rice, who has risen to fame with her dance skills, is one of such personalities.
Well, keeping the tracks of her family and career, we have compiled down the list that consists of Kaycee's life. So, get prepared for the 10 facts about the dancer, Kaycee Rice, which you might have known little about! 
1) Kaycee Has a Lovely Family Behind  
Born to the parents Brad Rice and Laura Rice, Kaycee Rice is a native of Woodland Hills, California and celebrates her birthday on October 21. Kaycee was raised with two siblings, Devon, a realtor in California, and Kylie.
Kaycee shares a strong family bond with her siblings and parents, and it can be seen on her social media. 
2) She Has Ventured into Business
The famous dancer, Kaycee Rice is often heard using the word "weirdo" in her YouTube videos. Not only that, she uses the hashtag #teamweirdo in her YouTube videos as well. Even the description section of her YouTube channel has the quote "I love being weird."
Kaycee, who stood at the height of 4'7" (1.4 m) in early 2015,  took her brand "weirdo" to clothing business in 2018. To promote it, Rice announced that the "weirdo apparel website" was live on the 15th of January this year.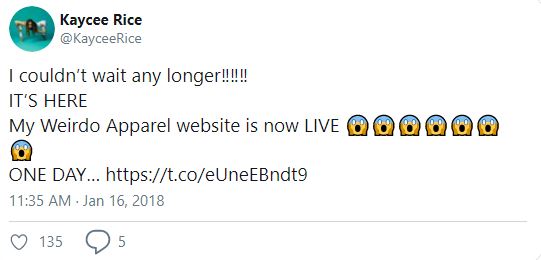 3) Kaycee was Homeschooled Since Grade 6
As of now, the 15 year-year-old Kaycee is in the ninth grade in the 2017/18 school year. But did you know that she is not a regular schooler?
Yeah, you heard it right. Kaycee dropped out of a regular school after grade six for homeschooling.
Revealing the information on her YouTube video named "50 FACTS YOU DIDN'T KNOW ME!? – Kaycee Rice", Kaycee expressed that homeschooling is much easier than going to actual school.
50 Facts About Kaycee Rice (15 Nov 2017)
Through homeschooling, Kaycee can handle to both her career and education hand in hand. 
4) Dance Is Her Ultimate Passion
Kayce first started dancing at the age of four and a half, and started competing at the age of 5. She continued her passion further and even appeared on Dance Moms. During her time on the show, Kaycee was the youngest and smallest dancer with the Candy Apples.
It was also revealed that Kaycee danced around 20 hours per week in 2014.
5) Made Guest Appearances in Many Shows
It is no new fact that Kaycee was a dancer for Candy Apple's Dance Center in the fifth season of Dance Moms. However, do you know that Dance Moms is not the only shows Kaycee has been a part of?
In 2014, Kaycee joined the reality show, 'America's Got Talent' partnered with a fellow child artist, Gabe De Guzman.
Likewise, Kaycee was also a part of the 2015 Super Bowl XLIX halftime show.
6) 15 Years of Age, But Kaycee is Already a Popular Name
At just 15 years, Kaycee's popularity has earned her thousands of followers on social media like Twitter and Instagram.
As of now, Kaycee is enjoying more than 24k followers on Twitter and more than 670k followers on Instagram.
7) Already Landed Dancing Roles
Kaycee has taken her dancing talent to different shows and videos already. In 2013, she performed a solo on the Queen Latifah Show.
Moreover, she was briefly featured in the music video of 'All About That Bass' by Meghan Trainor and the music video of the song 'Time to Dance' by Samuel Cristea. 
8) Kaycee's favorite Animal is Dog
Kaycee considers herself a dog lover; she revealed her love for the dog on one of her YouTube videos.
Kaycee, who has a room full of stuffed animals, also expressed that she would adopt all the dogs in the world, if possible.  
9) Kaycee is Continuing Her Dance as of Now
Dancing is Kaycee's ultimate passion, and Kaycee plans to continue it in 2018, too. Take a look at the dance video she recently tweeted!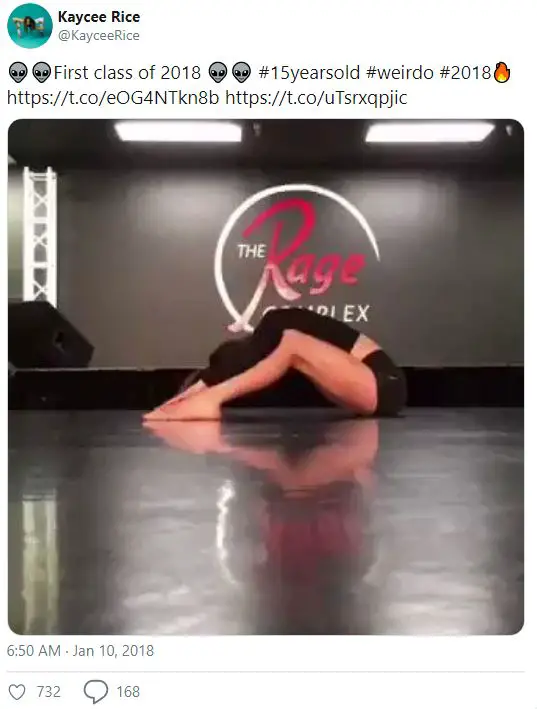 10) Kaycee was Teen Miss Dance Icon
Kaycee earned the title of Teen Miss Dance Icon at Thunderstruck's 2015 International Finals. Not only that, Kaycee was the highest scoring title winner, making her the Grand Title Champion.
Besides, she also earned an all-expense paid trip to Paris to compete in the competition. 
Keep visiting for further updates on the life of Kaycee Rice!