Entertainment
Keenen Ivory Wayans's Family: Divorced With His Wife in 2005, Is He Dating Someone? Girlfriend and Son?
With the film credits of few of the funniest films in Hollywood under his belt, Keenen Ivory Wayans is known to be one funny man. He comes from a family full of talents, comic talents. But the question is, how well do we really know him?
So you're a big spoof movie fans and can't get enough of the Scary Movie franchise, you might want to hang on a little longer as we are about to give you the life of the man behind it all.
Keenen Ivory Wayans is a man with a successful life. He has starred and produced many movies and television shows. Apart from himself, he has been able to provide a great enough platform for his siblings as well. Now, let's lean more towards his life as a father and an ex-husband.
Married Life, Wife and Divorce History:
Keenen married his girlfriend and baby mama, Daphne Polk in 2001. They first met through mutual friend, actor/comedian Eddie Murphy. They both were very young. Daphne was just 16 when she first met Keenen and 18 when she started dating him. The two had a wonderful relationship and still have.
Keenen and Daphne are parents to five children, Jolie, Nala, Keenen Jr, Bella, and Daphne. They married in 2001 but have been together and co-parenting their children for 10 years and more.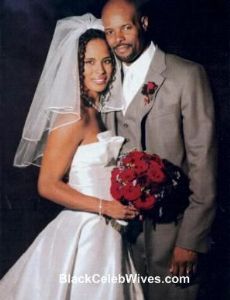 Caption: Keenen and Daphne's Wedding Picture
Source: whodateswho.com
Keenen and Daphne ended their four-year-old marriage in 2005. The reason behind the divorce is quite unclear, though we can assume that it is because of the lack of time they had for one another due to Keenen's busy schedule.
Despite the separation, Keenen, and his former wife seem to be on the same page, and ever so happy. They both have a mutual understanding and a sense of responsibility towards their children, which is the main reason they still have a wonderful relationship even after the ending of their marriage.
And another important thing is their friendship and comfort level they've buildup knowing each other for more than 15 years of knowing each other.
Keenen's Relationship Status:
It's a hard thing, divorcing. And it's even harder to deal with. But that doesn't mean your life just ended and you're not a fit person to have another person to love you anymore. And then Keenen found Brittany Daniel.
The two worked in films before so they had a good base before getting into a relationship. They met in 2004, during the set of White Chicks, a film directed by Keenen and starring his brothers Shawn and Marlon and also Brittany. They started dating in 2007 and were together for six years. The couple ended their relationship in 2013 but still remain great friends.
Caption: Keenen and ex-girlfriend Brittany Daniel
Source: ballerwives.com
Currently, there is information on Keenen and his dating life. So, it's safe to say that the Scary Movie director is currently single.
Keenen's Career and Short Bio:
The eldest son of Howell Stouten Wayans and Elvira Alethia, Keenen has had a pretty successful life so far. The 58-year-old actor/director/producer has created, starred, wrote, directed and produced numerous films and television series.
From TV shows like, In Living Color to films like Scary Movie 1 and 2, and White Chicks, he has been one successful Hollywood figure. Thanks to his hard work, he has been able to earn quite a fortune for himself. His net worth is apparently around $65 million.
Born on June 8, 1958, in New York City, Keenen is an actor, director, producer and writer. He attended Tuskegee University and was an engineering student. He moved to Los Angeles in 1980 to become an actor.
He has produced, directed, written and starred some memorable films and television series. Most currently, he was one of the judges in the Last Comic Standing.