Entertainment
Keisha Chambers Wiki: A Bio On Justin Chambers' Baby Mama
The former fashion model, Justin Chambers, who represented the fashion brands like Armani, Calvin Klein, and Dolce & Gabbana, has lured the heart of many ladies. However, his heart is already sealed for his wife of 24 years, Keisha Chambers.
Well, many of you might as well be familiar with Justin Chamber for his portrayal of the dapper looking Dr. Alex Karev's character from Grey's Anatomy. But, not many of you may know Keisha to the similar extent.
Therefore, today, let us help you know Justin's better half, Keisha Chamber up close.
Keisha Chamber's Wiki-Like Bio:   
Keisha, who is 47 years of age, is all set to experience the silver jubilee anniversary of her marriage with Justin Chambers in the following year. The couple, who exchanged their wedding vows in 1993, is somebody to look up to, considering the togetherness that they share.
And, as it's believed; that when two people are destined to be together, love makes its way into those people's lives in any which ways. A similar scenario occurred with the Chamber Couple.
Back in 90's Justin was starring in ad campaigns for 'Calvin Klein,' and Keisha Chambers was then working at a modeling agency. Moreover, they eventually ended up in the same room together, which indeed ignited the love that is still liting up their lives.
Keisha, who was a former model agency booker, now, shares a large family with her husband that includes their five children. The couple is blessed with; daughters, Isabella, 22, twin daughters Maya and Kaila, 20, Eva, 18, and son, Jackson, who will be celebrating his 16th birthday on coming January.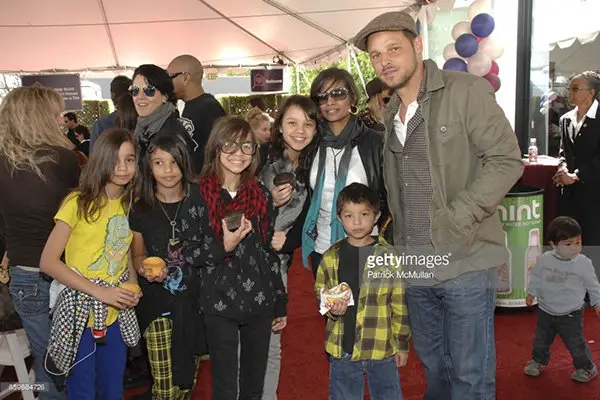 Caption: Keisha and Justin Chambers' family picture.
Photo Credit: Gettyimages
Keisha, who belongs to Afro-American ethnicity, has grown up old with her husband. In an interview with 'Good Housekeeping' in 2007, Justin mentioned about their everlasting togetherness,
"We've been together for so long that I really don't know any other way to be. I can remember lying in bed with her years ago and having conversations about our grandparents — and now our grandparents are gone. We've gone through that together, and now our parents are getting older and we're going through that together."
Justin further added,
"Every relationship has its ups and downs, but I'm glad I get to go through the ups and downs with her. I just feel really fortunate to have found someone who will be my partner on this journey."
Hopefully, the couple will go hand in hand, through the journey together; until the end!